What's going on here?
I'm Cathy Leamy, a Boston cartoonist and medical writer. Check out my comics! They're mainly about health care and autobio stories.

Twitter
Tumblr
RSS
Blog archives
Blog Categories
Summer Reading List
Look for me here!
Comics and Medicine
Webcomics
Comics news
Comics creators
Assorted awesomeness
Friday, January 14, 2005
« Previous: north norfolk is love Next: comic: school »
I just realized that there was a bit of a theme to the Christmas gifts I received this year. First was the totally unexpected copy of (let's keep this laughably work-safe) See You Next Tuesday from my brother, of all people. Completely out of the blue.
Then I got this from Magical Knitter Drinkerthinker: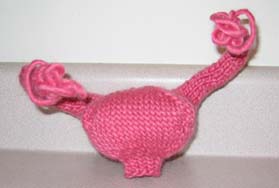 I have a toy knitted uterus! With Fallopian tubes! I've gotta do a happy dance. This is the best thing ever.
And I've gotta give it a name. Any suggestions? Send 'em my way!