What's going on here?
I'm Cathy Leamy, a Boston cartoonist and medical writer. Check out my comics! They're mainly about health care and autobio stories.

Twitter
Tumblr
RSS
Blog archives
Blog Categories
Summer Reading List
Look for me here!
Comics and Medicine
Webcomics
Comics news
Comics creators
Assorted awesomeness
Wednesday, March 9, 2005
« Previous: rage against the genre Next: come to Boston Zinefair 2005! »
The latest additions to the blogroll on the right: Drawn!, a sweet-looking illustration blog; Suspension of Disbelief, a fact-checking blog for comics; and Comics Should Be Good and The Great Curve, a couple of great comics discussion blogs.
New crafty stuff on my head - this hat courtesy of Magical Knitter Drinkerthinker: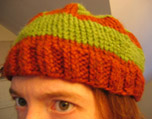 New crafty stuff on my couch - this throw cushion, a bit of a collaboration with Magical Standardsguy Sidesh0w: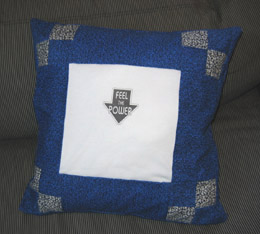 Let's hear it for makin' stuff. Woo!