What's going on here?
I'm Cathy Leamy, a Boston cartoonist and medical writer. Check out my comics! They're mainly about health care and autobio stories.

Twitter
Tumblr
RSS
Blog archives
Blog Categories
Summer Reading List
Look for me here!
Comics and Medicine
Webcomics
Comics news
Comics creators
Assorted awesomeness
Sunday, November 27, 2005
« Previous: rant fiesta Next: new! Geraniums and Bacon issue 3! »
Nuts, and typical: just when I get back into reading the adventures of The Velvet Marauder and add the feed to my feedreader, the blog goes on hiatus. Damn! Many big fuzzy kudos to Dave Campbell for all of the excellent and hilarious writing so far - hopefully the blog will resurface at some point. If you haven't already read it, head on over and start back at the beginning of the archives. Great way to completely blow a day's work!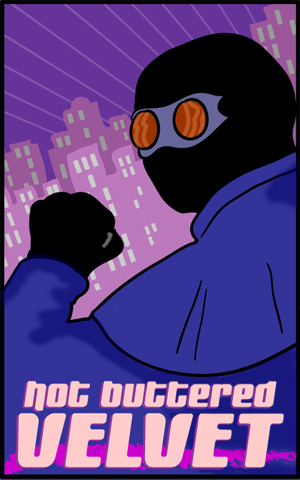 Velvet Marauder fan art by Kitty