Monday, December 12, 2005
« Previous: velvety goodness Next: help save the Brattle Theater! »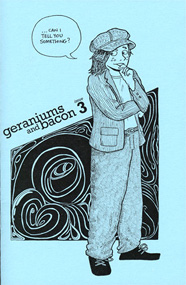 It's here! The latest issue of my minicomic Geraniums and Bacon is now available! Pick up a copy and gawk at Kitty's true confessions: adult ed addiction, inappropriate thoughts, ethical grooving, and more! Plus fun stories, quirky cartoons, and new adventures with Milo Mercury and Ginger - 20 pages of rock-out fun!
Here's a sample short from this issue - Miss Manners' Guide to Ethical Grooving!
Get your copy today with the power of Paypal!