Monday, February 6, 2006
« Previous: Comics artist Seth Fisher has died Next: photos: England, winter 2005 »
I finally finished slogging my way through Marvel's Essential Doctor Strange, Volume 1. That was surprisingly dense! You really get your money's worth of story with these Essential collections.
This was completely trippy stuff. After reading several volumes of the usual Marvel superheros-punching-things stories, it was a treat and an utter headtrip to read these stories. Spellcasting, astral projection, alternate worlds, interdimensional baddies, and Doctor Strange striding into the middle of it all like the take-charge guy in a big silly cape that he is.
The collection has its share of bizarre mystic "F*@% Yeah!" moments. Not many other comics would have situations where the hero has to astrally lead his own incapacitated body out of the baddie's fortress. AWESOME!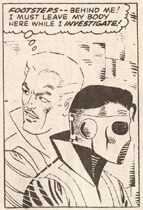 Plus the occasional moments where it's just not worth it to bust a few Crimson Bands of Cytorrak when you can just bust some heads: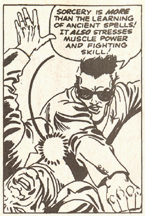 And the strange little side bits like this, when things in the world went topsy-turvy due to malevolent influences:

I enjoyed the hell out of the first half or so, but after a while, it felt a bit repetitive. There's only so many times you can watch Doc Strange point his hands and boom "By the toecheese of Tarragon!" before you start hankering for a bit more. With stories on such a cosmic scale, the writers kept having to up the ante, and after a while it felt a bit Authority-esque with the stream of successively larger baddies.
For one moment I thought that story was going to take a typical Stan Lee turn and Doctor Strange was going to have all kinds of real-world problems: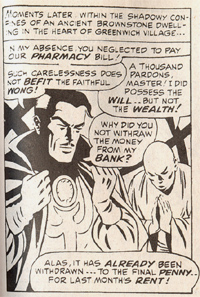 But I think the editorial smackdown must've landed, because this segued into a different story, and a few issues later, Doc was back to being above it all. Financial issues are so bourgeois.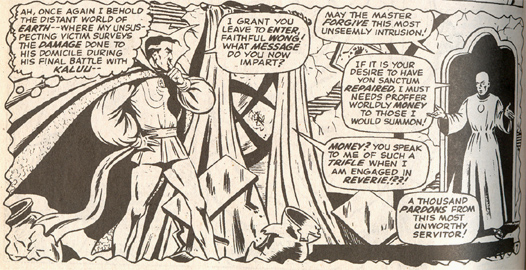 And, of course, there's got to be a girl, even if it's a twisty-haired one from another dimension.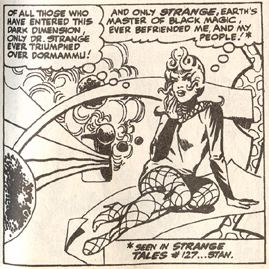 Look at those heels! Even in faraway dimensions, women's shoe design is lame.
I'll tell you this about Doctor Strange stories - they're really not big on girls.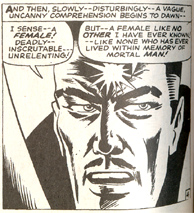 What few women there are, they're either in need of rescuing or they're completely evil biotechs. Of course, I'd probably be a bit biotechy too if writers kept calling me a "female" all the time. "Woman" isn't a copyrighted word, guys! Feel free to use it!
These being old-school Marvel, there was a fair amount of meta-silliness to the comics. I kind of miss that these days. You'd never see a panel like this on the cover of a NuMarvel comic: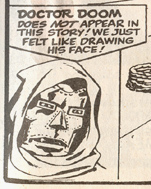 Or these kind of interior credits: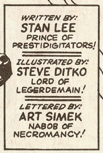 Or this cover blurb: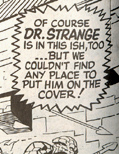 Or this storyline, which, as Sweet Toasty Jesus is my witness, I have got to find: