What's going on here?
I'm Cathy Leamy, an East Coast cartoonist. Check out my comics! They're mainly about autobiographical stories and health care.

Twitter
Tumblr
RSS
Upcoming events - 2015
Small Press Expo
Sat-Sun Sept. 19-20
Bethesda, MD
Panel: Creative Collaboration in Comics Collectives, Sat Sept. 19, 12:30-1:30PM
(not exhibiting but I'll be attending all weekend!)
She Geeks Out
Thur Sept. 24, 6pm
Boston, MA
New York Comic Con
Thur-Sun Oct. 8-11
New York, NY
Panel: Content Literacy: Teaching STEM with Comics, Thur Oct. 8, 3-4pm
(not exhibiting, attending only on Thur. Oct 8)
Massachusetts Independent Comics Expo
Sat-Sun Oct 17-18
Cambridge, MA
Exhibitor! Buy my comics!
Blog archives
Blog Categories
Summer Reading List
Look for me here!
Comics and Medicine
Webcomics
Comics news
Comics creators
Assorted awesomeness
Wednesday, September 26, 2012
« Previous: This weekend: Small Press Expo Next: Geraniums and Bacon #6 - now for sale online! »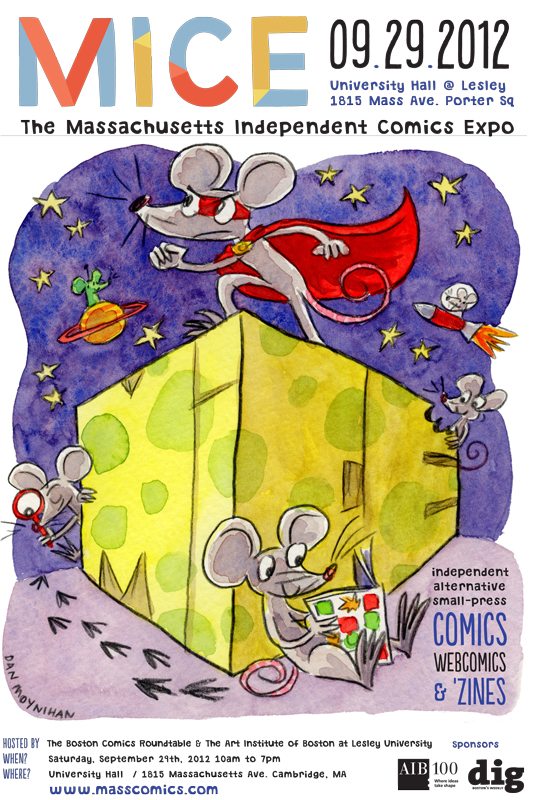 Now it's time for some local show love: This Saturday, it's the third annual Massachusetts Independent Comics Expo! My comics club Boston Comics Roundtable and Lesley University will team up to host this FREE indie comics fest in Cambridge, Mass.!
MICE website: www.masscomics.com (@MassMICE on Twitter)
I'll be tabling there, selling Geraniums & Bacon #6, Diabetes is After Your Dick, and full-color prints of Edgy Comics Bingo.
And! I'll be moderating a discussion panel on Comics and Medicine at 11am!
This past Saturday's Boston Globe featured a fantastic article on MICE and Boston Comics Roundtable with quotes from me! The print edition also included panels from Geraniums and Bacon #6, covering delightful topics such as pee and math.
The exhibitor list is stuffed with great creators and pals of mine, and the list of panels and workshops is mindblowing (it makes me sad to be tabling and have to miss them).
This Saturday, September 29, 10am-7pm, second floor of the Porter Exchange building (upstairs from Bluefin), Porter Square in Cambridge, absolutely free admission. Come on over!
Comments are closed due to technical issues. They'll be back at some point! In the meantime, you can reply to me via Twitter (@metrokitty) or email me directly via my contact form.