What's going on here?
I'm Cathy Leamy, an East Coast cartoonist. Check out my comics! They're mainly about autobiographical stories and health care.

Twitter
Tumblr
RSS
Upcoming events - 2015
Small Press Expo
Sat-Sun Sept. 19-20
Bethesda, MD
Panel: Creative Collaboration in Comics Collectives, Sat Sept. 19, 12:30-1:30PM
(not exhibiting but I'll be attending all weekend!)
She Geeks Out
Thur Sept. 24, 6pm
Boston, MA
New York Comic Con
Thur-Sun Oct. 8-11
New York, NY
Panel: Content Literacy: Teaching STEM with Comics, Thur Oct. 8, 3-4pm
(not exhibiting, attending only on Thur. Oct 8)
Massachusetts Independent Comics Expo
Sat-Sun Oct 17-18
Cambridge, MA
Exhibitor! Buy my comics!
Blog archives
Blog Categories
Summer Reading List
Look for me here!
Comics and Medicine
Webcomics
Comics news
Comics creators
Assorted awesomeness
Thursday, December 5, 2013
« Previous: This weekend: 2013 Massachusetts Independent Comics Expo (MICE)! Next: Comic: I am going back to school »
DRINKING! How awesome is drinking, you guys. But just like cats, caramel, and all the other cool stuff in life, sometimes you can have too much of a good thing.
If you're looking to scale down the drinking a little, especially before it turns into A Problem, try mindfulness! Check out my comic "Mindful Drinking" for thoughts on being in the moment while boozing it up and autobio reflections on how habits get out of hand. Plus: THERE'S A SLOTH.
Read the whole thing for free online! Share it with pals on Tumblr! Order print copies from my comics webpage!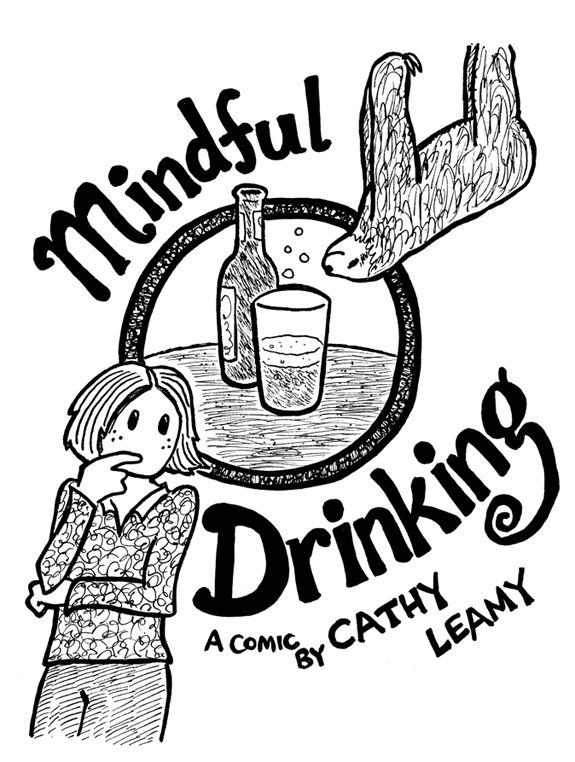 Comments are closed due to technical issues. They'll be back at some point! In the meantime, you can reply to me via Twitter (@metrokitty) or email me directly via my contact form.