Thursday, January 4, 2007
This postcard of wisdom came stuffed inside a used copy of Roll of Thunder, Hear My Cry.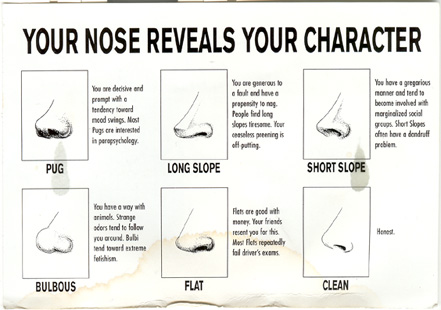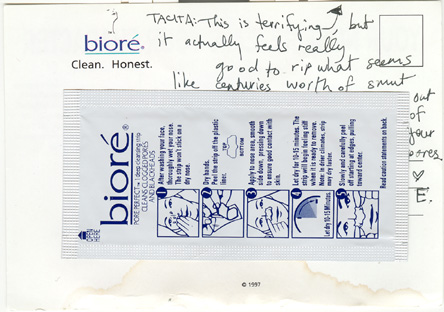 E's right - pore strips are great and really wrong entertainment at the same time. I just wish I had a microscope. A magnifying glass doesn't give you quite the same sebum solar flare visual effect. This guy's photos liven up the party pretty well, and this, wow, that is just crying out to be made into a twenty-foot-high stainless steel sculpture for the front lawn of the Guggenheim. Damn.
You know, never mind getting your own pore strips - I'm entertained just searching Flickr for the results of other people's strips. This guy for the win, everyone!
Monday, January 8, 2007
The MBTA has been in the process of overhauling its fare collection machinery over the past several months, and with the new year turnover, it finally made the switch to the new Charlie system of ticketing. The system-wide changed involved a pretty confusing array of price changes, ticket styles, and terminology. Bostonist has a good writeup of some of the more important updates.
Writing as a daily MBTA user, I feel that the overhaul was successful from a technical standpoint but not from a human interaction standpoint. The subway doesn't sit out there in a vacuum - it's used by a massive number of consumers, and as one of them, I can tell you, there are a few things I didn't see that would have been extremely helpful.
A large-scale information campaign
This system-wide redesign pretty much pulled the rug out from what I knew about the MBTA, but I feel like I barely saw any information from the source - all of my data came from blogs, employer email, and other secondary sources. A change this massive should have been drummed into us ahead of time until we were sick of it and ready for it to just finally happen already. Posters inside the trains, flyers on the station walls, brochures on every surface, simple downloadable PDFs to put on your bulletin board at work - these would have helped to really drive the information home. We should have been able to recite changeover catchphrases just like we can quote "I doubt it!"
Warnings close to the date
Related to the lack of information: I used an MBTA vending machine on December 30 and paid the standard $1.25 for a ticket. There was nothing near the machine to alert me to the price increase in two days' time. Likewise, when I was queued up at another machine on January 2, there was nothing to alert me to the new price increase except a large chart on the opposite wall, out of my sight. I remember reading about the price increase beforehand, but it hadn't entirely sunken in because I'm normally a monthly pass user. However (see below), I hadn't received my pass for the new system yet due to being away for the holidays, so this morning I opted for a one-time ticket instead. It took the guy distributing the Metro to remind me about the new ticket cost!
Choosing a different month for the switchover
The beginning of January is an awkward time to implement these kinds of changes. The system is filled with tourists and visitors, many residents are away and not present to get either information or the new reusable fare cards, students are returning or just arriving, and it's a cold and cranky time to have to wait in line at the vending machine or bus stop. I don't know what would make a better month - I don't have access to MBTA usage rates - but there must be a better time than January.
Clearer distinction between the types of fare methods
Previously, the fare system involved subway tokens for casual users and visitors and plastic cards (a new one each month) for subway passes. The new system involves tickets for casual and visitor use and a plastic rechargeable card for more regular use. However, the names used are "Charlie Ticket" and "Charlie Card", which has boggled not just my head but others' as well. These serve very different purposes and it might have helped if they weren't so similar in name and appearance. Why does the ordinary ticket need a special name at all? And if it does, couldn't it have had a different color scheme or mascot to distinguish it from the reusable pass? Even just putting the Charlie mascot in a New England-style tricorner hat would have helped.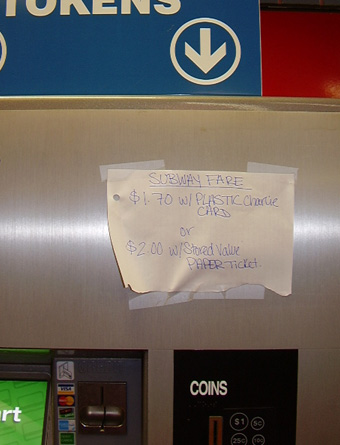 An example of informational material available to users to alert them to the price increase. Keep on rocking, guys.
Sunday, January 21, 2007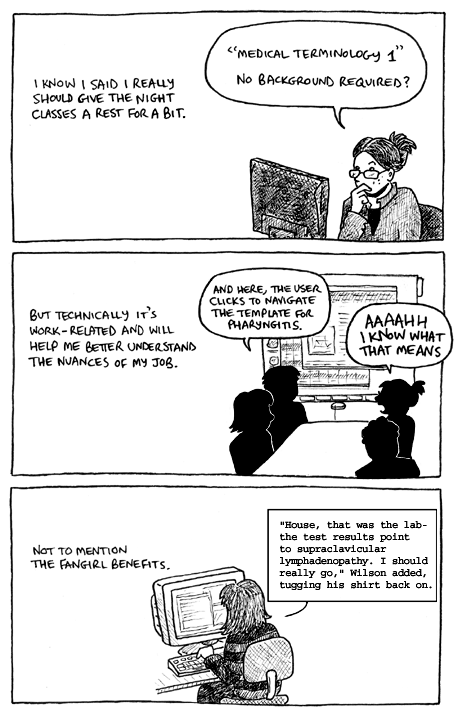 Wednesday, January 24, 2007
CharlieCard RFID concerns privacy advocates
"T Ambassador" takes you behind the unhappy scenes
Friday, January 26, 2007
It took a bit of tinkering, but I finally managed to get my Alternate Universe TiVo up and running the other day.
I came home from work and found that it had recorded the whole first season of Hiro and Nathan Happy Wacky Scrapes Hour, the episodes of Antiques Roadshow that Jack Knight guest-hosted, the story arc in Life on Mars where Blade joined the Manchester police department, and that one episode of Scrubs with the Albert Rosenfield cameo.
Wait till I get the Series Omega box with the flux capacitor feature. There's gonna be a helluva movie night at my house that weekend.
Friday, February 2, 2007
Memetastic thought:
The last entry and Lyle's response got me wondering. What are everyone else's Alternate Universe TiVos recording?
Thursday, February 15, 2007
Are you looking for slice-of-life comics? Good news!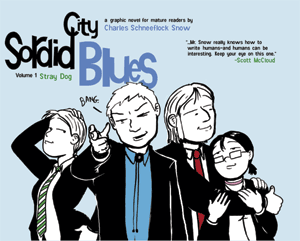 The first volume of my pal Charles' webcomic Sordid City Blues will be available in print format in early March. It's currently up for pre-order, so go and get your name in for a copy!
SCB is great fun to read - it goes from relationships to religion to rock'n'roll, and then there are pretty girls and a chapter about skeeball. Something for everyone!
Thursday, March 8, 2007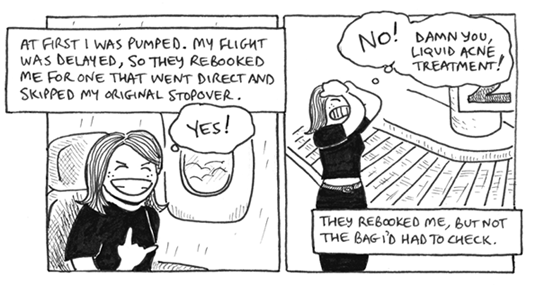 Currently hacking away at the latest issue of my minicomic Geraniums and Bacon. Coming soon, issue 4: the travel issue! Wish you were here!
Keep an eye on this blog or join the comics mailing list for further news!
Thursday, March 22, 2007
Do you like zines and minicomics? If you do, make time this coming weekend (March 24-25) to visit the Boston Zine Fair, the annual event for small press, self-publishers, and anyone interested in expressing themselves. I've attended this for several years now and every time it's more packed and even more full of amazing writing and artwork.
I'll be there hawking my minicomics, including the brand spanking new issue of Geraniums and Bacon (soon to be for sale on this website)! Come on over, say hi, and get yourself a copy!
I'll also be sharing a table with pal Charles, who will be selling the first print volume of his webcomic Sordid City Blues. Stop by and check it out!
What: Boston Zine Fair (official website)
When: March 24-25, 10am-6pm both days
Where: Massachusetts College of Art, Pozen Center (621 Huntington Ave, Boston; MBTA Green 'E' line, Longwood stop; more directions here)
Hope to see you there!
Friday, March 23, 2007
Bahlactus puts out the challenge!
The Beano answers!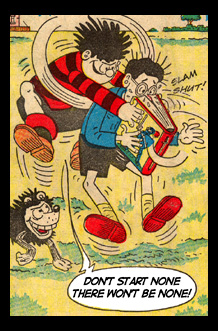 Sorted!
Monday, March 26, 2007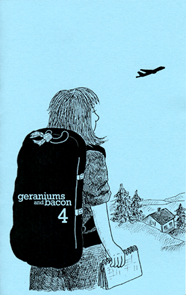 It's here, everyone! The newest issue of my minicomic, Geraniums and Bacon! This one's the travel issue: Boggle at what Kitty and pals do when luggage goes missing! Explore Dublin on a solo trip! Crush on public TV travel writer Rick Steves! Plus travel snaps, Milo Mercury and Ginger, and more! 20 pages of good times!
Check out a sample short from this issue: We're Gonna Have a Rick Steves Party Tonight!
Saturday, March 31, 2007
This small stats blurb from last Sunday's Boston Globe interested me.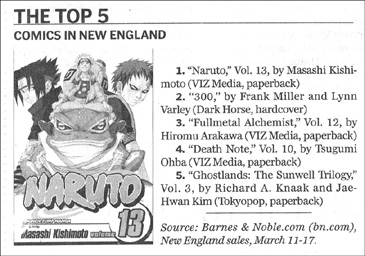 Assuming that these stats are reliable, four of the top-selling comic collections in New England that week were manga. The only Western comic was one that is tied to a recent multi-million dollar feature film.
Admittedly, I know jack all about the publishing industry and sales stats. But as a comics reader and customer, I'm inclined to yell "Preach it" for Dirk Deppey's commentary on the purchasing appeal of manga versus Western comics. When I heard good things about Antique Bakery and Paradise Kiss, I looked up Volume 1 in the bookshop and started reading. When the X-Men film came out and a friend asked me where to begin reading the X-books, I was completely stymied. What was the correct order? Which were the bad writers to avoid? Which stories required reading other Marvel stories to understand? I still don't know the answer to this question.
Friday, May 25, 2007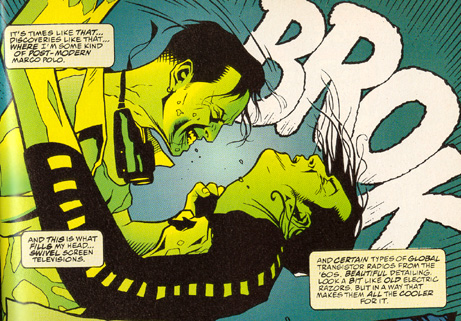 Why I love Jack Knight, example #153: Thinking about 1960's consumer items while battling henchmen baddies and hunting for his clothes at the same time.
From Starman: Night and Day
Saturday, June 2, 2007
I moved apartments recently. Among all the things I'd expect to find left over from the previous tenants, I have to say ...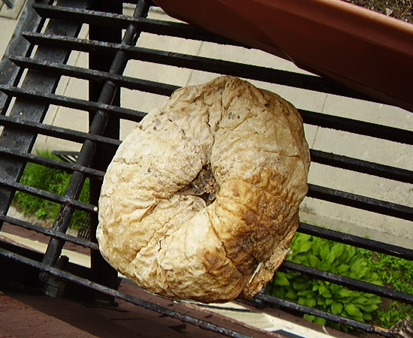 ... not on that list was a Halloween pumpkin so far past its time that it's coming full circle to its time again.
I'm tempted to keep it out there and dress it up in little costumes like those front porch geese that some of my neighbors have.
Wednesday, June 6, 2007
I finished the second term of my medical terminology course.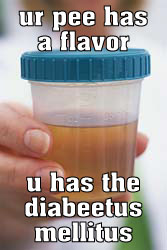 I swear I will stop talking enthusiastically about pee sometime in the next few weeks.
Tuesday, June 19, 2007
This coming weekend is the Museum of Comic and Cartoon Art (MoCCA) Art Festival in New York. I am very excited for this - the exhibitor lineup looks fantastic, and it's a great chance to socialize with comics creators and readers and pick up some excellent reads.
I'll be there at a table hawking copies of Geraniums and Bacon and I Survived Gwar. Come and visit, and buy some comics!
Details:
When? June 23-24, 2007, 11-6 both days
Where? Puck Building (293 Lafayette at Houston), New York City
Website? http://www.moccany.org/artfest-main.html
Thursday, June 21, 2007
I can't believe that the Colossal Colon is coming back to my town on the one weekend when I'm away.
If you're in Boston this weekend, you can crawl through the 40-foot colon replica for yourself at the Partners Health and Fitness Expo. I got the chance to explore it a few years back and ended up with some of the funniest and most disgusting photos ever. See if you can start a tradition of rubbing one of the polyps for luck.
Friday, June 22, 2007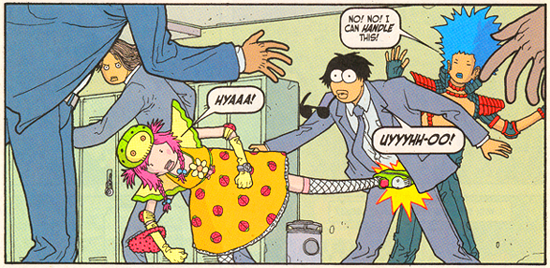 What day is it? Friday!
What time is it? FIGHTIN' TIME!
Today's nads destruction is brought to you courtesy of the lovely and underrated Vertigo Pop: Tokyo!
Edit: I am on the crustiest internet cafe browser in the world right now and I can't tell if that image is loading. If it's not, my apologies! I'll fix it when I get back to civilization.
Edit: Image repaired. Wow, that was embarrassing.
Edit: DELAYED FIGHTING ACTION!
Monday, June 25, 2007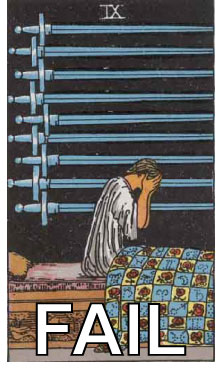 I've repaired the broken image in that last blog post. I swear I know what I'm doing when it comes to the Internet, no really.
Back from MoCCA. What an incredible weekend. Loads of comics, plenty of drinks and hanging out with awesome people and amazing creators, and a lot of beautiful weather in NYC. Hooray!