Tuesday, July 3, 2007
I had a blast at MoCCA's Art Festival 2007. Two sunny days surrounded by comics creators and readers! Alison Bechdel talking about Fun Home! Drinks and nerdchatter!
I met loads of amazing people, and I walked off with a ludicrous pile of comics to read. Look for upcoming posts with recommendations of my festival favorites.
I think that next year, though, I might not stay overnight in a hostel directly across the street from a police station.
Tuesday, July 24, 2007
So much is going on!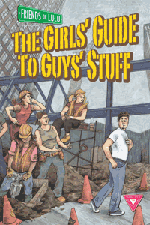 Friends of Lulu has an anthology (with a cartoon by me)!

Friends of Lulu has released their new comics anthology, The Girls' Guide to Guys' Stuff. This book is bursting with great talent and female cartoonists of all kinds ... including me! Pick up a copy and check out my four-page short comic on neckties (and get a sneak preview on the anthology's MySpace updates page). If you're going to the San Diego Comic Con, look for the Friends of Lulu booth, where the book will be on sale; otherwise, you can order a copy from their website.
Marek has a blog!
Cartoonist and comics activist Marek Bennett has a blog: http://marekbennett.blogspot.com. Check out this guy's adventures in comics in New Hampshire and his own comic strip Mimi's Doughnuts, which is a delightful read!
Satisfactory Comics has a blog!
Check out this new blog by Mike and Isaac, the jam-masters behind Satisfactory Comics and a number of other collaborative and experimental comics: http://satisfactorycomics.blogspot.com. And take a look at the comics themselves - they're fun stories with surprising amounts of layers to peel and explore.
Trees & Hills has an anthology!
Trees & Hills, the comic group for creators in New Hampshire, Vermont, and Western Massachusetts, has released a new anthology, the Field Guide. This thing is 52 pages bursting with mad cartooning skills - order a copy on their site!
Sordid City Blues is on sale in Cambridge!
The first print volume of Charles Schneeflock Snow's webcomic Sordid City Blues is available for sale at my favorite comic shop, Cambridge's Million Year Picnic. If you're in Harvard Square, stop in and pick it up!
Wednesday, August 1, 2007
A Paper Mirror moment, Kerri at Six Until Me writes about her childhood reaction to The Baby-Sitters Club character Stacey, who is diabetic: A Kid's Hero
This is a classic example of what I'm talking about - the incredible one-to-many influence where just one creator's story brings something new to the table and touches the lives of readers who may never have seen themselves represented in mainstream media before.
Friday, August 3, 2007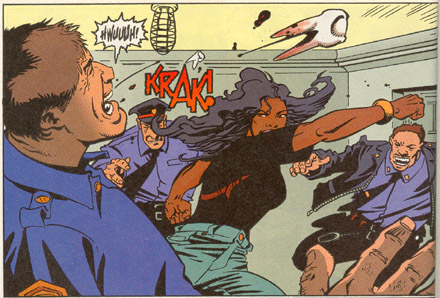 Did someone order a pizza? And by "pizza" I mean "utter smackdown"? Because Hitman's Detective Tiegel is serving them up fresh this evening.
Thursday, August 16, 2007
My friend the cognitive science academic once asked me to participate in a research study. She handed me a small stack of index cards with names on them and asked me to categorize them, describing my thought process as I went along.
I found that the names were those of musicians. I grouped them by creative output and style: jazz artists, commercial performers, folk singer/songwriters, and so on.
I'm a middle-class girl with a fair amount of school in my pocket, and I tend to be pretty single-minded about careers and creative accomplishments, so of course my instinct was to sort the people by what they make. I'm also the type whose first conversational question is "What do you do?"
It didn't even occur to me until ages later that there were all kinds of sorting methods you could apply: alphabetical, age, chronological by birth, gender, race, nationality, dead versus alive, and many more. My upbringing, my background, my interests, my demographic makeup - these all informed the sort options I chose to use. Everyone brings their filters to the table. Everyone has an angle from which they see and interpret the world.
This is why it drives me up a wall when I see the perennial "minority group in Information Technology" discussions crop up on the blogs. Inevitably, someone pipes up with some variation on "Developers are developers. It doesn't matter if they're black/white/purple/male/female/alien. They all do the same work. Why do we care about having more women/black/you-name-it IT workers?"
Creative groups benefit from diverse perspectives, that's why. Everyone's experiences are not identical, and this is what informs workflow, creative processes, input, and output. They bring new ways of thinking, new objectives that might not have been considered for projects, and shiny new ways of sorting. The team members who aren't exactly like all of the others might be the ones who think back on their own lives, on their own ways of using tools, on what happened to them on the bus this morning and ask "What directions would the site users need if they didn't own a car?" "The social calendar interface is so simple - you know what would be a great application for it? Documenting chronic illnesses!" "What if the users want to roleplay a female CEO in this game?"
Friday, August 17, 2007
Tonight, The Big Book of the '70s brings it on home ... TO YOUR FACE!
Thursday, August 23, 2007
I love finding comic stories from completely different perspectives, especially when they have a bit of an educational edge to them. So I am both learning and laughing my ass off at Scutmonkey, one student's minicomics about medical school. The first paper issue appears to be sold out, but the site offers loads of online storytelling: surgery, OB/GYN, types of med school students, and more. Recommended!
Sunday, September 2, 2007
Golden Age Comic Book Stories has posted a series of haunting and intricate illustrations for Goethe's Faust by Harry Clarke. Wow.
Link courtesy of Journalista
Friday, September 7, 2007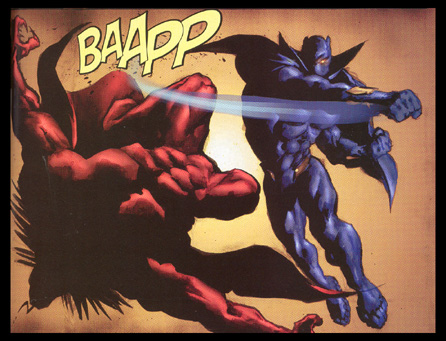 Oh, I'm sorry, Mephisto, did you have something to say to Black Panther? I'm afraid it may have to wait.
Monday, September 17, 2007
It'd been some time since Jeph and I had a Star Trek fest, so we decided to launch ourselves at The Borg, everyone's favorite shambling creepy-ass cybervillains. Here's what we watched this time around:
"I, Borg" (Next Generation)
Picard and pals come across a crashed Borg craft with one surviving drone. In spite of all common sense and the two of us yelling "DON'T NO AAAH" at the screen, the crew beam the Borg on board to treat his injuries. They have the sharp idea of tainting him with a computer virus to upload back to the Borg Collective, but everyone gets attached to their new pet Borg and balk at executing the plan. Worth watching for the chilling scene of Picard pretending to be his former Borg identity, Locutus. Woo, brr.
"Regeneration" (Enterprise)
Arctic explorers find some frozen Borgsicles left over from Star Trek: First Contact. Before you can say "Please don't thaw the Borg," it's all assimilation fun-fun time, and Archer and pals have to chase down the fleeing defrosted enemy. A few intense fight scenes (including one where they tackle a Borg drone) and my only fitting response was to yell "USA! USA!"
"The Scorpion, parts 1-2" (Voyager)
Janeway and pals find themselves smack up against Borgspace. Oh no! But they find a Borg-free pathway through it. Oh yes! But it's Borg-free because there's something even worse tearing into the Borg throughout it. Oh no! And so Janeway decides to make an alliance with the Borg against the baddies to get their ship through Borgspace. Oh no? Yes? That can't be good, but it seems to work out, at least for a while. And then Seven of Nine is introduced and it's all Sexy Borg Time on Voyager. I did enjoy this episode, but I'm irritated at how the Borg are undercut by making them approachable and defeatable.
Our observations
Yelling at Borg episodes is easy because you really need only one response.
"Let's beam the injured Borg on board the ship." No!
"What are these frozen cyborgs we found? Let's defrost them." No!
"Let's make a bargain with the Borg!" No! NO! NO!
Of course, "Look behind you!" and "Don't touch that!" were popular callbacks as well.
I've never seen Trek crew open the airlock to get rid of unwanted bad guys before! That's an excellent solution! We came up with the euphemisms "Hypo-oxygenated discharge" and the simpler "He's walking home."
Starfleet craft in the 24th century and onward have clean shiny interiors like a damn IKEA showroom.
And now, some closing thoughts from Hugh Borg, courtesy of Jeph: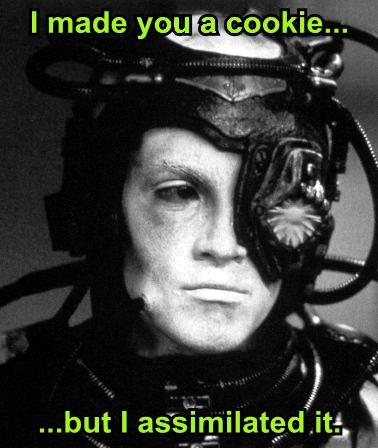 Sunday, September 23, 2007
A belated "Yarrrrh Me Hearties" for this past week's annual Talk Like a Pirate Day. In keeping with my tradition, I did jack all to observe it.
For those of you who get pumped up about pirates, you might get a kick out of some recent pirate-themed material I've enjoyed.
The Pirates!
Gideon Defoe's comedy series follows the adventures of the Pirate Captain and his crew (including the pirate with the scarf, the pirate who was good at math, and others). Their wacky scrapes lead them to cross paths with Karl Marx, Charles Darwin, bears, monkeys, actors, and more. Also: lots of ham. These books are a riot - silly, snickery, utterly enjoyable, and worth laughing aloud on the subway and netting strange looks from the other passengers.
The Pirates! In an Adventure with Whaling
The Pirates! In an Adventure with Scientists
The Pirates! In an Adventure with Communists
NPR interview with Gideon Defoe (June 2006)
YARG!
A shout-out for Ray Friesen's all-ages webcomic YARG!, a supercute strip about a gang of pirate pals with some adorable art. You can find this story and Ray's other comics (plus print books and swag) on his website Don't Eat Any Bugs (or start reading the pirate comics here).
A High Wind in Jamaica
Now that I've managed to unpack all my books from my recent move, it's go time for Operation Clean the Hell Out of My Library. As a result, I finally got around to reading the copy of Richard Hughes' A High Wind in Jamaica that I've been lugging around for ages. It's a bizarre, tense story about a band of pirates who are accidentally saddled with a gaggle of hostage children when a high-seas robbery goes wrong. Fascinating and oddly uncomfortable, especially in the frustrating (but realistic) portrayal of children's thought patterns. Read a review of this book on Curled Up with a Good Book.
Thursday, September 27, 2007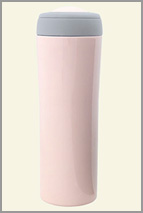 I am enjoying the girly hell out of my latest purchase: this pink insulated thermos, just the right size to hold a small coffee from Dunkin' Donuts and to fit in my pocketbook. The top unscrews easily for sipping, includes an optional mesh filter for loose tea, and screws back on tighter than the Enterprise airlock. The size is really what does it for me, though - I love having a reusable portable mug and not wasting a cup, sleeve, and plastic top with every Dunkin's run, but most of the travel mugs I've seen hold just too much coffee for my system.
You can find this travel bottle and others at ReusableBags.com. And the pink bottle has a discount, if you're don't mind looking like you're on a coffee run for Hello Kitty.
Friday, September 28, 2007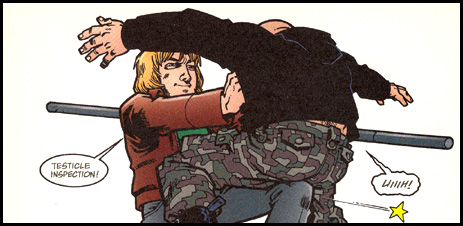 Ladies and gentlemen, sharpen your pencils and take notes: George Harper of The Invisibles is teaching you HOW IT'S DONE.
Sunday, September 30, 2007
The latest addition to my feedreader is Vanessa Ruiz's Street Anatomy, a blog devoted to medical visualization. It sounds like a dry topic right up there with Excel spreadsheets until you get to the parts about pencils made from human ashes and anatomical tattoos.
Friday, October 5, 2007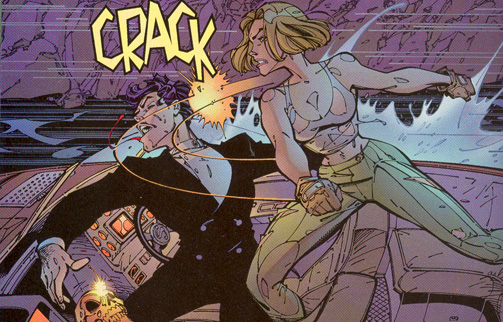 Who's on board for fighting tonight? Why, it's ABBY CHASE. And HER GIRLS.
Are you woman enough for this?
Thursday, October 11, 2007
The Small Press Expo is going down in Maryland this weekend, and I'm the saddest kitty on the block that I couldn't be there.
If you're there or if you're at home and want to read along, check out The Beat's ongoing coverage.
And if you're there, look for my friends from the Boston Comics Roundtable selling loads of minicomics and creations from New England talent. And you can pick up a copy of Geraniums and Bacon or I Survived Gwar for yourself!
Friday, October 12, 2007
Via Journalista: Check out the comic strip Jenny the Military Spouse, carried by The Stars and Stripes with strips available online. Man, reading the archives is taking me back to my military brat childhood. That is a big pile of terminology I haven't heard in years.
Sunday, October 14, 2007
This morning's thought topic: Typos in diary comics.
On the one hand, they're an honest reflection of the creator, and they can give the work a touch of down-to-earthiness. You could even go as far as arguing on the side of wabi-sabi and the beauty of small imperfectations making the work more real and less plastic or artificial.
On the other hand, they still come off to me as less "intentional imperfectation" and more "I couldn't be bothered to copyedit my stuff." Damn, people - if you're going to the trouble of printing your work in a perfectbound book and distributing it to a wide audience, you obviously care enough about the contents to treat the artwork with love and make it shine. Why not take a few minutes and tend to the text as well?
I'm torn. I can't stand typos in professionally printed work. They jar my reading experience and speak to a lack of attention to detail. But the book I'm reading really is a diary comic - it's a reproduction of a sketchbook journal. So the typos are not just easily-tweaked type boxes; they are part of the original art. Then why not fix the typos in Photoshop when the art is being scanned and manipulated for the reprinted version? But then the work would not be entirely authentic. Argh! I'm turning in circles here. Maybe I'd have more tolerance if this comic weren't completely peppered through with misspellings. Man, this cartoonist can't spell for beans.
Saturday, November 24, 2007
To me, reading League of Extraordinary Gentlemen: The Black Dossier was like reading an issue of Wallpaper*.
Wallpaper* is stunning to look at. The colors and design are rich and immersive, and the writeups touch on a variety of locations and pieces. But the end result of reading the magazine is me poring over a list of places I will never see and furniture I will never own. It's beautiful, but a bit hollow and unsatisfying.
And that's how I felt reading The Black Dossier. It was an exquisite catalog of pointers to stories that I will never actually get to read. The pastiche was hilarious and convincing, the artwork was striking, and the ideas were fascinating. But on page after page I found descriptions of amazing tales - Orlando's life story like a bullet point list, Fanny Hill's new escapades in synopsis form, postcards with throwaway references to adventure, casefiles summing up dramatic episodes in quick bland paragraphs. It was a frustrating tease, high on concept but not that high on actual realized content.
The book is a great success as a literary exercise, though. It has loads of fodder for thought and speculation, and it has some amount of content and resolution for the series characters. The Lovecraft/wodehouse short story cracked me up (and reminded me of the old story collection Scream for Jeeves), and I enjoyed all of the references to the Big Brother government (especially the bizarre naughty minicomic).
But ultimately, I would trade the massive list of literary plotbunnies for even just a few of the fully-realized stories themselves. What would it be like to see an immortal gender-changing warrior learn to fly in World War I dogfights, for example? A single-sentence mention of that concept just doesn't do it for me.
In other news: I've been away for a bit on vacation. Pictures to come shortly, glad to be back.
Monday, December 3, 2007
I went away for a bit. This time it was to Tokyo for a week and a half, exploring the city with that one robot guy and crossing the place off my list of "cities to visit before they fall down."
The place was like a big New York City, especially if Times Square sucked down a Red Bull or two and then ran around whizzing neon all over itself. I loved the hell out of it like the city kitty I am. It went on and on, as far as you could see from the tallest point and then further, all night and straight through into the day again (except for when the subway closed at inopportune times). Everything felt stacked, small, and streamlined.
It was a grayscale city. Sky patched with clouds, concrete, everyone on the street in shades of black and gray and navy. I've never felt like I stood out so much for wearing just a tan jacket. And it only served to burst your eyeballs even worse when you hit a riot patch of color like Kanda Myojin or madcap electric district Akihabara.
To get around the place, the only language you really need to know is the language of cities. Follow a subway map, walk very fast, don't get in people's way, step to the side on the escalators and sidewalks. That said, it's incredibly helpful and courteous to take in some of the local lingo before heading over there, especially if you're like me and you feel compelled to constantly mutter the incantation "Pleasethankyousosorryexcuseme" like some kind of protective charm.
We spent the entire week and a half in the city itself, and we still didn't get to see everything we'd planned. The place is dense and rich and full of bizarre extremes, like some kind of above-the-water urban coral reef where you can lose yourself for ages.
Wednesday, December 5, 2007
Convenience stores turned out to be some of my best friends in Tokyo.
The sidewalks of the city do not tend to offer any garbage cans, and most times the quickie-marts were the only places where they could be found. Hooray for having a place to jettison tissues and other junk (but you had to be mindful to sort it - the trash receptacles are separated into sections for plastic bottles, combustibles, and noncombustibles).
The food at these shops is also surprisingly fresh and tasty. I'm used to American corner shops where the same corn dogs trundle on their little warming wheels for months on end. It was a treat to find that you can pretty much buy dinner from Tokyo's konbini and not be disappointed: steamed buns with filling, curries, all sorts of beverages, and my favorite kind of snackage, onigiri. "OM NOM NOM" was big in my vocabulary this trip.
Things you can purchase in Tokyo convenience stores:
Dried sea monsters!
Sake!
Ear picks!
Fresh shirts, ties, and underwear!
These are especially helpful if you've been boozing all night with your fellow salarymen.
Friday, December 7, 2007
Metafilter brought me a creeptastic early holiday gift: a photo gallery of black and white shots from the set of Twin Peaks, taken by Richard "Ben Horne" Beymer.
I love you, Santa Metafilter.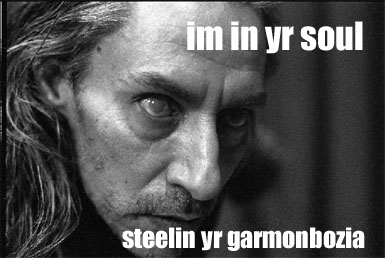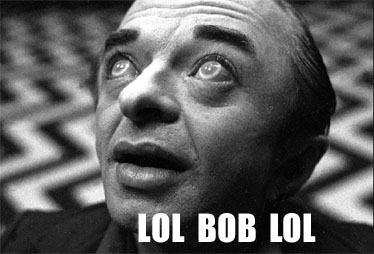 Sunday, December 16, 2007
The art in the latest Perfect Stars is exquisite.
Bruno 9Li creates astounding ink drawings.