Tuesday, February 5, 2008
Good news on the self-promo front: I have a one-page comic that will be included in Julia Wertz's upcoming anthology of comics based on Craigslist "Missed Connection" posts, I Saw You ...! The book has a tentative release date of early 2009. My comic will be chock full of joy because it deals with colonoscopies, which are endlessly entertaining. So to celebrate, here's a roundup of links and pointers along that train of thought: a Carnival of Poo!
Medical facts
This Ask Metafilter question clued me into the existence of a bodily feature-not-bug that I wasn't aware had been summed up in a neat little term: the gastrocolic reflex, the body response that can cause your colon to empty when food enters the stomach or small intestine.
Wikipedia's stub on gastrocolic reflex
iVillage on "dumping syndrome"
On the more unpleasant side of colon action, Tokyo Mango points to a news report that the former Japanese Prime Minister, Shinzo Abe, resigned from his position due to ulcerative colitis. You can read more about ulcerative colitis at the Mayo Clinic website. I also learned a potential complication of inflammatory bowel diseases: "toxic megacolon", which would make a hells awesome DJ name.
I can't believe this exists
Are you kidding me? RateMyPoo.com is still around and still active? Jesus God! This is one of the nastiest sites I've ever encountered. Be forewarned that it's exactly what it says in the name: photos of poop that you can rate numerically. Absolutely disgusting.
More fun in concept but also fairly nasty viewed up close, the Colossal Colon is still going strong almost six years after its first unveiling. "Coco" is a 40-foot-long, 4-foot-high model of the human colon, including examples of healthy, diseased, and cancerous tissue. Apart from the great educational benefits, dude! It's a giant colon you can crawl through! That is worth hours of laughter right there.
Comics
For a bit of insight into life with an inflammatory bowel disease, check out VentedSpleen (a.k.a. Tom Humberstone)'s 24 Hour Comic from 2007, Everything You Never Wanted to Know About Crohns Disease). It's hilarious and heartbreaking at the same time, and the art is fantastic.
A comic that's a little less serious is a crazy little mini I picked up at MoCCA Art Fest 2007, The Diarrhea Diaries. Writer Phil teamed up with artist pals to tell autobio stories about - not joking - various times that he's soiled himself. I think I embarrassed myself laughing so loudly at my little table. You can read the comic online over at Webcomics Nation.
Sunday, March 30, 2008
We are in the middle of one of the Discardia holiday seasons, a time celebrated by cleaning out stuff you don't need: unused goods, ideas, habits, and more. It's been long enough after the Winter holidays to finally ditch unwanted gifts discreetly, so let the purging begin.
But if you're going to jettison still-useful junk, you might as well put it to good use. Check out these resources for donating material goods. Many of them are specific to the Boston area, but they may also have pointers to their national offices.
Clothing
Women's professional clothing - interview suits and workplace-appropriate outfits - are the staples of Dress for Success, who use them to help provide opportunity to disadvantaged women. Massachusetts has several drop-off affiliates in Boston, Worcester, and Western Mass.
Formal dresses are reused by Belle of the Ball, a program offering prom dresses to high school girls in need. All you former bridesmaids out there, this could be your chance to graciously pass along that gorgeous-but-so-not-my-color wedding party dress.
Assorted other clothing, grooming tools, and toiletries are accepted by a number of shelters in this area, including Rosie's Place and the New England Shelter for Homeless Veterans.
Backpacks
The Cambridge drop-in center Youth on Fire welcomes your backpack donations. Check out their wishlist for other needed items (including recreational gear for the center, like board games and art supplies).
Bicycles
Boston-based Bikes Not Bombs are some crazyproductive activists, empowering people all over the world, and they can put your donated bike to very good use.
Books
There are so many potential good homes for your discarded books, it's ridiculous. A few excellent options include hospital bookcarts (try Mass General's volunteer department or check your local hospital's donation options), Books for Soldiers, and Prison Book Program.
Food
Nonperishable and even perishable food can find a place with Boston Rescue Mission. Other organizations that accept food include Greater Boston Food Bank and Boston Red Cross, though it sounds like their food donation programs operate on a larger scale (i.e. unused donations from restaurants and markets), so contact them first to find out if your donation is appropriate.
Electronics
If you're looking to get rid of whatever technotoy you just upgraded beyond, the Massachusetts Department of Environmental Protection has a list of several organizations that accept donated computer equipment. You might also find an interested party at the periodic MIT Swap Fests.
Cell phones
Like books, working cell phones will always find a welcoming home. Try the donation program run by MassRecycle, where your phone could go to any number of people in need.
Shoes
This is a sweet idea - avoid chucking your shoes into landfills and send them to Nike for reuse in athletic playing surfaces instead.
Everything else
The resources above don't fit the junk you want to ditch? See if you can pass it along to Boomerangs (of Jamaica Plain), whose proceeds go towards the AIDS Action Committee of Massachusetts.
If that's not working, there are always the perennial fallbacks of Goodwill and the Salvation Army, whose websites you can use to find locations near you.
And if that's still not jetting your stuff, you can always put it up on Craigslist or even Freecycle. Don't underestimate the power of Freecycle - people out there will find uses for the most absurd hodgepodge.
Resources for discarding, uncluttering, and organizing
Once you've pitched the piles (or even if you're just thinking about it), it feels great to maintain that tidied state. My favorite book on this topic is Organizing Plain and Simple, which has a nicely chunked wide range of information.
Online resources include Flylady, with a great rah-rah encouraging approach (if you can get past the kinda scattered design of the site) and organizational blogs like Unclutterer, which I discovered through the rock solid awesome aggregator blog LifeRemix.
Monday, April 21, 2008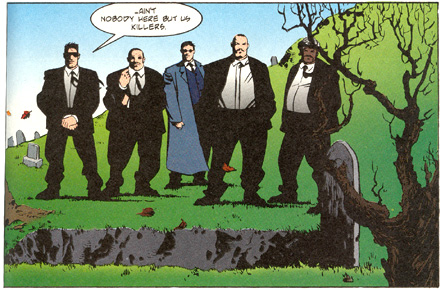 Sad clouds overhead today for the closing-up-shop of Dave's Long Box, one of the funniest comics blogs out there. The guy is one of the greats, and though I'm happy that he's still writing elsewhere and has more up his sleeve to come, it's still a bummer to see the end of the blog that brought us Airwolf: the Adjective, Boob War, Dude Looks Like a Lady Week, and The S.H.I.E.L.D. Powerpoint presentation.
Oh hey Dave? If you're looking for something else to do, you could always go back to writing The Velvet Marauder. Just puttin' that out there. 'Cause it's made of awesome.
Sunday, May 18, 2008
Grab-bag of Iron Man awesomeness
Spot Tony's MIT class ring

FAA's regulations on alcohol and flying planes

Newsarama: Iron Man sequel planned for April 2010

Tony Stark will make you feel ... like a customized Lego figurine

Comics Worth Reading conversation: What Iron Man comics should I pick up?

Pandagon: Pepper and Tony = Jeeves and Wooster


And my own two cents on it
I can't get over how much I enjoyed Iron Man. I mean two screenings in just the opening weekend enjoyed it. Regret not sneaking into another showing immediately after the first one enjoyed it. And I've never been an Iron Man fan in my life, though I had a good time reading the first Essential collection a few years ago.
The movie was just a lot of exhilarating fun, and Tony Stark was the kind of bright, fast-talking, arrogant-but-can-back-it-up character I just like spending time with. It's the same mindset I have in reading Starman and the Vampire Files novels for the sake of spending time with Jack Knight and Jack Fleming. It's not so much that I like the plot, but damn, I just like this guy's company, and I'll put up with a surprising amount of bad story to hang out with the guy. Plus it doesn't hurt that Robert Downey Jr. as Tony Stark is total hot sauce.
Johanna had a good observation about the contemporary feel of the movie. The sci-fi in it comes off to me as pretty believable and pretty achievable. I live in a world where a buddy of mine has the internet in his pocket and my mom thinks about buying an electronic picture frame that cycles through digital photos.
On the level of fun-as-all-hell standalone summer movie, this flick was aces. But when I think on some of its themes or the overarching trends of current movies, I get a little less gleefrenzied.
The movie has no real women characters except for the everything-gopher secretary (admittedly awesome and indispensable), and if we're being generous, the one bangable reporter who shows up in a few scenes. Women are just there to get Tony's coffee and drive him through warzones and sexydance in his private jet. The movie's kinda like a James Bond film on Red Bull, so it's understandable. But when you look at the overall trend of hey-ladies-no-hero-movies-for-you, it's frustrating that there's no female counterpart movie to balance it out. You could show this flick to a Boy Scout troop and they'd walk off completely pumped about making robot kits and growing up to go to MIT like Tony Stark. What do I show to the Girl Scout troop?
It also frustrates me that Tony works to make up for years of warmongering by building ... a super-awesome warsuit. Yes, I can spin this by pointing out that it's the tool he needs to zip around the world and put a stop to misuse of Stark Technologies, but still: super-awesome warsuit. Tony Stark wants to make the most of his life as Yensin urges him to do, but I didn't once hear anyone suggesting the Alfred Nobel route of compensating for a career of industrial destruction.
I'd also like to see someone with more cultural analysis chops than I have explore how this movie fits in with the American cult of the individual and how the USA often opts to go it alone in international conflict. Maybe they could also touch on the USA's military-industrial split personality: with the left hand (Stane), we'll sell you the explodies, and with the right hand (Stark), we'll come back and smash you for using them. And they might have a few words about the storytelling of replacing the original yellow peril villain with a burlap peril villain. You could wring a entire doctoral thesis out of this movie in the right frame of mind.
Wednesday, May 28, 2008
It's coming! Are you ready for this?!
Geraniums and Bacon issue #5!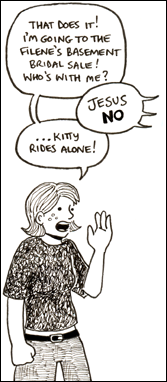 This one's got something for everyone!
BRAS!
BRIDAL GOWNS!
BUDDHISM!

The next issue of Geraniums and Bacon will be debuting at the upcoming MoCCA Art Fest in New York City on June 7. Come by my table on the upper floor and get yourself a copy!
And in the meantime, catch up on the awesomeness by ordering issues 1-4!
Tuesday, June 10, 2008
Another year, another MoCCA art fest!
This year, we had a posse: me, Charles, and the rest of the Boston Comics Roundtable. All of our tables clustered like a New England colony out in the wilds of New York City. We're pilgrims in an unholy land!
And we brought some amazing goods to trade with the natives. I debuted the latest Geraniums and Bacon, Charles sold out of his two collections of Sordid City Blues, our pals sold out of the Star Wars fan comic Harvest is When I Need You the Most, and the Boston Comics Roundtable hit the ground running with the first issue of our new anthology, Inbound (now available for sale online). Rock solid!
The sun didn't like us and kicked out some fierce upper-90's heat. We skated through most of it due to our table sitting directly underneath a ceiling fan, but the inevitable struck on Sunday: a fire alarm and evacuation of the building. Kudos to the poor firefighters in their pounds of full-body protective gear.
I love the amazing selection of indy comics every year at MoCCA. It's like strolling into a walk-in treasure chest. It can be overwhelming, though. You risk the coolfinder's anxiety: "There could be hidden gems that I'll never see again at every single table! I must examine all of them! Wah!" Coming in as a creator, too, is a different level of social fun. You get to meet up with rarely-seen friends from around the country and immediately swap your latest creations, like little kids trading Halloween candy.
The social kept on flowing in the afterhours. We hit the Friday party at Rocketship, got copious drinks with new and old buddies, and laughed our heads off at karaoke. Comics geeks rock out like you'd never believe. And comics geeks shout out too: I had great times running around with or just running into Ed, Kevin, Birdie, Neilalien, Gina FirstSecond, Bill Roundy, Joe Rice, Mildly Astonishing Mike, the Satisfactory Comics crew, the Trees and Hills gang, Bully the Little Stuffed Bull and his human pals, and the Karaoke All-Stars. Not to mention dozens of other people I'm totally blanking on because my weekend was filled to bursting with comics and no sleep and gin and tonics. Take my word that they are all made of awesome as well.
Wednesday, June 11, 2008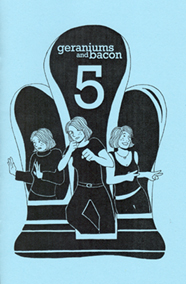 It's here, everyone!
The fifth issue of my minicomic Geraniums and Bacon debuted at last weekend's MoCCA Art Festival, and now it's available for sale online!
This one's 20 pages of black and white comic awesome: decrepit expired Halloween pumpkins, medieval English mecha, bra shopping, and Kitty's completely unneeded trip to Filene's Basement's Bridal Sale!
$2 dollars gets you all this and more, so pick up your copy today!

Friday, June 13, 2008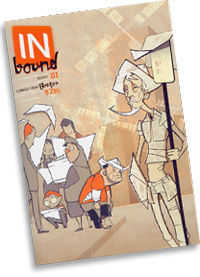 Fresh hot comics straight from Boston!
Inbound has arrived! This is the first issue of a new comics anthology by the Boston Comics Roundtable, and it is a gem. It's packed full of a variety of cool stories (Astronomers! Plague! Can openers!) and features a stunning cover by the crazyskilled Shelli Paroline. This is the first issue of many - look for a story by me in issue #2!
$7.95 an issue for some rock-solid New England quality! You can buy Inbound on the Boston Comics Roundtable website or in Boston-area comics shops including Million Year Picnic and Hub Comics.
Wednesday, July 16, 2008
The dates for this year's Boston Zine Fair have been announced!
This year's zine fair will be held on September 20-21 in a new location: Art Institute of Boston's building at 600 Newbury Street, Boston.
We're looking for vendors to make this a fantastic event: zine makers, comics creators, writers, artists, and anyone interested in independent publishing. Registration is open and table space is cheap! Go to BostonZineFair.org to learn more and to register to table at the fair.
Want to learn more about zines? Read the Wikipedia writeup, or if you're in the Harvard Square area, stop by the Papercut Zine Library and check out their enormous selection.
Thursday, August 14, 2008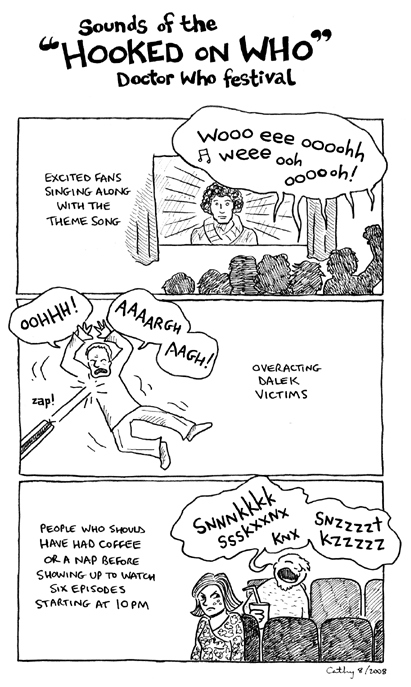 (You can support the Brattle Theatre and help them to keep bringing fine programming like "Genesis of the Daleks" to the big screen! Click here to find out how.)
Tuesday, September 16, 2008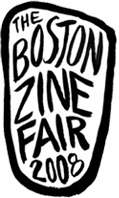 The Boston Zine Fair is this weekend!
Come and check out the crazy array of zines, comics, crafts, and more! Dozens of tablers and a great lineup of workshops are waiting for you this weekend just around the corner from Kenmore Square in Boston. And look for the second issue of the Boston Comics Roundtable anthology Inbound, making its debut at this event (with a nine-page story by me)!
Where: 601 Newbury Street, Boston, MA
When: 10am-6pm, Saturday and Sunday, September 20-21 2008
Admission: Free!
Check out the Boston Zine Fair website for full details including directions and the workshop schedule. Hope to see you there!
Saturday, October 18, 2008
We had a ZINE FAIR. And it was AWESOME.
Boston Zine Fair 2008 has come and gone already, and it left a big pile of stuff to read in my living room.
This was my first year of helping to organize the fair. I was pretty nervous - we were dealing with a sack full of new factors: different location, different time of year, a two-floor layout instead of a single floor, and a new group of organizers.
But the fair came together, and I ended up having a blast. Loads of tablers came in from all over New England and beyond, and the fair wound up being crammed full of creativity and dozens of points of view. Fair attendees got the chance to sign up for membership in the Papercut Zine Library, get a sneak preview of the newest issue of Boston Comics Roundtableís anthology Inbound, pick up the latest Trees and Hills collaboration Seeds, and buy/swap for plenty of other zines, comics, and books.
And me, I managed to sell a pretty decent number of comics, I got to hang out with creative friends all day, I attended some mind-opening workshops, and I drank a lot of coffee (Dunkin Donuts REPRESENT). Woo!
I also learned that there was a freaking skeleton on the second floor, Charlie Cards can be used for devious purposes, Newbury Street keeps going after it hits Mass Ave, and Jay is actually a ninja. The more you know, people!
Iíd also like to give a huge thumbs up to a couple of great Trees and Hills creators: Anne Thalheimer, who led a fun crafts workshop and shared thoughts on her approach to crafting (including a "zero discard" policy for her new effort My Monster Hat); and Marek Bennett, who led an inspiring workshop and discussion on comics and education/activism. Marek has posted notes from his talk over on his blog - itís worth the read.
Cool finds of the zine fair!
I enjoyed the fair so much (and Iím not the only one), and Iím really looking forward to the next one and doing more to grow this excellent Boston alt-media event.
Monday, December 8, 2008
If you're in the Davis Square area this Sunday (December 14), come on over to a comic show!
Comicazi will be hosting the Comicazi-Con and Bad-*ss Christmas Bazaar at the Dilboy VFW in Davis Square. 9am-3pm, $3 admission (includes free comic and toy). Get ready to buy loads of comics! And come and say hi to the Boston Comics Roundtable - we'll be there selling copies of our anthology Inbound and minicomics by our members!