Thursday, January 15, 2009
If you're a Boston-area geek looking for a weekend of nerdpartying, come on over to Cambridge this Friday to Arisia, New England's largest sci-fi and fantasy convention!
This year's comics panels include appearances by members of the Boston Comics Roundtable. If you're interested in learning more about indy comics in Boston and our current/upcoming projects, this is the place for you!
To prep for the weekend, why not have a refresher on stuff geeks love, the worst comic this guy owns (NSFW), the entire run of The Prisoner, or the classic geek hierarchy?
Wednesday, February 4, 2009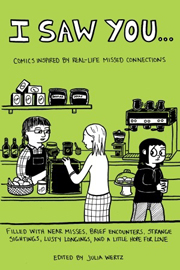 Check this! The Craigslist-inspired comics anthology I Saw You... is finally out and in bookstores near you! Itís packed like a sardine can full of excellent indy comics creators, including a one-page comic by me. Youíll know it. Youíll love it. Itís about colonoscopies.
Kudos to Julia Wertz for bringing the book together. Look for it in bookstores or order a copy online!
Thursday, February 12, 2009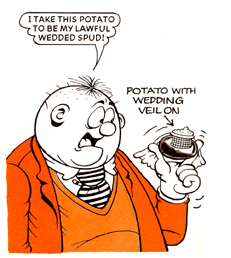 Everybody we know loves to read The Beano! íCause it was made of 100% coked-up crazy.
Friday, February 13, 2009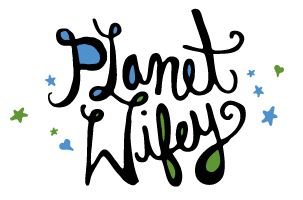 Start the Valentine's Day lovin' a day early - check out the debut strip of Planet Wifey, a webcomic with writing by Clarence Smith Jr. and art by me! Look for a new trip to Planet Wifey every other Friday.
Friday, February 27, 2009
Captain Haddock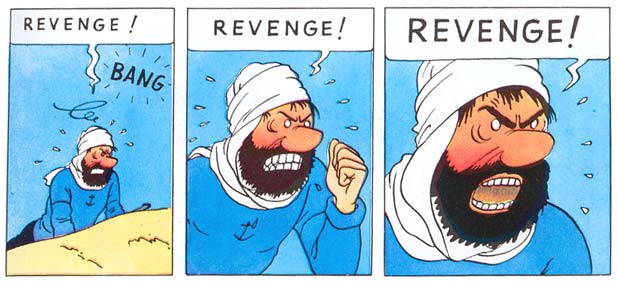 is a man on a mission
Saturday, February 28, 2009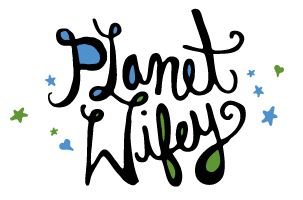 Check out the newest strip at Planet Wifey, where you can learn all about wailin' on kangaroos.
Sunday, March 15, 2009
And it was after three oíclock in the morning

and I found this story about Scrooge McDuck going walkabout with a shaman in the Australian outback

whaaaaaaaaaat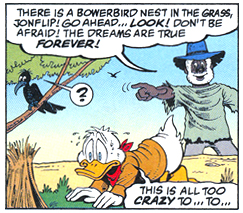 The Life and Times of Scrooge McDuck is blowin' my mind, guys.
In other news, bop on over to Planet Wifey for everything you need to know about Clarence buying sneakers!
And a HAPPY BIRTHDAY to Mike Sterling!
Wednesday, April 1, 2009
Plenty of comics news today!
Inbound #3 release party this Saturday
Boston Comics Roundtable is celebrating the brand-new third issue of our comics anthology Inbound! Come hang out with Boston comics creators and check out a coffeeshop exhibit of original artwork!
where: The Atomic Bean Cafe, 902 Massachusetts Ave, Cambridge, MA (between Harvard and Central Squares, where Mojo Records used to be)
when: Saturday, April 4, 2009 † 7-9pm
Boston Comic-Con this weekend
Stop by the Boston Comic-Con this weekend to stock up on comics and meet local creators (including members of Boston Comics Roundtable and Trees and Hills). Iíll be there hawking my comics - hope to see you there!
where: Back Bay Events Center, 180 Berkeley Street, Boston, MA
when: Sat-Sun April 4-5, 2009 10am-5pm ($10 admission fee)
Fall into the orbit of Planet Wifey
Belated shout-out for the latest Planet Wifey! Go check it out - it involves bras and squirrels.
Thursday, April 16, 2009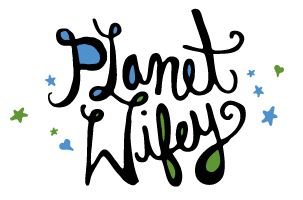 Take a trip to Planet Wifey, where the consequences of lost luggage are sexy!
And if youíre looking for more reading awesomeness, check out The Chronicles of Solomon Stone, the face-kickingly cool adventures of the Worldís Greatest Half-Vampire Private Detective (brought to you by Chris Sims, Matthew Allen Smith, and Benjamin Birdie!
Still looking for more? Pop on over to (postmodernbarney.com) for the heartache of Uncomfortable Plot Summaries. Sick burn, Hollywood.
Saturday, April 25, 2009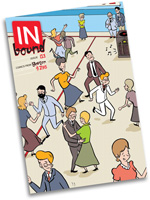 Itís here! Check out the brand-new third issue of Inbound, a comics anthology by the buckets of creative talent at the Boston Comics Roundtable! 72 pages about love and relationships from local creators: Youíll laugh, youíll cry, youíll admire the zombies and dinosaurs. If youíre new to Inbound, catch up with the bundle deals on our back issues (issue #2 has a story by me!).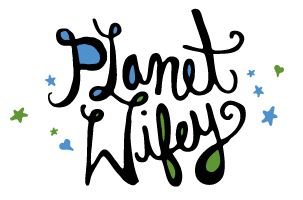 In the mood for more comics? Hop on over to Planet Wifey, where peeps are gettiní hiiiiiiigh.
Friday, May 15, 2009
If you like indy comics and you like Maine, come on up to Portland this Sunday for the Maine Comics Arts Festival! It's a full day with a huge list of comics creators and great selection of workshops and discussions. Look for me and plenty of Boston Comics Roundtable members as well as our pals from Trees and Hills!
Where: Ocean Gateway in Portland, Maine
When: Sunday, May 17 10am-5pm
Details: $5 admission (free for kids under 12)
If you're a city kitty like me and don't have a car, the Amtrak Downeaster train runs from Boston's North Station to Portland with trains leaving at 8:50am and 11:10am and returning at 3pm and 8pm.
Thursday, May 21, 2009
This past weekend, I had an absolutely lovely time attending the Maine Comics Arts Festival. A bunch of pals from the Boston Comics Roundtable and I made the trek up north for the one-day show, where we peddled our wares and hung out with comics buddies and luminaries like Trees and Hills, Becky Cloonan, Kean Soo, and plenty of others.
Iím blown away by the fact that this was the festivalís first time around. Rick of Casablanca Comics and his team made the event run so smoothly and with such organization that Iíd think itíd been going for years. Iíd like to break down what I thought was successful, to take away for other events.
Organization
The MeCAF crew set up a main festival website and a blog, which they kept updated constantly with fresh information. I knew that if I had any questions, the blog would be a reliable resource. It was very easy to find directions and instructions.
They sent plenty of alert emails to participants with festival details and reminders.
The contact information for MeCAF organizers was convenient to find, and they responded quickly to questions.
Support
On the festival day, staff wore the bright orange festival T-shirts, and their name badges clearly showed the word "STAFF" (guestsí badges said "GUEST"). They circulated and frequently checked in about anything that they could do to help.
Free coffee! Good God, have you found the way to my heart.
MeCAF staff arranged for lunch by taking sandwich orders and payment in the morning and dropping off the goods at your table midday. I was so relieved not to have to abandon my table.
Prior to the festival, the organizers set up deals with local hotels for special convention rates. This saved cash and worry about having to look up hotels in the area.
Kid-friendliness
As BCR member Alexander Danner points out, the place was flooded with kids and their parents - way more than any of us anticipated. I think my sales wound up lower than usual as a result, since all of my comics are geared for older audiences (I had to shoo a lot of little fingers away from I Survived GWAR), but Iím happy to shrug this away to celebrate kids just loviní on comics and bringing new blood and energy into the scene.
Cheap admission for adults and free admission for kids under 12. This made the event an affordable outing for a whole family. I canít remember how many times Iíd talk to the adults and theyíd say "Iím just here with our little budding artist - talk to her!"
A fun, colorful, and easy-to-read promotional poster
An all-ages creator as a high-profile guest: Kean "Jellaby" Soo
Social opportunities
In addition to putting on the show itself, the MeCAF crew provided some great get-togethers for the creators to meet and mingle.
On Saturday night, they held a reception party over on an island in the bay. Taking a ferry to hang out with other comics creators? Pretty cool. Open bar and free appetizers? Iím now your BFF for all time.
Following the show, they also held an afterparty at a bar within walking distance of the festival. I couldnít make it to this, but I loved the idea of a wind-down hangout.
Attractions
My weekend in Maine ended up being flat-out fun and pretty to look at. Some of that was intentional from the MeCAF crew and some was just a side result of the locations, but in any case, I walked away having enjoyed where Iíd been and actively looking forward to the next show. This is a factor in my choosing conventions - what else can I do while Iím there, and will the space be comfortable?
The convention center offered plenty of natural light, walking space, and a lovely view of the water.
The reception party was held at a classy inn - a very warm and welcoming space (which would have had a great view too if the fog hadnít camped out in the city that day).
Portland itself turned out to be a walkable city with plenty to do and funky shops and eateries. I helped out Maineís economy way too much this weekend via cool handbags, comics, and tricked-out fries.
Again, I canít get over how well-organized and on-the-ball the MeCAF crew turned out to be. My whole experience at this con was effortless and very enjoyable. Hereís hoping this will be the first show of many!
Wednesday, June 3, 2009
Itís that time of year again!
This weekend is the annual MoCCA Art Festival in New York City, and that means itís time for some new comics! Come on by my table and check out the debut of my new minicomic, Greenblooded: An introduction to eco-friendly feminine hygiene!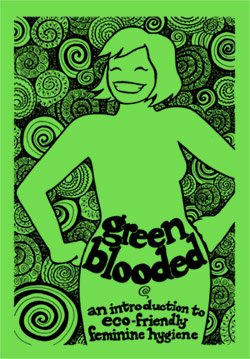 This comic is an educational effort, straying a bit from the autobio wackiness I typically write. Itíll give you the basics on greener ladyproducts with plenty of background on the menstrual cycle and the environmental impact of handling it. If you like ladies, if you are ladies, if you just want to learn more about an issue thatís usually kept on the hush-hush, pick up a copy and start the conversation! If you canít make it to MoCCA, look for the comic to be on sale on this website next week.
Update: This comic and others are on sale online! Check out my comics page!
This weekend will also see the debut of two new Star Wars fanbooks from the group that brought you Harvest is When I Need You the Most (with even more creators this time)! Look for Only What You Take With You and And Donít Forget the Droids, including a two-page story by me! Itís about R2D2. That little guyís made of awesome.
Forget this coming weekend - do you want to read some comics right now? Then check out the latest trip to Planet Wifey, where black girls rock!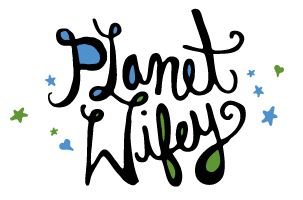 And never mind comics - are you hankering for up to 140 characters of rockiní? Good news for you, then - Iím now on Twitter under @metrokitty. Look for comics updates and plenty of disgusting medical facts.
Friday, June 5, 2009
Donít forget - this weekend is the annual MoCCA Art Fest in New York City! 11am-6pm Saturday and Sunday at the 69th Regiment Armory, 68 Lexington Avenue, between 25th and 26th Streets. Look for me and my new comics!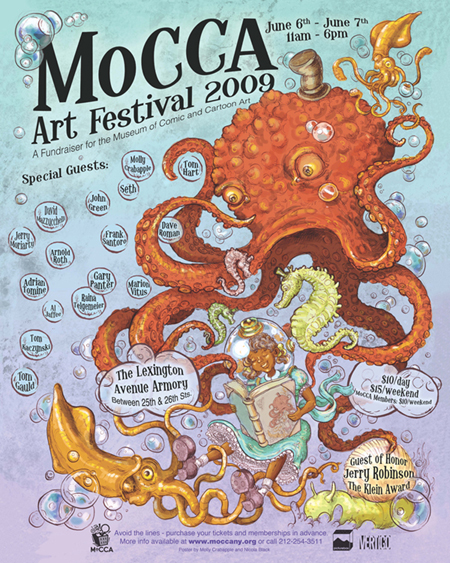 Also this weekend is the birthday of Sir Tom Jones. 69 years young, ladies! Celebrate by watching this video and chucking your panties at the monitor.
Wednesday, June 10, 2009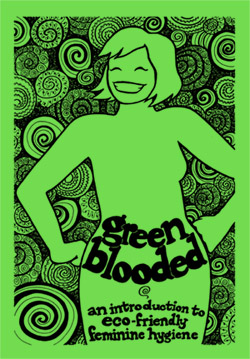 Itís here! My newest minicomic is available for purchase online!
A good read for ladies and fellas alike, this nonfiction mini gives you the rundown on more eco-friendly approaches to handling your period. It covers the basics of several alternative products, the facts of the menstrual cycle, greener disposables, and discussion about why this is an important issue. 12 pages, $2, good for teens and up!
This has been a bit of a departure from my usual autobio-based storytelling, and Iíve enjoyed the heck out of it. Iíd like this project to start conversation, so if you have feedback, corrections, advice, or funny stories of your own, please share them with me!
And if youíre looking for more fun stuff to read, skip on over to my comics page for a list of my other print minicomics and some web-only stories!
Monday, August 10, 2009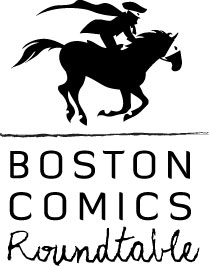 Come and hang out with Boston's cartoonists!
Our local crew of comics creators, Boston Comics Roundtable are hosting a fundraiser night to benefit the fourth issue of our comics anthology, Inbound!
Come on over to P.A.'s Lounge in Somerville, MA, on Thursday, August 20 for a night of caricatures, sketch battles, raffle prizes, and live music from the band Rotary. The fun starts at 9pm (doors open at 8), tickets are $12 at the door, and the event is 18+. [ press release with details ]
Inbound #4 will be devoted to stories of Boston history - strange tales, naughty memories, and inspiring characters galore. It's going to be a rock solid collection of fun reading, so join us at P.A.'s Lounge and help make this issue happen!
Friday, August 21, 2009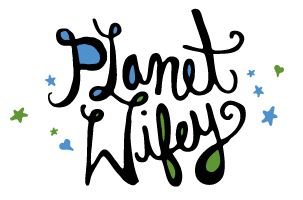 A few spins around and weíre back in the orbit of Planet Wifey! Catch up on all the antics: fun and games around the house, Twitter-based romance with a Star Trek bonus, squirrels who mean business, gorgeous guest art by Chris Piascik, and the first two parts of how Clarence met Planet Wifey! Woooo!
Wednesday, September 30, 2009
Whoa, brace yourselves for lots of news!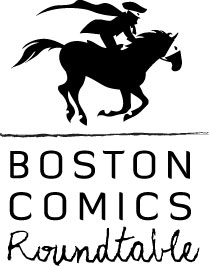 Boston Comics Roundtable has a brand spankin' new website! Head over to www.bostoncomicsroundtable.com and check out the handiwork of designer and illustrator Shelli Paroline - nice job, Shelli! Look for tutorials, discussion, and art from Roundtable members as the site continues to grow.
And keep an eye on that space for news of the upcoming fourth issue of Inbound, the Boston Comics Roundtable anthology. Kudos to everyone who attended our fundraiser in August! Thanks to the "Fastest Artist" improv-style competition, I can finally say I've seen a drawing of Danny Devito wrapping Christmas presents at the Crucifixion. At last. This fast-approaching next issue of Inbound will be packed with tales from Boston history, including a story by me about a very special and, sadly, vanished site in Boston entertainment. Spoiler alert! It features ladies without many clothes on.
And who else is up to something new around here?
Tuesday, October 13, 2009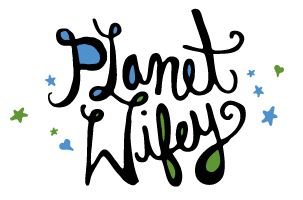 Slip into the orbit of Planet Wifey one more time, and check out some incredible news! Things will never be the same!
And with this earth-shaking chapter, my part in telling the tales of Planet Wifey draws to a close. Thanks to Clarence and PW herself for inviting me to join in on this project - itís been a fun trip! Iím looking forward to reading whatever Clarence works on next (like this), and most of all Iím looking forward to seeing what becomes of that great big news!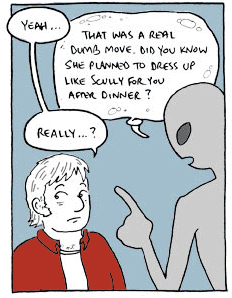 Meanwhile, in another orbit of the internet, webcomics guy and all-around cool fella Charles Schneeflock Snow has tapped me and writer Daniel Barlow for a guest strip in his webcomic Sordid City Blues. Check out the results in "I Owe You Everything"!
Monday, October 19, 2009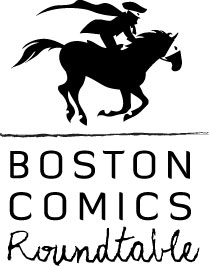 Are you in the Boston area? Are you into comics?
If youíre shouting "Yeah!", then come on by this weekend for Boston Comic Con - bargain reads, guest artists, and more! Iíll be there with local comics posse Boston Comics Roundtable, selling our anthology Inbound and minicomics by our members.
Come by, say hi, and buy a few comics!
Where: Back Bay Events Center, 180 Berkeley Street, Boston, MA
When: Saturday & Sunday October 24-25, 10am-5pm
Admission: $10 each day
Friday, October 23, 2009
Weíre on the air!
This weekís Radio Boston show on 90.9 WBUR has the theme of "Literary Boston", and it includes an interview with Boston Comics Roundtable! Weíll be talking about Boston-based comics and the upcoming fourth issue of our anthology Inbound, which will be a special extra-large edition devoted to tales from Boston history.
And as a bonus, the show will include a short radio drama based on my story from Inbound #4, "The Old Howard"! Thrill to the true story of the rise and fall of Bostonís own burlesque theater!
Catch the show: "Literary Boston" will air on 90.9 WBUR at 1pm on Friday, October 23, and again at 1pm on Saturday, October 24. After the Friday airing, the show will be available for download on the Radio Boston website.
You can also get a sneak preview of the radio drama on Radio Bostonís blog, complete with visuals from the comic itself (and me narrating with my best "NPR voice")!
Inbound #4 is slated for release later this year. Read more about it on the Inbound #4 website, where you can also sign up for email announcements about the project or pre-order the book. This one is jam packed full of awesomeness!
Thursday, October 29, 2009
Hey Boston, youíve got comics on your radio!
Last week, 90.9 WBUR (Bostonís NPR affiliate) invited Boston Comics Roundtable to be interviewed on their weekly show Radio Boston. The episodeís theme was "Literary Boston", tying in with that weekendís Boston Book Festival.
We talked about the Roundtable and about our upcoming fourth issue of our comics anthology, Inbound - the issue devoted to stories from Boston history. They love the concept of comics set in Boston, and we love talking about our creative work, so it was a blast all around!
You can listen to the entire program on Radio Bostonís website. The BCR interview begins just after 40:00.
As a bonus, the WBUR team and Boston Comics Roundtable joined forces to put together a little radio drama based on my story from Inbound #4, "The Old Howard". Kudos to Braden Lamb for adapting the comic for the radio, the BCR for voice talent, and WBUR for sound effects! And extra solid gold kudos to WBUR for assembling an online version including graphics from the original comic - check out the YouTube clip below (narrated by me!).
This is an abridged version - the actual comic is four pages long and includes so much more awesomeness. Strippers! Censors! Hot dogs! James Michael Curley! Godalmighty, you guys, Boston is just the coolest, except for the times when theyíre knocking down funky parts of town to put up office buildings.
Want to read more? Stay tuned for the release of Inbound #4, coming later this fall! Boston Comics Roundtable is accepting pre-orders for this book - visit the website to send in your order, to sign up for our news mailing list, and to see preview art.
Wednesday, November 18, 2009
I drew Space Cabby for Dave's Space Cabby collection! If you're not familiar with Space Cabby, all you need to know is right there in his name. He's a CABBY. In SPACE. There you go! And if that's not enough, every Sunday Dave's blog highlights one of the guy's stories Ö IN SPACE!
And now for some comics a bit more down to Earth: Boston Comics Roundtable's upcoming Inbound anthology of Boston history stories is now available for pre-order! Get your name on the list for over a hundred pages of historical awesomeness: the Great Molasses Flood, Sacco and Vanzetti, the Athenaeum's most infamous book, and my story about Boston's world-famous burlesque theatre. $12 plus $3.50 shipping and handling - order yours today!
Wednesday, December 2, 2009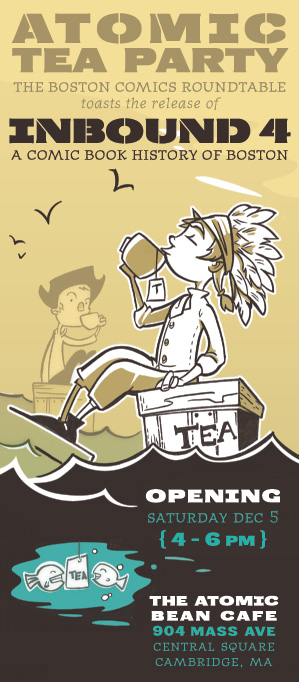 Theyíre here! The Boston history comics are here!
Boston Comics Roundtable is thrilled to announce that Inbound #4 is now on sale! This special book-length issue of our comics anthology is packed with dozens of stories from Boston history, brought to you by the minds and pens of local creators.
Including me! This is the one with my comic about Bostonís burlesque theater, the Old Howard, as featured on Radio Boston. If youíve only heard the radio drama version, youíre missing half the story! The full comic has much more - MORE strippers! MORE hot dogs! MORE Sammy Davis Jr.! Pick up a copy of Inbound #4 to get the whole scoop.
And if youíre in the Boston area yourself, come and hang out with us! Weíre celebrating the bookís release this Saturday, December 5, from 4-6pm in Central Squareís Atomic Bean Cafe. Meet comics creators from around New England and see original art from Inbound #4!
Inbound #4 is now available for purchase on the Boston Comics Roundtable website, in Boston-area comic shops, and at a bunch of upcoming Boston-area holiday and craft fairs. BUY IT. LOVE IT. BOSTON IS AWESOME.
Sunday, December 6, 2009
'Tis the season for buying comics! This Saturday, come on by the Comicazi Con in Somerville's Davis Square - I'll be there selling my minicomics and (seasonal bonus) holiday cards!
Boston Comics Roundtable will also be there, selling our new anthology Inbound #4: A Comic History of Boston as well as books and minis by BCR members. One-stop holiday shopping!
WHERE: Saturday, December 12, 10am-4pm
WHEN: George Dilboy VFW, 371 Summer St, Davis Square, Somerville, MA
DETAILS: Admission fee $4, hosted by Davis Square comics shop Comicazi
Comics parties!
Fun times this weekend with two release parties for New England comics! Boston Comics Roundtable held a coffeeshop party to celebrate Inbound #4 as well as the opening of an exhibit of original Inbound #4 art at Cambridge's Atomic Bean Cafe (on display now - stop by and see it!). I'm always amazed by how many people manage to squish into that place, and the coziness was a very welcome escape from the snow clumping down outside.
Afterwards, a bunch of us made our way over to Somerville's Hub Comics to hang out with a few buddies from our northern pals Trees and Hills, in town to promote two new books: their group anthology Shelter and Marek Bennett's Nicaragua Comics Travel Journal. Two dogs and a ukelele on the premises - always a guarantee of good times. Pick up Trees and Hills' comics if you get the chance - you'll never meet a nicer bunch of comics activists.