Wednesday, January 20, 2010
Let's rock this New Year with a local comics event!
On Thursday, January 21, join Boston Comics Roundtable at 7pm at Porter Square Books for a (free!) talk by some of the writers and artists behind Inbound #4 - A Comic History of Boston.
Come and learn about comics creation - we'll be talking about working from a script, using thumbnails, creating cartoon versions of famous historical people, and more. I'll be speaking about thumbnails and going from drafts to the final version of my burlesque theater story "The Old Howard". You can expect me to say "James Michael Curley" about 40 times.
And come to just hang out! Say hi to New England comics creators and fans and pick up a signed copy of Inbound #4 of your very own. (And take the opportunity to enjoy some book shopping and coffee from a great independent bookstore!)
WHERE: Porter Square Books, 25 White St, Cambridge, Massachusetts 02140
WHEN: Thursday, January 21, 7pm (free event!)
WHO: Boston Comics Roundtable and writers and artists from Inbound #4
Sunday, January 31, 2010
The Timesí best TV show rankings puts it more eloquently than I ever could: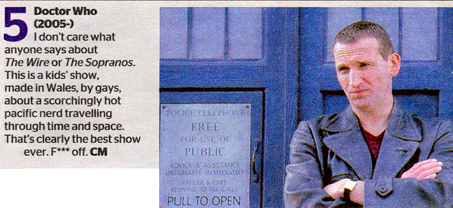 Sunday, February 14, 2010
Like Minnie the Minx, spend Valentineís Day with the ones you love.

Tuesday, March 9, 2010
The official start of spring is nearly here, and with it comes the comics convention season! Iíll be bopping around a few shows from now through the summer. Hope to see you at one of them!
March 20: Boston Zine Fair (Cambridge, MA)
-- This show is a mini zine fest in collaboration with Whitehaus Family Recordís Blastfest music celebration. Come for the comics and DIY, stay for the rocking out.
April 10-11: MoCCA Art Fest (New York, NY)
-- The classic indy comics show has a new timeslot this year and a ridiculously neat guest list. And if you decide to stick around the Hub instead, stop by Boston Comic Con, also being held that weekend!
May 23: Maine Comics Arts Festival (Portland, ME)
-- Iím so looking forward to the sophomore showing of this event (the first one last year was a well-organized blast). This year, the festival will expand to include a Saturday dedicated to panels and workshops. Canít wait!
July 18: New England Small Press Assembly (NESPA) (Warwick, RI)
-- The first time for a new Northeast con! EAST COAAAAST!
Thursday, April 8, 2010
Itís MoCCA time! This coming weekend is the annual NYC indy comics celebration MoCCA Art Fest. Iíll be there along with my pals from Boston Comics Roundtable, and Iíve got something new!
Iíll be debuting my new all-ages minicomic, Reggie & Brian and the Lousy Nickname. The crew of fishermen all have nicknames, but when the fishing boss picks one for young Reggie, itís definitely not appreciated! Can his little merman pal Brian help him ditch it? Pick up a copy and find out!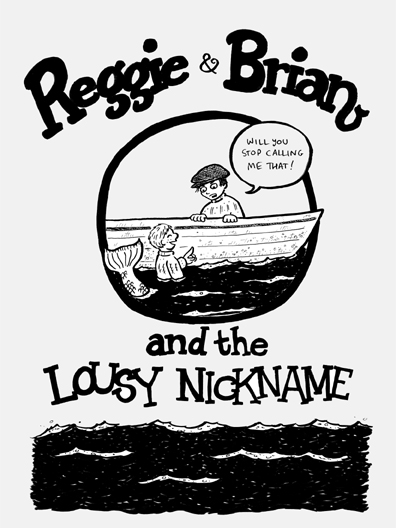 Iíll also be selling the usual array of minicomic awesomeness, from autobio fun (Geraniums and Bacon) to menstrual 411 (Greenblooded). Check out the Boston Comics Roundtable area, too, for the newest issue of the sci-fi serial anthology Outbound and our recent anthology hit Inbound 4: A Comic Book History of Boston.
And if youíre in the Boston area and canít make it down to NYC, head to the waterfront this weekend for the ever-expanding Boston Comic Con and say hi to other members of the Roundtable, pals from Agreeable Comics, and other hometown and out-of-town creators.
Look for Reggie and Brian to be available for purchase online soon, and hope to see you at MoCCA!
Monday, April 19, 2010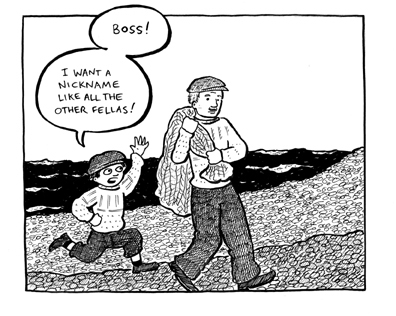 Whoís ready for some fishing fun!
My new all-ages minicomic Reggie & Brian and the Lousy Nickname is now available for sale online! Seashores, boats, waves, more English fishermen than you can shake a stick at, and one stinky nickname that gets stuck to poor Reggie. Can merman buddy Brian help him to shake it? Find out inside! $3.50 gets you 20 pages of seaside storytime:
And check out my comics page for other fun cartoons and minicomics - autobio wacky scrapes, metal concerts, womenís health, and plenty more.
Sunday, April 25, 2010
Another year, another MoCCA Art Fest, and another pile of comics to pore over on the bus ride home. Panels from some of my favorites of this yearís batch: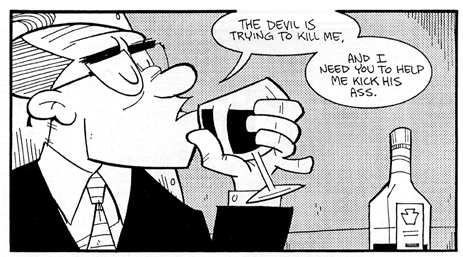 Pat Lewisí Cragmore, the tale of a billionaireís brush with death and how he avoids ending up in the Devilís hands. Patís art is beautifully polished, and the story unfolds into weird little turns that always surprise me. The whole graphic novel will be available this summer; in the meantime, buy volumes 1-3 from Patís online store or read the first 20 pages for free.



Man, Bill Roundyís journal comic The Amazing Adventures of Bill makes me want to live in New York! Or at least visit it more often for drinks. Bill was selling issue #12 of the print minicomic collection of this comic, but you know what? You should plunk down cash and buy his massive paperback book of strips from 2003-2008. Itís worth it for the bonus newsletters included in the back.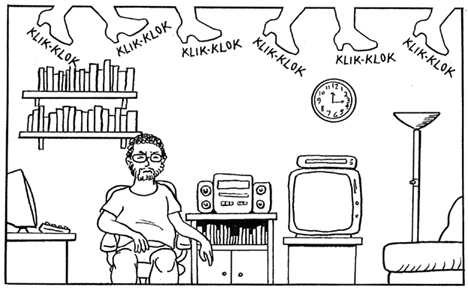 Iím usually the sourest jerk about 24-hour comics, but Chris Brownís My Goddamn Upstairs Neighbor made me chuckle, especially the fun way he used the panel borders.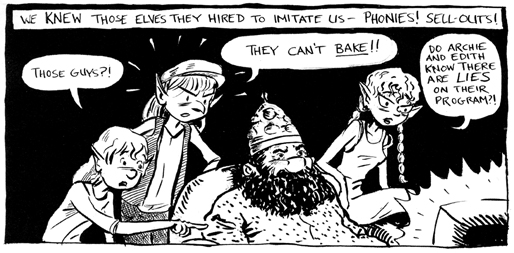 Dan Mazur is a local pal from Boston Comics Roundtable, but did you know that heís also the king of sadness? His latest minicomic The Way it Crumbles is a heartbreaking tale about capitalism, exploitation, innocence lost, and the Keebler elves.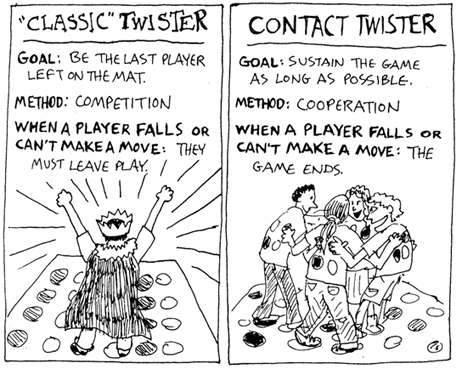 The Roundtableís New England buddies Trees and Hills have been turning out anthologies left and right, and MoCCA saw the debut of their newest, Play. I liked Colin Tedfordís exploration of an alternate version of Twister, which seemed like it would be tee-hee-touchy-feely and actually turned out pretty thought-provoking.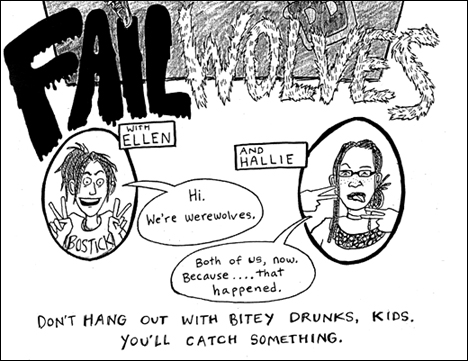 Between Being Human and the Kitty Norville series, Iím on a slightly embarrassing werewolf kick lately, so no surprise that I zeroed right in on the Center for Cartoon Studies minicomic anthologies Werewolf! and Werewolf!! (available on the I Know Joe Kimpel site). And what a treat - both of them had hilarious little stories by Betsey Swardlick, who cracked me up a few MoCCAís ago with her minicomic Poor, Poor Angsty Hungarian. I wanna see more of these two little vegan werewolves! Hope thereís a Werewolf!!! in the works.
Wednesday, May 19, 2010
Fun times this weekend in Portland, Maine! Come to Portland's Ocean Gateway this Sunday, May 23, for the Maine Comics Arts Festival - meet loads of comics creators and buy loads of cool stuff to read! I'll be there selling my minicomics (including the latest, my all-ages story Reggie & Brian and the Lousy Nickname), and my pals from Boston Comics Roundtable will be selling our group anthologies Inbound and the shiny new second issue of Outbound.
The festival also includes a full day of free workshops on Saturday, May 22, and a gallery show of original comics art in the Portland Public Library's Lewis Gallery.
Come and check out the festival on Sunday from 10am - 5pm - admission is $5, and kids 12 and under get in free. Catch you there!
Sunday, May 30, 2010
Convention season rolls on, and last weekend this lucky kitty got to be one of the exhibitors at the second Maine Comics Arts Festival in Portland, Maine!
This show has been such a great addition to the comic show schedule, with its focus on indy creators, its outstanding organizing crew, and its setting in a fun-as-hell city that I love exploring.
What were some of the best parts?
Meeting cartoonist Betsey Swardlick - the one behind those hilarious werewolf stories I picked up at MoCCA - and finding that aaah! Now she has a new comic with those stories reprinted and a completely new one! Swear to God my wallet got whiplash at that table.
Hearing the strange "ding" of a bell all day long and eventually discovering that it was a little silvery shell-shaped bell on Jen "Mermaid Hostel" Vaughnís table
Finding a comic with an absolutely bonkers premise and running around all day telling people about it. "YOU GUYS itís the American Revolution but instead they have battles of the bands aaaaah thatís so awesome". Check it out here: Paul Reveres
Boggling at the bizarre sheet of fog that sat just beyond the convention center, still as a brick wall. If Iíd taken a shot for every time someone said "Hey wasnít there some Stephen King story? About fog?", I wouldíve had a big drunken Sunday.
Spending the day surrounded by so many awesome and creative people doing what they love, and spending the weekend ambling around a funky city. MeCAF creators - next year, make a weekend out of it! The art museum is free on Friday nights!
Once again, huge kudos to Rick and the Casablanca Comics organizing crew for putting together a fantastic weekend. Count me in for next year!
Thursday, June 10, 2010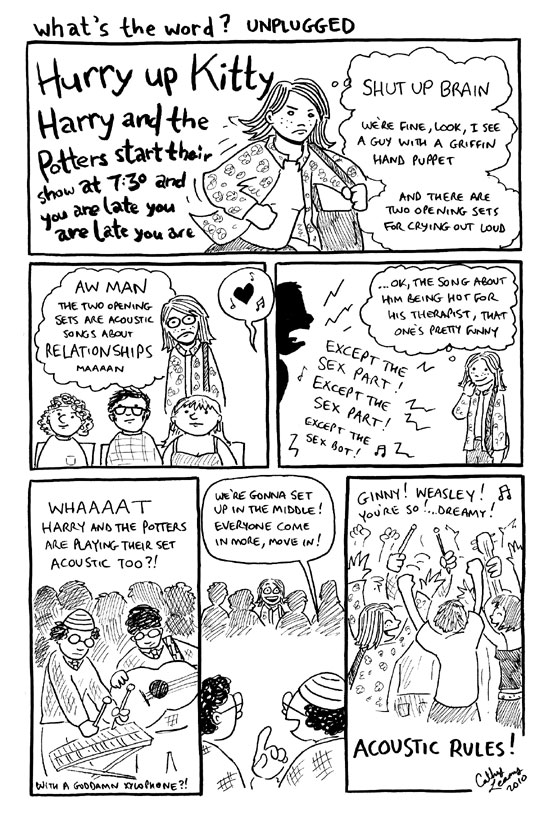 If youíve never seen the Harry Potter-themed band Harry and the Potters do a live show, youíre missing out on one of lifeís greatest delights! Why not watch the documentary We are Wizards online for free and get a flavor of it?
Tuesday, June 22, 2010
Whatís up this Sunday? A craft fair!
Come on over to Mass College of Artís Pozen Center on Sunday, June 27 for Mass Market, a DIY flea market with art, jewelry, bookbinding, baked goods Ö and comics! Iíll be there hawking my minicomics along with a few other pals from Boston Comics Roundtable. 11am-5pm, $1 entry fee, 621 Huntington Avenue (Longwood stop on the MBTAís Green E line). See you there!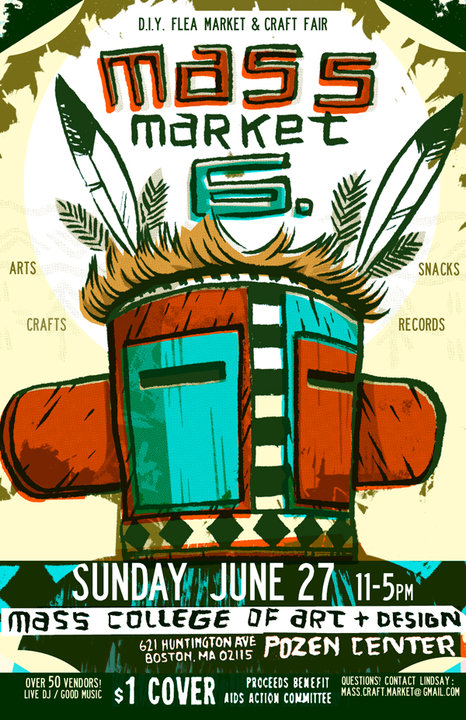 Thursday, July 1, 2010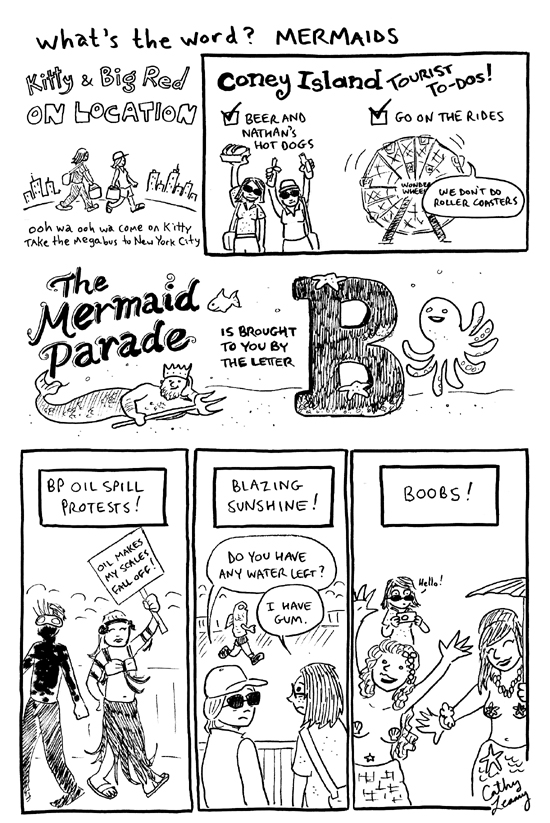 So this is the year I finally got to hit the Coney Island Mermaid Parade. HELLA BONKERS YOU GUYS. The creativity (and exhibitionism!) behind the costumes bowls you over. That and the two hours of standing in the hot New York summer sun. We cooled down afterwards by going to the dark theater of the carny-style sideshow.
Monday, September 6, 2010
Neat menstrual news, people! GladRags, my favorite makers of cloth pads, are now offering my minicomic Greenblooded for sale on their website (read their review!). Now you can get a copy of my cartoon intro to eco-friendly feminine products AND buy some for yourself at the same time!
I'm also September's Monthly Friend on the GladRags Gab blog! LET'S HEAR IT FOR MY UTERUS! Check out the rest of their blog for cool links, advice, and more writing on sustainability and other green topics.
In all seriousness, I really can't say enough good things about GladRags. They were the ones that introduced me to the world of cups and pads and healthier ways of ladyliving, way back in the day, and their pads are still the ones I use every month. Kudos to them and the work they do!
Tuesday, September 7, 2010
This coming weekend is the indy comics fest Small Press Expo 2010 in Bethesda, Maryland, and Iíll be there!
Come and visit me at table A10 - Iíll be selling my minicomics Geraniums and Bacon, Greenblooded, and Reggie & Brian and the Lousy Nickname.
Iím excited - thisíll be my first time attending SPX. Maryland, treat me kind!
Sunday, September 19, 2010
Another weekend, another long trek to a faraway comics show - WAIT NO HANG ON THERE. Thereís no long trek! This comics show is right here in BOSTON!
This coming Saturday, September 25th, come on over to Kenmore Square for MICE: Massachusetts Independent Comics Expo! Free admission! The show is co-organized by my pals in the Boston Comics Roundtable, and the lineup is great and diverse - webcomic creators, minicomics and zinesters, small press, and more. Iíll have a table for hawking my minicomics, so drop by and hook yourself up with some good-times autobio cartoons.
WHAT: MICE - Massachusetts Independent Comics Expo
WHEN: Saturday, September 25th 10am-6pm
WHERE: The Art Institute of Boston, 700 Beacon Street, Boston, MA
WEBSITE: www.masscomics.com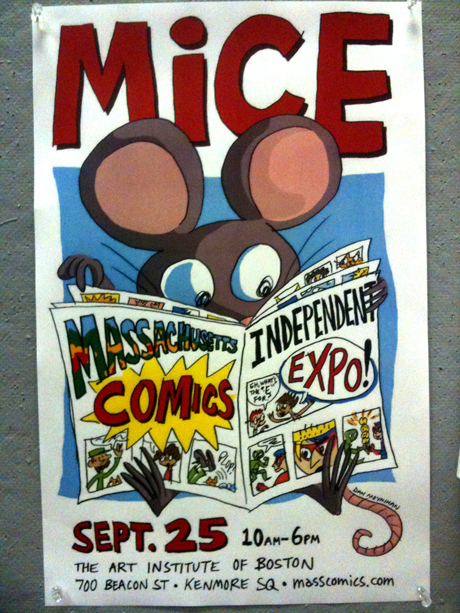 Friday, November 5, 2010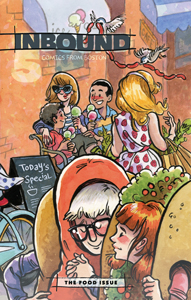 Do you like cheese? Do you like comics? Do you like them together?
Then pick up a copy of Inbound 5, the brand new lip-smackingly awesome fifth issue of Boston Comics Roundtableís comics anthology! This issueís theme is food, and the stories cover every tasty angle possible: sardines and autobio, corn and mythology, onion rings and magic, and plenty more. And Iíve got a story in it about CHEESE! This issue includes my 2-page comic about Englandís annual Cooperís Hill Cheese-Rolling and Wake, a fine example of how my countrymen come up with some crazy-ass traditions.
Buy a copy of Inbound 5 online or in Boston-area comic shops today!
Sunday, November 21, 2010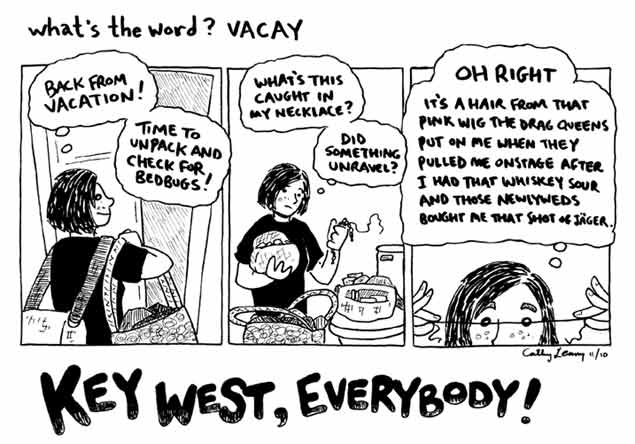 A big hello to the lovely ladies of the Drag Asylum on Duval Street and to the awesome staff of the Coffee and Tea House who hooked me up with tasty breakfast each morning.
Tuesday, December 7, 2010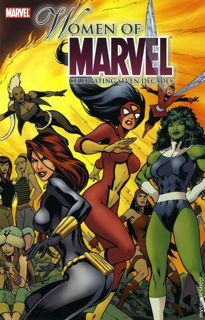 Check this out! I helped contribute to a Marvel Comics anthology!
This summer, my pal Jeph York and I researched and wrote introductions for Women of Marvel: Celebrating Seven Decades. This paperback collects comics from each decade of Marvelís existence that showcase female characters: Golden Age Black Widow, Ms. Marvel, Lorna the Jungle Queen, Elektra, She-Hulk, and more. Gorgeous artwork, funky vintage storytelling, and more asskicking women than you can shake a plasma bolt at.
The process was a fun collaboration - Jeph has the comics/publishing background and I have the pop culture/feminism background, so our co-written introductions for each decade are a neat mashup of comics facts and real-world framework. If youíve ever wondered where Storm, romance comics, and the bad girl trend fit in history with Margaret Thatcher and Rosie the Riveter, man, is this the book for you! Also, you and I should get coffee sometime.
Itís the gifting season - pick up a copy for your favorite comics fan today!