Monday, February 13, 2012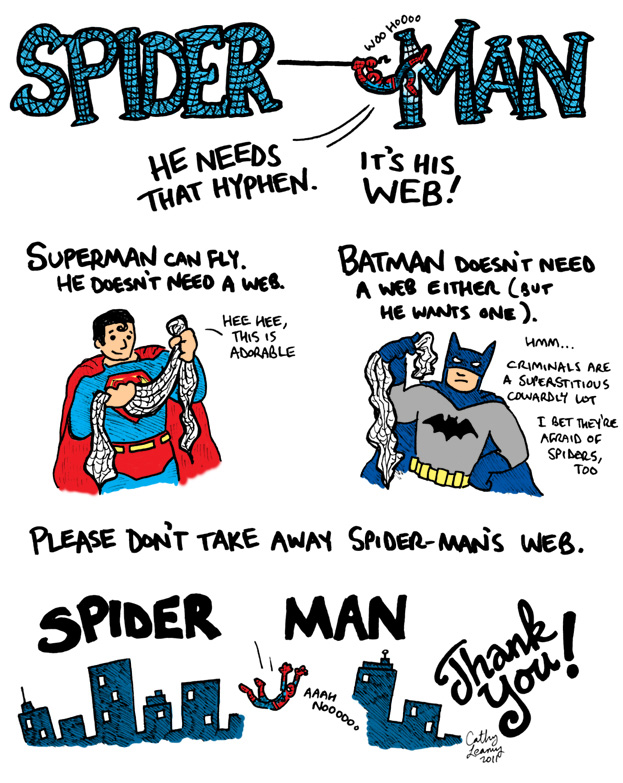 Sunday, March 25, 2012
Hey! You know Womanthology, the massive book of comics by women creators (and Kickstarter phenomenon)?
It's on sale now now, and I'm in it!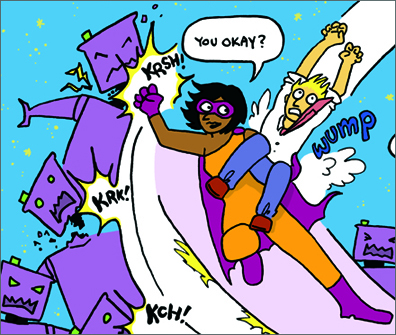 I illustrated a story written by Lisa Fortuner (@Ragnell on Twitter), comics blogger and real-life military heroine. Our four-page full-color tale is chock full of robot punching, secret identities, ray guns, and more man thigh than is honestly necessary. YEAH!
You can purchase Womanthology online or at comic shops around the country. And if you're a Boston-area local, you can swing by Union Square's Hub Comics this Saturday (March 31) from noon to 4 and get a signed copy! I'll be signing along with Womanthology creators/pals Ming Doyle, Ellen Crenshaw, Stacie Ponder, and the project founder Renae de Liz! Even if you don't want to pony up for the book itself, come and visit anyway! Hub Comics is a fantastic shop and there'll be plenty of other excellent comics to check out.
See you on Saturday!
Friday, April 20, 2012
It's showtime here in Boston! This weekend, Hynes Convention Center hosts Boston Comic Con, a big ol' bazaar of artists, writers, comic books, and collectibles. I had a blast at last year's show, especially thanks to the huge Artist Alley full of local cartoonists and creators. Here's hoping this weekend's show is even more awesome!
Look for me this weekend at table AA305! And guess what I'll have with me?
THAT'S RIGHT! It's the all-new issue 6 of my autobio and humor minicomic Geraniums and Bacon! It's been a long time coming - man, too long. This one's a dense one: Ballroom dancing! Mountains! Fortune-telling! Anxiety! A werewolf!
The new issue will make its debut at Boston Comic Con. Look for it for sale online and in local comic shops soon afterwards!
Sunday, May 13, 2012
Check this exciting spring and summer lineup! Iím gonna be hitting a funky fest or conference in May, June, and July - you should come too!
May 20: Maine Comics Arts Fest
Portland, ME
This coming Sunday, itís time for that annual Downeaster train ride up to Portland, Maine, for the Maine Comics Arts Fest! Come down to the waterfront and enjoy an amazing lineup of indy comics creators (Kate Beaton! Raina Telgemeier! Renae De Liz of Womanthology! My pals Boston Comics Roundtable!). Iíll be there selling my new Geraniums and Bacon issue #6! Only five bucks to get in, FREE if youíre 12 or under. Do it!
June 20-23: Health & Science Communications Association annual conference
Providence, RI
Comics and health care! Youíve got questions, and Iíve got an overview! On Saturday, June 23, Iíll be giving a featured talk at this professional conference on the comics format and why itís such an excellent mode of communication for health care. This talk will cover comics basics, social media and production tools, the graphic medicine movement, and next steps for further reading and trying it out yourselves.
And speaking of trying it out yourselves, Iíll also be holding a hands-on comics workshop on Thursday, June 21, for conference participants! No drawing experience required - just be ready to doodle and jam!
You can register at an early bird discount through May 25. The conference program looks fantastic, and Iím honored to be a part of it.
July 22-24: Comics & Medicine: Navigating the Margins conference
Toronto, Canada
The comics and medicine train keeps on rolling into July! Iím a speaker at this yearís conference - Iíll be on a Monday morning panel talking about my upcoming minicomic on diabetes and erectile dysfunction. THATíS RIGHT YOU HEARD ME. Iím making a comic full of dick jokes and diabetes metaphors and Iím gonna talk about it in public. This is possibly the best thing EVER. Then again, the rest of the conference schedule looks equally astounding and hilarious! Man, this is the coolest conference. You should come. Last yearís conference was mindblowing.
Hope to catch you at one of these! Drop me a line if you want to meet up there!
Thursday, May 31, 2012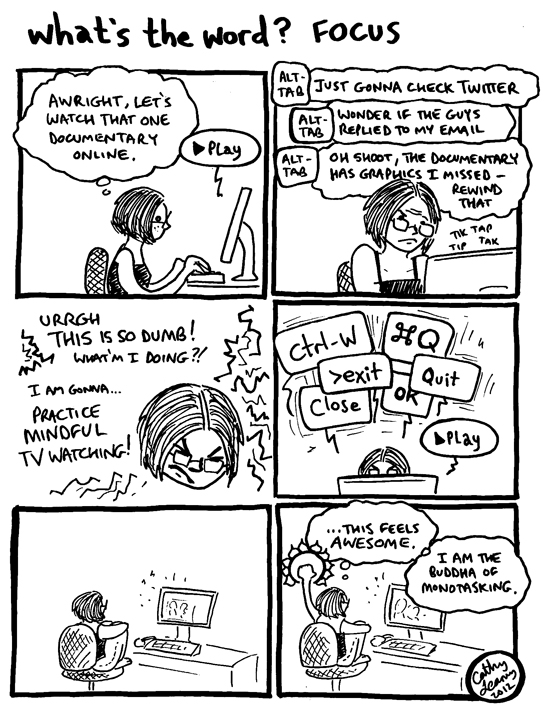 The documentary in question is HBOís four-part obesity special The Weight of the Nation, which you can watch online for free. Seriously worth investing the time.
Thursday, June 14, 2012
I drew a comic about mindful eating for Diabetes Views, the MGH Diabetes Education blog! Click on through and check it out!
Thursday, June 21, 2012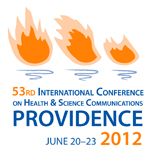 This Saturday, Iíll be delivering a talk on comics and healthcare at the annual conference for the Health and Science Communications Association!
Conference participants (and other interested readers): Here is the list of references from my talk!
Wednesday, August 22, 2012
It's the Comics & Medicine conference again!
That's right! Remember last year when I attended an academic conference in Chicago on comics and medicine? Well, the momentum keeps on going - the third annual conference was held this year in Toronto! More attendees, more discussion panels, and more events! The 2011 gathering completely blew my mind, and I've spent the past year in a whirl of projects, processing, spreading the word, and frenzied enthusiasm. I was really looking forward to revisiting this brain space. And this time I'd be talking! At this year's conference, I was a participant on the "Comics in patient education" panel!
What went on this year?
The two day affair kicked off with a pre-conference reception party and screening/Q&A session of the short documentary The Paper Mirror (no relation to my own short comic of the same title). Like last year, the organizers arranged a gallery-style display of comic art by the conference panelists. My contribution was the anxiety fiesta ďThe Loop" from issue #6 of my autobio minicomic series Geraniums and Bacon (available for sale online very soon).
Then - day one! Keynote talks by Paul Gravett and Joyce Brabner, followed by panel discussions and workshops, capping off with a casual on-stage Paul Gravett/Joyce Brabner/Joyce Farmer chat at the bar The Central and a trip to the famed comic shop The Beguiling.
And then - day two! More panels and workshops, finishing up with a keynote talk by Joyce Farmer that I sadly missed because I had to catch my plane home. Next time I'm planning my schedule better.
What's up party people are you ready for a Comics and Patient Education panel YEAHHH
One of the first discussion panels on day one, and I was on it! The other panelists included Lydia Gregg, speaking on a combo comic-and-treatment-diary for pediatric patients with retinoblastoma; Alex Thomas and Gary Ashwal of Booster Shot Comics, walking through the process of their asthma medication awareness comic Iggy and the Inhalers; and Allison Zemek, going into depth on a graphic novel for kids on healthy food choices.
And me? I was up there talking about diabetes 'n' dicks. OH YEAH.
I'm not kidding. A project I've been working on is a diabetes awareness minicomic directed at men, pointing out that one of the conditions that diabetes can cause is erectile dysfunction. This fact really hit home with a lot of my guy friends, so I decided to make a funny comic about it and then do a short survey about its effectiveness as an informative tool. The comic's goals were to get attention, bring readers up to speed on what diabetes is, and then give them easy next steps for reducing their risk.
The overall panel was absolutely fascinating to me. Despite my project being aimed at a completely different demographic than the other three panelists', the points made by our talks tended to overlap: Comics are a much more inviting reading format than plain text, facts delivered by our comics tended to stick well in readers' heads, storytelling and characters can be powerful tools to engage the reader, and so on. I'm really glad to have met the other panelists and to have learned about their projects. I also appreciated getting to snicker about stiffies in front of an academic audience. Man, I don't know what I'm gonna do with myself now that I can't go around saying ďGotta go work on my dick comic!" to everyone.
* Watch this space - I'm planning to post the full comic online and to have print copies for sale at comics festivals this fall!
Other panels and events I liked
Cartoonists Take Up Smoking
Dr. Alan Blum, physician and long-time anti-smoking advocate, took us on a whirlwind historical tour of cartoons/comic books against smoking and the tobacco industry. The one thing that will really stick with me is the effectiveness of humor instead of rage as a weapon against big enemies. Blum quoted Thomas More - ďThe devil, the proud spirit, cannot endure to be mocked" - and talked about his group's successes with parody ads and images. It reminds me of the Fataki campaign in Tanzania - awareness and engagement through poking fun rather than through lecturing or scolding.
Clinical skills, Cancer Vixen, and CanMEDS: The graphic novel in pre-clerkship medical education
Dr. Jim Connor gave this presentation as part of the Comics in Medical Education panel. Excellent example of the power of comics for teaching, engagement, and empathy-building, not just for patients but for anyone in a learning position in medicine.
Use of comics in medical education: Teaching evidence based medicine
Another cool example of using comics as teaching tools, this time from Stefan Tigges of Emory University. He slams together his own funny comics using clip-art, animal characters, pop culture references, and goofy jokes; they serve as supplemental material for his statistics course, helping to defang the intimidating material and present it in a different format. I love this kind of thing! Reminds me of when I used to draw little comics to help teach my teammates back in Academic Decathlon.
A form of comic relief: HIPAA in graphic detail
It's a follow-up from last year! Back at the 2011 conference, Rose Anderson from the Mayo Clinic Center for Innovation presented her brainstorm on translating the standard patient data privacy form (a long, boring, overwhelming ďlegalese" document) into a comic that patients could easily read and comprehend. Well, she made it happen! This year, she and co-creator Leah Eisenberg talked about the process of drafting prototypes of that comic and getting feedback and reactions from example patients. I can't wait to see if there's even more progress next year.
Assorted shout-outs, observations, recommendations
Leading up to this conference, I read Special Exits (semi-autobio about aging parents), and afterwards, I finally got around to reading Cancer Vixen (breast cancer autobio by glam NYC illustrator). Damn, those were some great reads, especially for getting a different perspective. ďOh, huh, I guess I can appreciate why the old guy didn't call his daughter for help, even if I don't agree with it." ďHmm, yeah, if I were in her place and dealing with what she's dealing with, I'd probably make that specific chemo choice too."
Microcosm Publishing plug from Joyce Brabner! They really do have a stupidly huge array of material on health and activism and community. Zinesters are doing it for themselves.
Man, it's a good thing I decided not to go into academia because I have zero interest in academic jargon. The minute I hear the words "contextualizing" or "engendered," I shut down and beat a hasty retreat to my inner chalet.
The organizers provided swag bags with blank sketchbooks! Absolutely brilliant!
My thoughts and reactions
God, it's so exciting to see more applied comics, comics actually being used in healthcare settings! I'm a practical person. I don't want to analyze. I wanna DO. I wanna MAKE STUFF.
But all my Action Jackson aside, I also feel humbled. I left last year's conference full of piss and vinegar. I was gonna change the world with comics! And it was gonna be so easy - I'd just swan in with the comics and everyone would recognize their usefulness and the road ahead would be strewn with rose petals and SweeTarts. This year, I got to hear reports from other people trying applied comics and some of the obstacles and attitudes they face, especially ďWhere are the cold hard stats to show that this approach works?" It was a good reality check for me. I haven't changed my mind; I still know that comics have amazing potential as a tool for health care. But now I have some more appreciation and respect for the work that will need go into establishing them. I can't just rely on my hyperactive bluster and charm and on individual testimonials in places where evidence-based medicine rules the school.
---
And hey, lemme tell you some things about Toronto
Hot damn, did I enjoy finally getting a chance to visit this place! I had a blast just haunting the neighborhoods and walking all over. Thumbs up for the HI-Toronto Hostel - very convenient location, loads of activities, nicely reliable wi-fi.
I could've just sat in the CN Tower for hours watching planes take off from the Toronto City Airport just across the way. Little toy things going wheeee into the air.
Kensington Market is possibly the coolest neighborhood I have ever visited.
I don't shop for fun. I'll walk around shopping areas for hours, but I don't tend to go in and browse the merchandise. On Queen's Street, I realized that the only shops I actually do walk into are comic shops, organization shops, and sexuality boutiques.
It's just maybe kinda sorta slightly possible that Tim Horton's does a better Boston Creme donut than Dunkin Donuts? oh god dunkie's i'm so sorry
Tuesday, September 4, 2012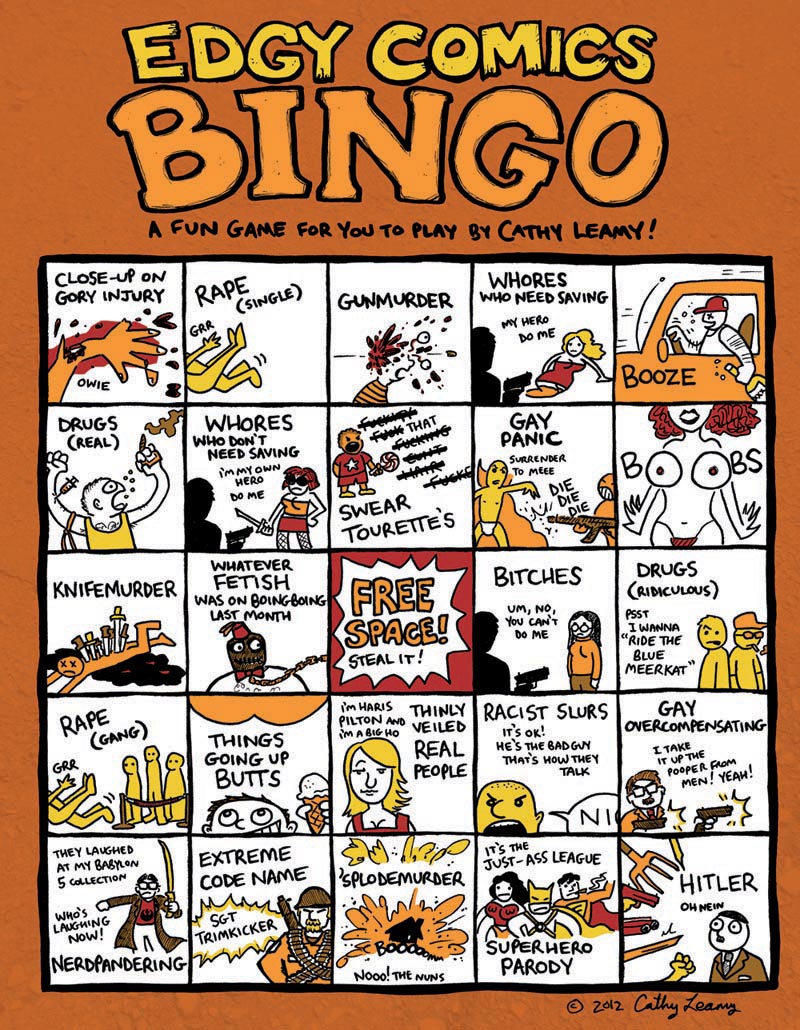 Click to pass this around on Tumblr!
Thursday, September 13, 2012
It's Small Press Expo time! Come and enjoy indy comics fun this weekend in Bethesda, Maryland!
I'll be tabling there and selling lots of new-ish stuff:

The latest issue of my autobio comic Geraniums and Bacon, #6!

A little health education comic about diabetes and one of its unpleasant complications, Diabetes is After Your Dick! (as seen in my presentation at July's Comics and Medicine conference)

And ... full-color print versions of Edgy Comics Bingo! Now you really can play along at home!
This year's Expo is lining up to be a massive good time - so many amazing creators all packed together like the world's most creative sardine tin. See you at the show!
(And if you can't make it, don't worry - the Mass. Indy Comics Expo is just a couple of weeks away! Sept. 29, free admission, loads of comics!)
Wednesday, September 26, 2012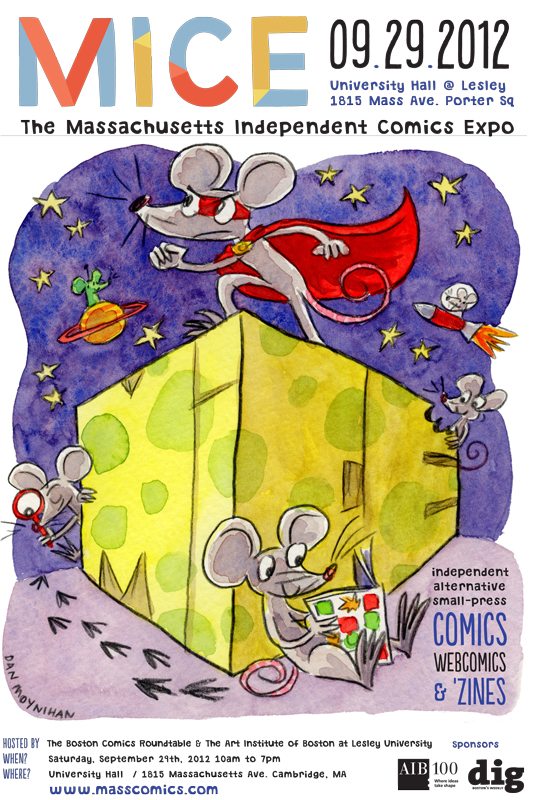 Now it's time for some local show love: This Saturday, it's the third annual Massachusetts Independent Comics Expo! My comics club Boston Comics Roundtable and Lesley University will team up to host this FREE indie comics fest in Cambridge, Mass.!
MICE website: www.masscomics.com (@MassMICE on Twitter)
I'll be tabling there, selling Geraniums & Bacon #6, Diabetes is After Your Dick, and full-color prints of Edgy Comics Bingo.
And! I'll be moderating a discussion panel on Comics and Medicine at 11am!
This past Saturday's Boston Globe featured a fantastic article on MICE and Boston Comics Roundtable with quotes from me! The print edition also included panels from Geraniums and Bacon #6, covering delightful topics such as pee and math.
The exhibitor list is stuffed with great creators and pals of mine, and the list of panels and workshops is mindblowing (it makes me sad to be tabling and have to miss them).
This Saturday, September 29, 10am-7pm, second floor of the Porter Exchange building (upstairs from Bluefin), Porter Square in Cambridge, absolutely free admission. Come on over!
Monday, November 12, 2012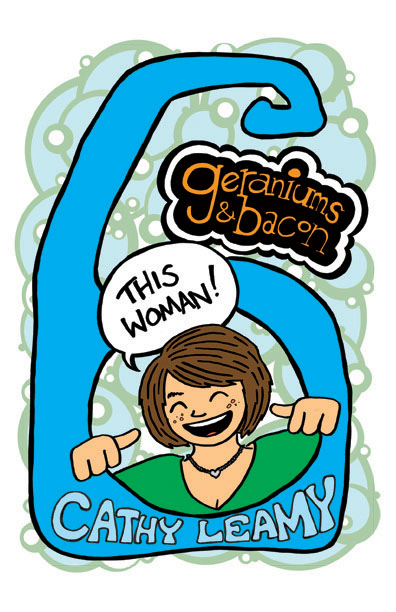 Itís here! The sixth and latest issue of my autobio/good times minicomic Geraniums & Bacon is now on sale!
Four bucks gets you stories about:
Competitive ballroom dancing!
Peeing in Switzerland!
Anxiety!
Things to do in Chicago when youíre drunk!
AND SO MUCH MORE
Wanna pick up even more autobio and good times? Visit my comics page to snag the previous issues of Geraniums & Bacon! Previous issues are $2 each; contents may contain travel, bees, and/or nudity.
Sunday, November 18, 2012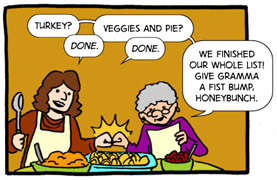 I did another webcomic for the MGH Diabetes Views blog! This one's about three easy things you can do to cut down stress over the holidays!
The MGH Diabetes Views blog focuses on diabetes education, but you know what? It's also a cool source of wellness information in general, like nutrition tips, playlists for working out, health basics like "what the heck is a stroke, exactly", and more. Thumbs up!
Monday, November 19, 2012
My local library is a treasure box. It does a great job covering the basics (books and other media for borrowing, online catalog, interlibrary loan), and then adds a whole new tier of cake on top of that by running loads of community programs. Thanks to one of these, I got to attend a free screening and Q&A session around the documentary Gen Silent, which explores issues faced by aging LGBT people.
I went into the screening with my usual trusts and biases: Hooray for medicine, the health care industryís been good to me, people need to stop being stubborn and ask for help, and so on. Afterwards, I felt embarrassed by how Iíd never even considered the issues and the perspectives of these elders. LGBT senior citizens are reluctant to go into assisted living or get home care? Well, yeah! If you grew up in a time when people like you were institutionalized or classified as mentally diseased by psychiatric handbooks, maybe you wouldnít be so willing to submit yourself to the health care industry either. Oh right.
Something from the question and answer section really struck a chord. The questions came up of how to reach out to these people. What can we do? One panel participant, a social worker, replied that itís not enough to put up a rainbow sticker and say, "This is a safe space." You need to be proactive and do things to prove it. Hold social get-togethers and support groups and tea dances and Pride parties. Itís not enough to just label a safe space. You need to create it and nurture it. You need to make it inviting. You need to make it so the people want to be there.
It reminded me so much of the topic of women at technology conferences (or hell, even women in technology, period).
We hear it so much - the constant refrain, the perpetual complaint, the question that baffles conference organizers: Why donít we have more women speakers at tech conferences? Why donít more women in tech step up and make themselves visible?
And my reply to that is what the Gen Silent panelist said. Itís not enough just to say "Women are welcome here." Itís not enough to label yourself an ally. Itís not enough to announce, "Attention women speakers: Come here. No, really. Itís cool. We actually want you here this time," and then have the gall to be surprised when they donít flock to your door.
We women in technology, we see those calls for participation, those declarations of safe spaces, and we ask, "Why should we believe you?" We wonder, "Youíre asking me to put myself out there and make myself vulnerable. If the space turns out to be less than safe, can I trust you to actively have my back?"
It sucks to feel defeatist, but we see what happens to women who get too visible and high-profile in technology. They get Kathy Sierraíd. They get Aisha Tyleríd. They get Anita Sarkeesianíd.
Five years after I first read them, Meri Williamsí comments on women at web conferences still stick with me and haunt me:
"The reality is that if a dog is kept in a cage and beaten every time it tries to escape, eventually it stops trying to escape. Merely opening the door can bring up such painful memories that it almost hurts to THINK about escaping.

Now, before I get flamed, I am not saying that women are like dogs that have been beaten. But I AM saying that we, as humans, all learn from our experiences. And saying íwell, you had your chanceí without understanding why that chance might not have been seen as a real chance by the group you are trying to reach out to is short-sighted."
If youíre eager to get more women speakers and more diverse participation at your tech conference, put some action where your mouth is. Make an effort at outreach. Actively recruit and mentor. Unleash some banhammers. You say you welcome us there? Words and stickers are easy. Prove it.
Crossposted to Tumblr
Tuesday, November 27, 2012
Hey you! Do you own a dick? Or are you a fan of dicks? Then do I have some health information for you!
You know diabetes? The disease? Well, one of its potential side effects is erectile dysfunction (a.k.a. trouble getting it up)! ... I KNOW, RIGHT! What the hell?
But it's OK! Read my comic "Diabetes is After Your Dick!" to get the scoop on what exactly diabetes is, how it can cause stiffy problems, and what you can do to take control and keep things healthy down there!
You can read the whole comic for free online! And you can order print copies from my comics webpage!
DICK HEALTH 4 LIFE!