Sunday, January 12, 2014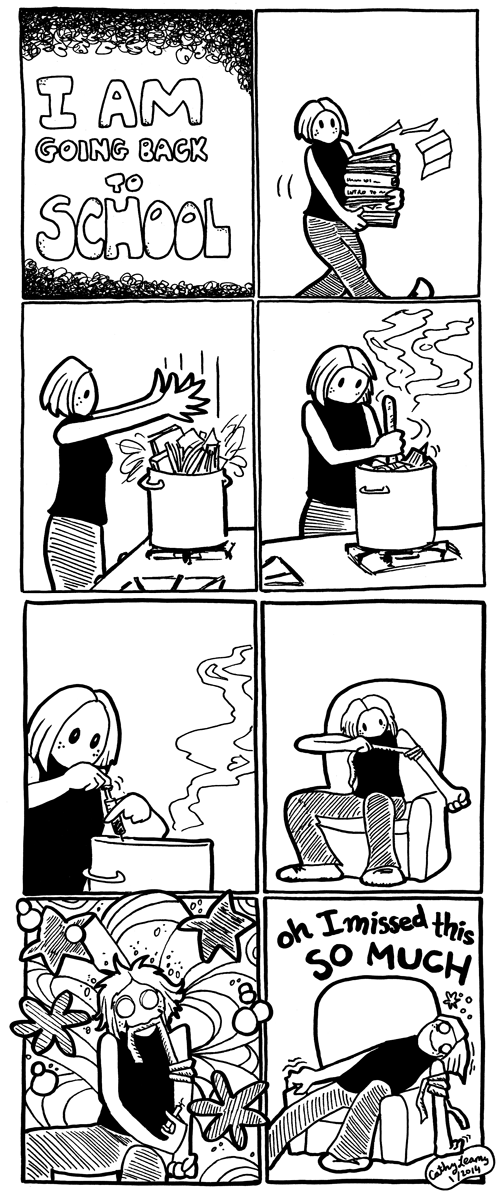 Hello there! You may remember me from such comics as Whole Lotta School and Whole Lotta School Still. Fun times, huh! Happily, my relationship with school has gotten a lot healthier since then.
OR HAS IT? Letís find out together as I go to graduate school! Starting this week, Iím studying towards a masterís degree in health communication. Watch for more health comics here and follow my Twitter account (@metrokitty) for hopefully even more gross medical stuff than usual.
Monday, January 20, 2014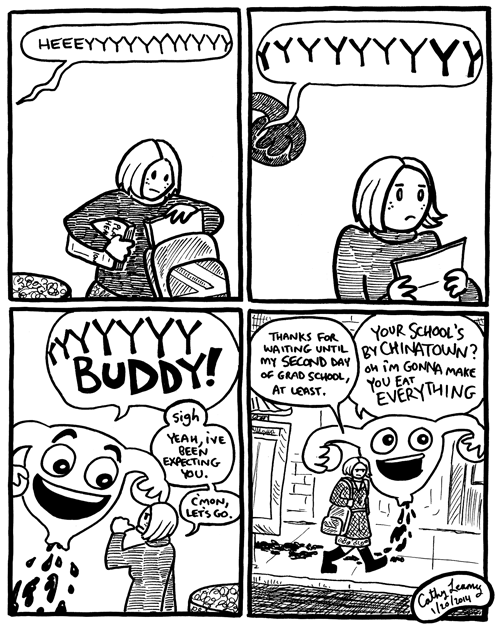 Monday, January 27, 2014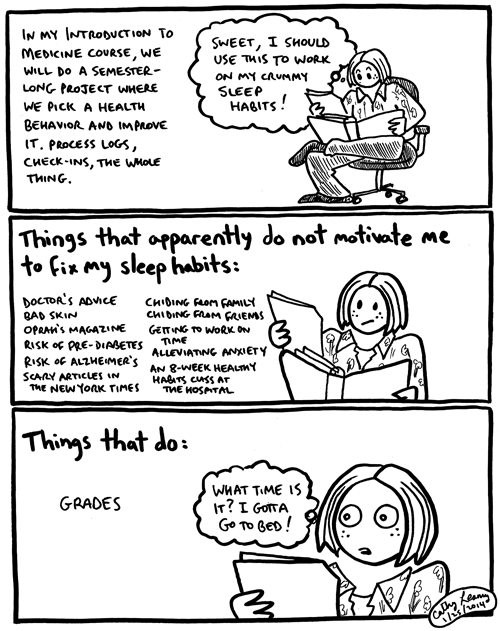 Monday, February 3, 2014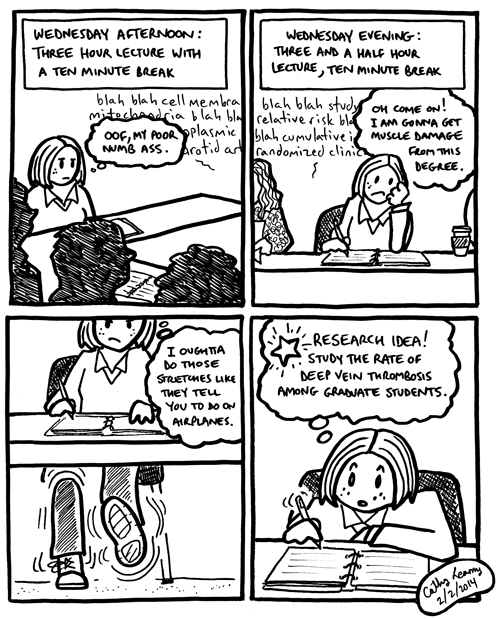 Monday, February 17, 2014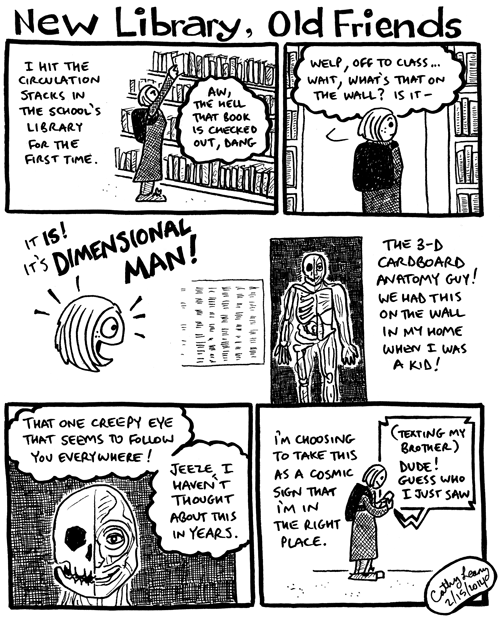 Buy a Dimensional Man of your very own!
Tuesday, June 24, 2014
Hey, remember when I started grad school and planned to do regular diary comics about it?
Welp, hereís what happened: GRAD SCHOOL.
Oh Past Me, you are an adorable overeager liíl scamp! Donít ever change. (Psst - actually, please change. You commit us to a lot of stuff and we get stressed. Iím warning you. Donít make me come back there.)
Iíve got some breathing room, so look forward to me catching up on those comics! And in the meantime, look for me in person at these upcoming events!
Comics and Medicine Conference
June 26-28, 2014
Baltimore, MD
Itís the fifth annual conference! Iím giving a 5-minute talk about some of my current project work on Friday, and Iíll have table space in the Marketplace on Saturday.
Mensa Annual Gathering 2014
July 3, 2014 - 7:30pm
Boston, MA
íSup smarties! Iím a guest speaker at this convention, giving my 1-hour talk on why comics and healthcare are an excellent match.
Boston Comic Con 2014
August 8-10, 2014
Boston, MA
Iím tabling! Come and buy my stuff! Update: Um, NOPE. I will not be tabling at this event due to school kicking my ass. Sorry!
Massachusetts Independent Comics Expo 2014 October 4-5, 2014
Cambridge, MA
Hometown indie show put on by my pals in Boston Comics Roundtable! Iím tabling here too. Come and buy my stuff here as well!
Thursday, August 7, 2014
Sad news, party people - I will not be tabling at Boston Comic Con 2014 this weekend. :(
I am buried under ten tons of grad school madness and had to reluctantly bow out of the convention. Bummer!
The show looks ridiculously awesome, though. You should go and shower other local comics creators with cash money. DO THIS FOR ME.
Friday, October 3, 2014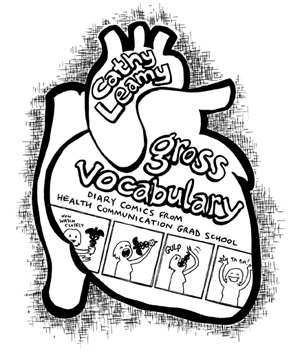 This weekend, Oct. 4-5, is the Massachusetts Independent Comics Expo (MICE)! Itís in Porter Square, Cambridge, and admission is free!
Iíll be at table A31 selling spanky new MINICOMICS! Come and check out Gross Vocabulary, the first collection of my grad school diary comics. Itís got what Iíve posted previously online plus new stuff exclusive to the print version.
Iím also a judge for the Iron Cartoonist contest on Saturday at 2:30pm and a panelist at the Sunday morning "Comics in the Classroom" symposium (RSVP required for that one).
I am so proud of my pals in Boston Comics Roundtable for putting on this festival every year. This is the 5th annual show, and it gets more polished and more fun every single year. And most importantly, they keep the admission free. This lets so many people drift in and dip their toes into indie comics for the first time.