Thursday, October 19, 2017
This weekend, Oct. 21-22, 2017! Come and visit me and my comics pals at the Massachusetts Independent Comics Expo (MICE) in Cambridge, MA! Loads and loads of comic books, panels, workshops, and fun people!
Also: Free admission!
Iím selling my comics at table D03, just inside the entrance, on the right. Iíll also be on the Comics and Medicine panel on Saturday at 11am.
WHAT: Massachusetts Independent Comics Expo (MICE) 2017
WHEN: Sat-Sun October 21-22, 2017 - Saturday: 10-6; Sunday: 11-5
WHERE: University Hall at Lesley University, 1815 Massachusetts Ave. (Porter Square), Cambridge, MA
WEBSITE: www.micexpo.org
Swing by and say hi! And buy some comics while youíre at it!
Friday, September 15, 2017
I LIVE! Time to wake up this blog and shake out its pins and needles. This past year has been a strange ride and I have a bunch of stuff to report on.
But first, I'm at a comics show this Saturday, September 16! I'm tabling at LadiesCon 2017, hosted by the Ladies of Comicazi at the Center for the Arts at the Armory in Somerville, Massachusetts (191 Highland Ave).
12-5pm, free admission, come by, say hi!
(And save the date for another upcoming free show - MICE 2017, October 21-22 in Cambridge, Mass. Hooray for local comic book fests!)
Friday, September 25, 2015
I LIVE! Hoo boy. GRAD SCHOOL, AMIRITE. Remember when I was planning to do ongoing webcomics about my school experience? Ha ha! Past Me, you are adorable and made of cupcake frosting. Oh honey.
The good news, though, is that I finished grad school! Ask me about masterís degrees in Health Communication! The final project involved creating an actual practical deliverable for an organization. My original plan was to make comics-format patient handouts, but my formative research turned up solid logistical reasons why this format wouldnít be a good fit. Read more about this in my jam comic with Comic Nurse over on the Mayo Clinicís Center for Innovation blog!
Iím currently working on more health-related comics, both for the web and for minicomics. Look for news and new stuff at these upcoming events!
New York Comic Con
Thur-Sun Oct. 8-11
New York, NY
Panel: Content Literacy: Teaching STEM with Comics, Thur Oct. 8, 3-4pm
(I donít have a table - Iíll just be there for Thursday)
Massachusetts Independent Comics Expo
Sat-Sun Oct 17-18
Cambridge, MA
Free admission! I have table space and plan on selling sparky new comics!
Friday, October 3, 2014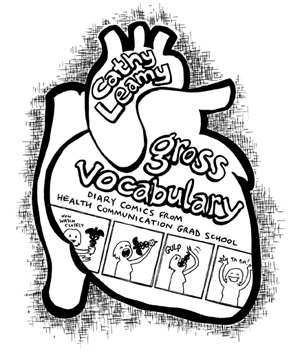 This weekend, Oct. 4-5, is the Massachusetts Independent Comics Expo (MICE)! Itís in Porter Square, Cambridge, and admission is free!
Iíll be at table A31 selling spanky new MINICOMICS! Come and check out Gross Vocabulary, the first collection of my grad school diary comics. Itís got what Iíve posted previously online plus new stuff exclusive to the print version.
Iím also a judge for the Iron Cartoonist contest on Saturday at 2:30pm and a panelist at the Sunday morning "Comics in the Classroom" symposium (RSVP required for that one).
I am so proud of my pals in Boston Comics Roundtable for putting on this festival every year. This is the 5th annual show, and it gets more polished and more fun every single year. And most importantly, they keep the admission free. This lets so many people drift in and dip their toes into indie comics for the first time.
Thursday, August 7, 2014
Sad news, party people - I will not be tabling at Boston Comic Con 2014 this weekend. :(
I am buried under ten tons of grad school madness and had to reluctantly bow out of the convention. Bummer!
The show looks ridiculously awesome, though. You should go and shower other local comics creators with cash money. DO THIS FOR ME.
Wednesday, September 25, 2013
Hometown indie comics pride!
This weekend, Sept. 28-29, my pals in Boston Comics Roundtable are hosting the fourth annual Massachusetts Independent Comics Expo in Cambridge! TWO DAYS THIS YEAR, WHAAAT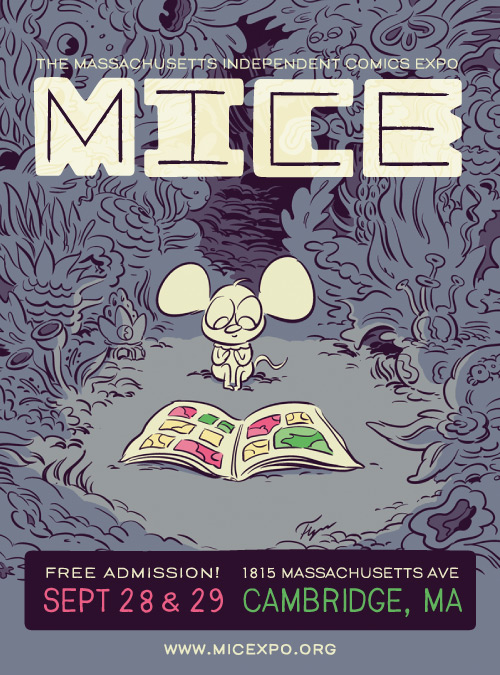 What I love the most about MICE: Free admission! Anyone can stop in and get a taste of indie comics without having to lay out a huge chunk of cash.
I'll be there and I'll have new comics for sale! Check my new health info minicomic Mindful Drinking, a fun little thing about drinkin' and cutting down a little by using mindfulness. Half auto-bio, half self-help, guest-stars a sloth.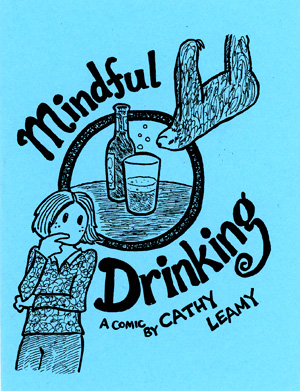 And I've got a 4-page story in the latest issue of the Roundtable's indie-flavored local superhero anthology, In a Single Bound! Look for my "Nuttin' But Trouble!" which touches on two of my favorite topics: LADIES and ALLERGIES.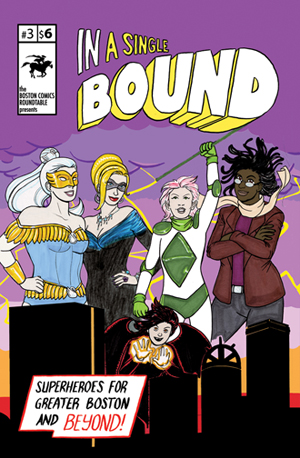 Saturday 10am-6pm, Sunday 11am-4pm, all in Lesley's University Hall at 1815 Massachusetts Avenue (Porter Square), Cambridge, MA. MICE 2013: See you there!
Friday, August 2, 2013
This weekend, August 3-4, it's Boston Comic Con time! Swing by the World Seaport Trade Center on the Boston waterfront, Saturday 10-7 and Sunday 10-6.
Come and see me at Artists Alley table AA343, right near my Boston Comics Roundtable pals. Minicomics, art, lots of chatter about comics and health care - all this can be yours! Possibly hugs as well; hug action pending on whether my gross mucus-fiesta head cold clears up.
Monday, June 24, 2013
I am speaking tonight on comics and healthcare at Nerd Nite Boston! The fun starts at 8pm, and Iím the second speaker (probably on around 9:30ish).
For attendees and anyone else whoís curious, here is the list of resources, titles, and citations from my talk:

http://www.metrokitty.com/comicshealthcare.html
Wednesday, September 26, 2012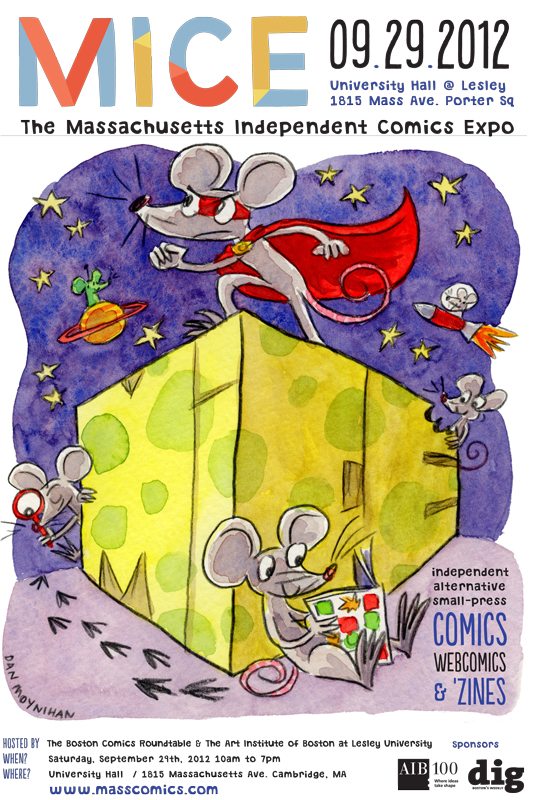 Now it's time for some local show love: This Saturday, it's the third annual Massachusetts Independent Comics Expo! My comics club Boston Comics Roundtable and Lesley University will team up to host this FREE indie comics fest in Cambridge, Mass.!
MICE website: www.masscomics.com (@MassMICE on Twitter)
I'll be tabling there, selling Geraniums & Bacon #6, Diabetes is After Your Dick, and full-color prints of Edgy Comics Bingo.
And! I'll be moderating a discussion panel on Comics and Medicine at 11am!
This past Saturday's Boston Globe featured a fantastic article on MICE and Boston Comics Roundtable with quotes from me! The print edition also included panels from Geraniums and Bacon #6, covering delightful topics such as pee and math.
The exhibitor list is stuffed with great creators and pals of mine, and the list of panels and workshops is mindblowing (it makes me sad to be tabling and have to miss them).
This Saturday, September 29, 10am-7pm, second floor of the Porter Exchange building (upstairs from Bluefin), Porter Square in Cambridge, absolutely free admission. Come on over!
Friday, April 20, 2012
It's showtime here in Boston! This weekend, Hynes Convention Center hosts Boston Comic Con, a big ol' bazaar of artists, writers, comic books, and collectibles. I had a blast at last year's show, especially thanks to the huge Artist Alley full of local cartoonists and creators. Here's hoping this weekend's show is even more awesome!
Look for me this weekend at table AA305! And guess what I'll have with me?
THAT'S RIGHT! It's the all-new issue 6 of my autobio and humor minicomic Geraniums and Bacon! It's been a long time coming - man, too long. This one's a dense one: Ballroom dancing! Mountains! Fortune-telling! Anxiety! A werewolf!
The new issue will make its debut at Boston Comic Con. Look for it for sale online and in local comic shops soon afterwards!
Sunday, March 25, 2012
Hey! You know Womanthology, the massive book of comics by women creators (and Kickstarter phenomenon)?
It's on sale now now, and I'm in it!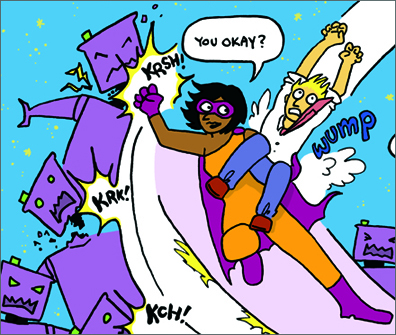 I illustrated a story written by Lisa Fortuner (@Ragnell on Twitter), comics blogger and real-life military heroine. Our four-page full-color tale is chock full of robot punching, secret identities, ray guns, and more man thigh than is honestly necessary. YEAH!
You can purchase Womanthology online or at comic shops around the country. And if you're a Boston-area local, you can swing by Union Square's Hub Comics this Saturday (March 31) from noon to 4 and get a signed copy! I'll be signing along with Womanthology creators/pals Ming Doyle, Ellen Crenshaw, Stacie Ponder, and the project founder Renae de Liz! Even if you don't want to pony up for the book itself, come and visit anyway! Hub Comics is a fantastic shop and there'll be plenty of other excellent comics to check out.
See you on Saturday!
Thursday, September 22, 2011
Yes! Itís time for a local comics fest! Letís show íem how we do it in Massachusetts:
This Saturday (9/24), itís the Massachusetts Independent Comics Expo (MICE)! 10am-6pm at 1815 Mass Ave., Cambridge MA (Porter Square) and admission is free!
Come and enjoy a marketplace of local talent selling their comics and artwork, hands-on workshops with comics pros, a full day of cool discussion panels, and a gorgeous art show complete with behind-the-scenes peeks at the process of making comics. (Not to mention itís in the same building as Bluefin, so you can snag some sushi as well). Itís a fun show thatís friendly to kids and adults, comics newbies and comics vets alike.
Iíll be there with my comics and sketch cards of robots and monsters (and sometimes robomonsters). Hope to catch you there!
Tuesday, September 6, 2011
It's that time! Fall comics convention season is GO!
This weekend (Sept 10-11), catch me at Small Press Expo (SPX) in Bethesda, Maryland! I'll be at table B7, near a bunch of my pals from Boston Comics Roundtable.
And in just over two weeks, I'll be at the second annual hometown show MICE, Massachusetts Independent Comics Expo! Saturday September 24, Porter Square in Cambridge, Mass. Free admission!
Come by! Say hi! Pick up some comics!
Tuesday, May 3, 2011
Free Comic Book Day 2011 is almost upon us!
This coming Saturday, May 7, catch me at the FCBD celebrations at Comicopia, Boston's home for all kinds of comics! I'll be doing monster sketches and I'll have plenty of my minicomics on hand.
And I won't be alone! My pals from Agreeable Comics will be there too - boss writer Kevin Church and amazing artist Ming Doyle, the creative team of The Loneliest Astronauts!
Kenmore Square's Comicopia, this coming Saturday: BE THERE!
Monday, April 25, 2011
What's up, locals! Convention season rolls on, and this coming weekend the fun will be close to home.
Come on over to Hynes Convention Center for Boston Comic Con, this Saturday (10-7) and Sunday (10-5)! This will be the biggest Boston Comic Con yet, with all-star guests and a crazy amount of vendors.
I'll be in the Artists Alley, hawking my minicomics. This includes the newly-released What's the Word? diary comic collection - if you haven't gotten your copy yet, stop by this weekend and grab one! And don't forget to wander around the con and check out other Boston-area comics talent (especially my pals at Boston Comics Roundtable and Agreeable Comics). See you there!
Wednesday, April 6, 2011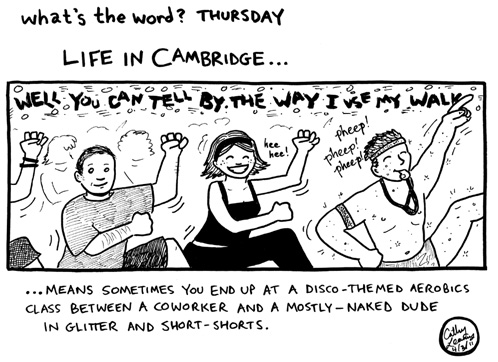 When I got the email announcing a disco Zumba class with special guest fairies from The Donkey Show, I signed up so fast Paypal got whiplash.
Whoa whoa I did not just hear you say that you live in the Cambridge area and haven't seen The Donkey Show yet. UNACCEPTABLE!
Monday, April 4, 2011
Brace yourselves, everyone - here comes comics convention season!
Look for me at these upcoming shows and festivals:
MoCCA Art Fest (I'll be with Boston Comics Roundtable)
April 9-10
New York, NY
http://www.moccany.com/content/mocca-festival
Boston Comic Con
April 30-May 1
Boston, MA
http://www.bostoncomiccon.com
Maine Comics Arts Festival
May 22
Portland, ME
http://mainecomicsfestival.com
Come and get some minicomics! Or just say hi. That'd be cool too.
Tuesday, January 25, 2011
Local ink for me and my Roundtable pals!
Check out the latest issue of the Boston Phoenix - their "Future Boston" feature includes a collaborative cartoon by the Boston Comics Roundtable, "The Future, Illustrated"!
Pick up a print edition before tomorrow's snowstorm, or check out the Phoenix's website for a special full-color online version of the comic with bonus material. My glimpse of future Boston is the one with the caveman! Full creator credits are on the BCR website.
Friday, November 5, 2010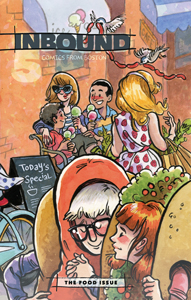 Do you like cheese? Do you like comics? Do you like them together?
Then pick up a copy of Inbound 5, the brand new lip-smackingly awesome fifth issue of Boston Comics Roundtableís comics anthology! This issueís theme is food, and the stories cover every tasty angle possible: sardines and autobio, corn and mythology, onion rings and magic, and plenty more. And Iíve got a story in it about CHEESE! This issue includes my 2-page comic about Englandís annual Cooperís Hill Cheese-Rolling and Wake, a fine example of how my countrymen come up with some crazy-ass traditions.
Buy a copy of Inbound 5 online or in Boston-area comic shops today!
Sunday, September 19, 2010
Another weekend, another long trek to a faraway comics show - WAIT NO HANG ON THERE. Thereís no long trek! This comics show is right here in BOSTON!
This coming Saturday, September 25th, come on over to Kenmore Square for MICE: Massachusetts Independent Comics Expo! Free admission! The show is co-organized by my pals in the Boston Comics Roundtable, and the lineup is great and diverse - webcomic creators, minicomics and zinesters, small press, and more. Iíll have a table for hawking my minicomics, so drop by and hook yourself up with some good-times autobio cartoons.
WHAT: MICE - Massachusetts Independent Comics Expo
WHEN: Saturday, September 25th 10am-6pm
WHERE: The Art Institute of Boston, 700 Beacon Street, Boston, MA
WEBSITE: www.masscomics.com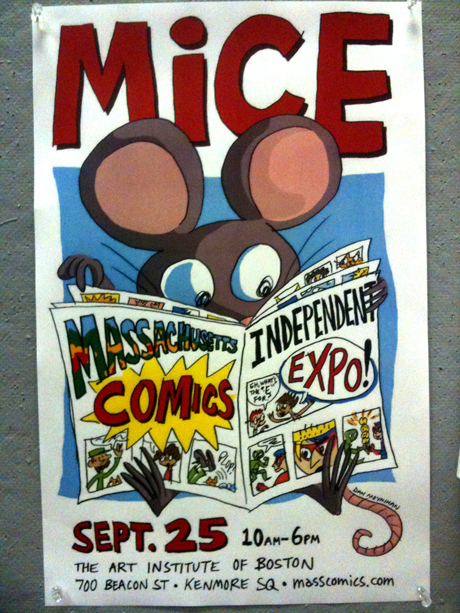 Tuesday, June 22, 2010
Whatís up this Sunday? A craft fair!
Come on over to Mass College of Artís Pozen Center on Sunday, June 27 for Mass Market, a DIY flea market with art, jewelry, bookbinding, baked goods Ö and comics! Iíll be there hawking my minicomics along with a few other pals from Boston Comics Roundtable. 11am-5pm, $1 entry fee, 621 Huntington Avenue (Longwood stop on the MBTAís Green E line). See you there!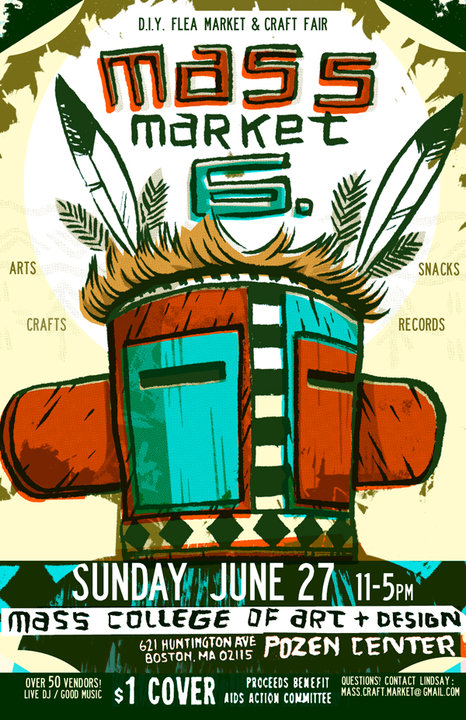 Tuesday, March 9, 2010
The official start of spring is nearly here, and with it comes the comics convention season! Iíll be bopping around a few shows from now through the summer. Hope to see you at one of them!
March 20: Boston Zine Fair (Cambridge, MA)
-- This show is a mini zine fest in collaboration with Whitehaus Family Recordís Blastfest music celebration. Come for the comics and DIY, stay for the rocking out.
April 10-11: MoCCA Art Fest (New York, NY)
-- The classic indy comics show has a new timeslot this year and a ridiculously neat guest list. And if you decide to stick around the Hub instead, stop by Boston Comic Con, also being held that weekend!
May 23: Maine Comics Arts Festival (Portland, ME)
-- Iím so looking forward to the sophomore showing of this event (the first one last year was a well-organized blast). This year, the festival will expand to include a Saturday dedicated to panels and workshops. Canít wait!
July 18: New England Small Press Assembly (NESPA) (Warwick, RI)
-- The first time for a new Northeast con! EAST COAAAAST!
Wednesday, January 20, 2010
Let's rock this New Year with a local comics event!
On Thursday, January 21, join Boston Comics Roundtable at 7pm at Porter Square Books for a (free!) talk by some of the writers and artists behind Inbound #4 - A Comic History of Boston.
Come and learn about comics creation - we'll be talking about working from a script, using thumbnails, creating cartoon versions of famous historical people, and more. I'll be speaking about thumbnails and going from drafts to the final version of my burlesque theater story "The Old Howard". You can expect me to say "James Michael Curley" about 40 times.
And come to just hang out! Say hi to New England comics creators and fans and pick up a signed copy of Inbound #4 of your very own. (And take the opportunity to enjoy some book shopping and coffee from a great independent bookstore!)
WHERE: Porter Square Books, 25 White St, Cambridge, Massachusetts 02140
WHEN: Thursday, January 21, 7pm (free event!)
WHO: Boston Comics Roundtable and writers and artists from Inbound #4
Sunday, December 6, 2009
'Tis the season for buying comics! This Saturday, come on by the Comicazi Con in Somerville's Davis Square - I'll be there selling my minicomics and (seasonal bonus) holiday cards!
Boston Comics Roundtable will also be there, selling our new anthology Inbound #4: A Comic History of Boston as well as books and minis by BCR members. One-stop holiday shopping!
WHERE: Saturday, December 12, 10am-4pm
WHEN: George Dilboy VFW, 371 Summer St, Davis Square, Somerville, MA
DETAILS: Admission fee $4, hosted by Davis Square comics shop Comicazi
Comics parties!
Fun times this weekend with two release parties for New England comics! Boston Comics Roundtable held a coffeeshop party to celebrate Inbound #4 as well as the opening of an exhibit of original Inbound #4 art at Cambridge's Atomic Bean Cafe (on display now - stop by and see it!). I'm always amazed by how many people manage to squish into that place, and the coziness was a very welcome escape from the snow clumping down outside.
Afterwards, a bunch of us made our way over to Somerville's Hub Comics to hang out with a few buddies from our northern pals Trees and Hills, in town to promote two new books: their group anthology Shelter and Marek Bennett's Nicaragua Comics Travel Journal. Two dogs and a ukelele on the premises - always a guarantee of good times. Pick up Trees and Hills' comics if you get the chance - you'll never meet a nicer bunch of comics activists.
Wednesday, December 2, 2009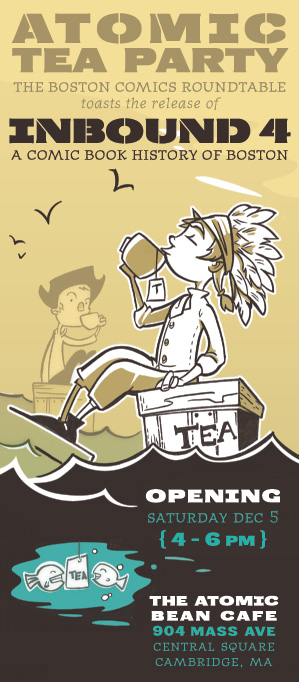 Theyíre here! The Boston history comics are here!
Boston Comics Roundtable is thrilled to announce that Inbound #4 is now on sale! This special book-length issue of our comics anthology is packed with dozens of stories from Boston history, brought to you by the minds and pens of local creators.
Including me! This is the one with my comic about Bostonís burlesque theater, the Old Howard, as featured on Radio Boston. If youíve only heard the radio drama version, youíre missing half the story! The full comic has much more - MORE strippers! MORE hot dogs! MORE Sammy Davis Jr.! Pick up a copy of Inbound #4 to get the whole scoop.
And if youíre in the Boston area yourself, come and hang out with us! Weíre celebrating the bookís release this Saturday, December 5, from 4-6pm in Central Squareís Atomic Bean Cafe. Meet comics creators from around New England and see original art from Inbound #4!
Inbound #4 is now available for purchase on the Boston Comics Roundtable website, in Boston-area comic shops, and at a bunch of upcoming Boston-area holiday and craft fairs. BUY IT. LOVE IT. BOSTON IS AWESOME.
Wednesday, November 18, 2009
I drew Space Cabby for Dave's Space Cabby collection! If you're not familiar with Space Cabby, all you need to know is right there in his name. He's a CABBY. In SPACE. There you go! And if that's not enough, every Sunday Dave's blog highlights one of the guy's stories Ö IN SPACE!
And now for some comics a bit more down to Earth: Boston Comics Roundtable's upcoming Inbound anthology of Boston history stories is now available for pre-order! Get your name on the list for over a hundred pages of historical awesomeness: the Great Molasses Flood, Sacco and Vanzetti, the Athenaeum's most infamous book, and my story about Boston's world-famous burlesque theatre. $12 plus $3.50 shipping and handling - order yours today!
Thursday, October 29, 2009
Hey Boston, youíve got comics on your radio!
Last week, 90.9 WBUR (Bostonís NPR affiliate) invited Boston Comics Roundtable to be interviewed on their weekly show Radio Boston. The episodeís theme was "Literary Boston", tying in with that weekendís Boston Book Festival.
We talked about the Roundtable and about our upcoming fourth issue of our comics anthology, Inbound - the issue devoted to stories from Boston history. They love the concept of comics set in Boston, and we love talking about our creative work, so it was a blast all around!
You can listen to the entire program on Radio Bostonís website. The BCR interview begins just after 40:00.
As a bonus, the WBUR team and Boston Comics Roundtable joined forces to put together a little radio drama based on my story from Inbound #4, "The Old Howard". Kudos to Braden Lamb for adapting the comic for the radio, the BCR for voice talent, and WBUR for sound effects! And extra solid gold kudos to WBUR for assembling an online version including graphics from the original comic - check out the YouTube clip below (narrated by me!).
This is an abridged version - the actual comic is four pages long and includes so much more awesomeness. Strippers! Censors! Hot dogs! James Michael Curley! Godalmighty, you guys, Boston is just the coolest, except for the times when theyíre knocking down funky parts of town to put up office buildings.
Want to read more? Stay tuned for the release of Inbound #4, coming later this fall! Boston Comics Roundtable is accepting pre-orders for this book - visit the website to send in your order, to sign up for our news mailing list, and to see preview art.
Friday, October 23, 2009
Weíre on the air!
This weekís Radio Boston show on 90.9 WBUR has the theme of "Literary Boston", and it includes an interview with Boston Comics Roundtable! Weíll be talking about Boston-based comics and the upcoming fourth issue of our anthology Inbound, which will be a special extra-large edition devoted to tales from Boston history.
And as a bonus, the show will include a short radio drama based on my story from Inbound #4, "The Old Howard"! Thrill to the true story of the rise and fall of Bostonís own burlesque theater!
Catch the show: "Literary Boston" will air on 90.9 WBUR at 1pm on Friday, October 23, and again at 1pm on Saturday, October 24. After the Friday airing, the show will be available for download on the Radio Boston website.
You can also get a sneak preview of the radio drama on Radio Bostonís blog, complete with visuals from the comic itself (and me narrating with my best "NPR voice")!
Inbound #4 is slated for release later this year. Read more about it on the Inbound #4 website, where you can also sign up for email announcements about the project or pre-order the book. This one is jam packed full of awesomeness!
Monday, October 19, 2009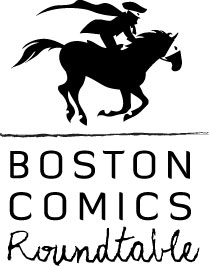 Are you in the Boston area? Are you into comics?
If youíre shouting "Yeah!", then come on by this weekend for Boston Comic Con - bargain reads, guest artists, and more! Iíll be there with local comics posse Boston Comics Roundtable, selling our anthology Inbound and minicomics by our members.
Come by, say hi, and buy a few comics!
Where: Back Bay Events Center, 180 Berkeley Street, Boston, MA
When: Saturday & Sunday October 24-25, 10am-5pm
Admission: $10 each day
Wednesday, September 30, 2009
Whoa, brace yourselves for lots of news!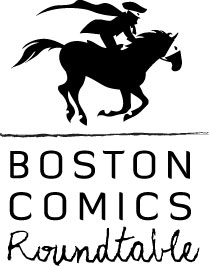 Boston Comics Roundtable has a brand spankin' new website! Head over to www.bostoncomicsroundtable.com and check out the handiwork of designer and illustrator Shelli Paroline - nice job, Shelli! Look for tutorials, discussion, and art from Roundtable members as the site continues to grow.
And keep an eye on that space for news of the upcoming fourth issue of Inbound, the Boston Comics Roundtable anthology. Kudos to everyone who attended our fundraiser in August! Thanks to the "Fastest Artist" improv-style competition, I can finally say I've seen a drawing of Danny Devito wrapping Christmas presents at the Crucifixion. At last. This fast-approaching next issue of Inbound will be packed with tales from Boston history, including a story by me about a very special and, sadly, vanished site in Boston entertainment. Spoiler alert! It features ladies without many clothes on.
And who else is up to something new around here?
Monday, August 10, 2009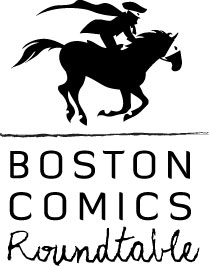 Come and hang out with Boston's cartoonists!
Our local crew of comics creators, Boston Comics Roundtable are hosting a fundraiser night to benefit the fourth issue of our comics anthology, Inbound!
Come on over to P.A.'s Lounge in Somerville, MA, on Thursday, August 20 for a night of caricatures, sketch battles, raffle prizes, and live music from the band Rotary. The fun starts at 9pm (doors open at 8), tickets are $12 at the door, and the event is 18+. [ press release with details ]
Inbound #4 will be devoted to stories of Boston history - strange tales, naughty memories, and inspiring characters galore. It's going to be a rock solid collection of fun reading, so join us at P.A.'s Lounge and help make this issue happen!
Saturday, April 25, 2009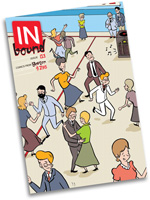 Itís here! Check out the brand-new third issue of Inbound, a comics anthology by the buckets of creative talent at the Boston Comics Roundtable! 72 pages about love and relationships from local creators: Youíll laugh, youíll cry, youíll admire the zombies and dinosaurs. If youíre new to Inbound, catch up with the bundle deals on our back issues (issue #2 has a story by me!).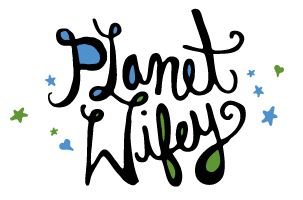 In the mood for more comics? Hop on over to Planet Wifey, where peeps are gettiní hiiiiiiigh.
Wednesday, April 1, 2009
Plenty of comics news today!
Inbound #3 release party this Saturday
Boston Comics Roundtable is celebrating the brand-new third issue of our comics anthology Inbound! Come hang out with Boston comics creators and check out a coffeeshop exhibit of original artwork!
where: The Atomic Bean Cafe, 902 Massachusetts Ave, Cambridge, MA (between Harvard and Central Squares, where Mojo Records used to be)
when: Saturday, April 4, 2009 † 7-9pm
Boston Comic-Con this weekend
Stop by the Boston Comic-Con this weekend to stock up on comics and meet local creators (including members of Boston Comics Roundtable and Trees and Hills). Iíll be there hawking my comics - hope to see you there!
where: Back Bay Events Center, 180 Berkeley Street, Boston, MA
when: Sat-Sun April 4-5, 2009 10am-5pm ($10 admission fee)
Fall into the orbit of Planet Wifey
Belated shout-out for the latest Planet Wifey! Go check it out - it involves bras and squirrels.
Thursday, January 15, 2009
If you're a Boston-area geek looking for a weekend of nerdpartying, come on over to Cambridge this Friday to Arisia, New England's largest sci-fi and fantasy convention!
This year's comics panels include appearances by members of the Boston Comics Roundtable. If you're interested in learning more about indy comics in Boston and our current/upcoming projects, this is the place for you!
To prep for the weekend, why not have a refresher on stuff geeks love, the worst comic this guy owns (NSFW), the entire run of The Prisoner, or the classic geek hierarchy?
Monday, December 8, 2008
If you're in the Davis Square area this Sunday (December 14), come on over to a comic show!
Comicazi will be hosting the Comicazi-Con and Bad-*ss Christmas Bazaar at the Dilboy VFW in Davis Square. 9am-3pm, $3 admission (includes free comic and toy). Get ready to buy loads of comics! And come and say hi to the Boston Comics Roundtable - we'll be there selling copies of our anthology Inbound and minicomics by our members!
BeaucoupKevin.com has a lovely flyer for the event.
Saturday, October 18, 2008
We had a ZINE FAIR. And it was AWESOME.
Boston Zine Fair 2008 has come and gone already, and it left a big pile of stuff to read in my living room.
This was my first year of helping to organize the fair. I was pretty nervous - we were dealing with a sack full of new factors: different location, different time of year, a two-floor layout instead of a single floor, and a new group of organizers.
But the fair came together, and I ended up having a blast. Loads of tablers came in from all over New England and beyond, and the fair wound up being crammed full of creativity and dozens of points of view. Fair attendees got the chance to sign up for membership in the Papercut Zine Library, get a sneak preview of the newest issue of Boston Comics Roundtableís anthology Inbound, pick up the latest Trees and Hills collaboration Seeds, and buy/swap for plenty of other zines, comics, and books.
And me, I managed to sell a pretty decent number of comics, I got to hang out with creative friends all day, I attended some mind-opening workshops, and I drank a lot of coffee (Dunkin Donuts REPRESENT). Woo!
I also learned that there was a freaking skeleton on the second floor, Charlie Cards can be used for devious purposes, Newbury Street keeps going after it hits Mass Ave, and Jay is actually a ninja. The more you know, people!
Iíd also like to give a huge thumbs up to a couple of great Trees and Hills creators: Anne Thalheimer, who led a fun crafts workshop and shared thoughts on her approach to crafting (including a "zero discard" policy for her new effort My Monster Hat); and Marek Bennett, who led an inspiring workshop and discussion on comics and education/activism. Marek has posted notes from his talk over on his blog - itís worth the read.
Cool finds of the zine fair!
I enjoyed the fair so much (and Iím not the only one), and Iím really looking forward to the next one and doing more to grow this excellent Boston alt-media event.
Tuesday, September 16, 2008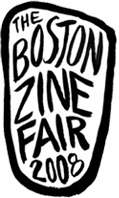 The Boston Zine Fair is this weekend!
Come and check out the crazy array of zines, comics, crafts, and more! Dozens of tablers and a great lineup of workshops are waiting for you this weekend just around the corner from Kenmore Square in Boston. And look for the second issue of the Boston Comics Roundtable anthology Inbound, making its debut at this event (with a nine-page story by me)!
Where: 601 Newbury Street, Boston, MA
When: 10am-6pm, Saturday and Sunday, September 20-21 2008
Admission: Free!
Check out the Boston Zine Fair website for full details including directions and the workshop schedule. Hope to see you there!
Wednesday, July 16, 2008
The dates for this year's Boston Zine Fair have been announced!
This year's zine fair will be held on September 20-21 in a new location: Art Institute of Boston's building at 600 Newbury Street, Boston.
We're looking for vendors to make this a fantastic event: zine makers, comics creators, writers, artists, and anyone interested in independent publishing. Registration is open and table space is cheap! Go to BostonZineFair.org to learn more and to register to table at the fair.
Want to learn more about zines? Read the Wikipedia writeup, or if you're in the Harvard Square area, stop by the Papercut Zine Library and check out their enormous selection.
Friday, June 13, 2008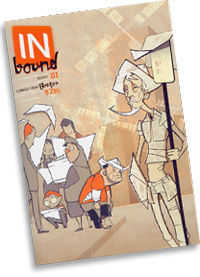 Fresh hot comics straight from Boston!
Inbound has arrived! This is the first issue of a new comics anthology by the Boston Comics Roundtable, and it is a gem. It's packed full of a variety of cool stories (Astronomers! Plague! Can openers!) and features a stunning cover by the crazyskilled Shelli Paroline. This is the first issue of many - look for a story by me in issue #2!
$7.95 an issue for some rock-solid New England quality! You can buy Inbound on the Boston Comics Roundtable website or in Boston-area comics shops including Million Year Picnic and Hub Comics.
Sunday, March 30, 2008
We are in the middle of one of the Discardia holiday seasons, a time celebrated by cleaning out stuff you don't need: unused goods, ideas, habits, and more. It's been long enough after the Winter holidays to finally ditch unwanted gifts discreetly, so let the purging begin.
But if you're going to jettison still-useful junk, you might as well put it to good use. Check out these resources for donating material goods. Many of them are specific to the Boston area, but they may also have pointers to their national offices.
Clothing
Women's professional clothing - interview suits and workplace-appropriate outfits - are the staples of Dress for Success, who use them to help provide opportunity to disadvantaged women. Massachusetts has several drop-off affiliates in Boston, Worcester, and Western Mass.
Formal dresses are reused by Belle of the Ball, a program offering prom dresses to high school girls in need. All you former bridesmaids out there, this could be your chance to graciously pass along that gorgeous-but-so-not-my-color wedding party dress.
Assorted other clothing, grooming tools, and toiletries are accepted by a number of shelters in this area, including Rosie's Place and the New England Shelter for Homeless Veterans.
Backpacks
The Cambridge drop-in center Youth on Fire welcomes your backpack donations. Check out their wishlist for other needed items (including recreational gear for the center, like board games and art supplies).
Bicycles
Boston-based Bikes Not Bombs are some crazyproductive activists, empowering people all over the world, and they can put your donated bike to very good use.
Books
There are so many potential good homes for your discarded books, it's ridiculous. A few excellent options include hospital bookcarts (try Mass General's volunteer department or check your local hospital's donation options), Books for Soldiers, and Prison Book Program.
Food
Nonperishable and even perishable food can find a place with Boston Rescue Mission. Other organizations that accept food include Greater Boston Food Bank and Boston Red Cross, though it sounds like their food donation programs operate on a larger scale (i.e. unused donations from restaurants and markets), so contact them first to find out if your donation is appropriate.
Electronics
If you're looking to get rid of whatever technotoy you just upgraded beyond, the Massachusetts Department of Environmental Protection has a list of several organizations that accept donated computer equipment. You might also find an interested party at the periodic MIT Swap Fests.
Cell phones
Like books, working cell phones will always find a welcoming home. Try the donation program run by MassRecycle, where your phone could go to any number of people in need.
Shoes
This is a sweet idea - avoid chucking your shoes into landfills and send them to Nike for reuse in athletic playing surfaces instead.
Everything else
The resources above don't fit the junk you want to ditch? See if you can pass it along to Boomerangs (of Jamaica Plain), whose proceeds go towards the AIDS Action Committee of Massachusetts.
If that's not working, there are always the perennial fallbacks of Goodwill and the Salvation Army, whose websites you can use to find locations near you.
And if that's still not jetting your stuff, you can always put it up on Craigslist or even Freecycle. Don't underestimate the power of Freecycle - people out there will find uses for the most absurd hodgepodge.
Resources for discarding, uncluttering, and organizing
Once you've pitched the piles (or even if you're just thinking about it), it feels great to maintain that tidied state. My favorite book on this topic is Organizing Plain and Simple, which has a nicely chunked wide range of information.
Online resources include Flylady, with a great rah-rah encouraging approach (if you can get past the kinda scattered design of the site) and organizational blogs like Unclutterer, which I discovered through the rock solid awesome aggregator blog LifeRemix.
Thursday, March 22, 2007
Do you like zines and minicomics? If you do, make time this coming weekend (March 24-25) to visit the Boston Zine Fair, the annual event for small press, self-publishers, and anyone interested in expressing themselves. I've attended this for several years now and every time it's more packed and even more full of amazing writing and artwork.
I'll be there hawking my minicomics, including the brand spanking new issue of Geraniums and Bacon (soon to be for sale on this website)! Come on over, say hi, and get yourself a copy!
I'll also be sharing a table with pal Charles, who will be selling the first print volume of his webcomic Sordid City Blues. Stop by and check it out!
What: Boston Zine Fair (official website)
When: March 24-25, 10am-6pm both days
Where: Massachusetts College of Art, Pozen Center (621 Huntington Ave, Boston; MBTA Green 'E' line, Longwood stop; more directions here)
Hope to see you there!
Wednesday, January 24, 2007
CharlieCard RFID concerns privacy advocates
"T Ambassador" takes you behind the unhappy scenes
Monday, January 8, 2007
The MBTA has been in the process of overhauling its fare collection machinery over the past several months, and with the new year turnover, it finally made the switch to the new Charlie system of ticketing. The system-wide changed involved a pretty confusing array of price changes, ticket styles, and terminology. Bostonist has a good writeup of some of the more important updates.
Writing as a daily MBTA user, I feel that the overhaul was successful from a technical standpoint but not from a human interaction standpoint. The subway doesn't sit out there in a vacuum - it's used by a massive number of consumers, and as one of them, I can tell you, there are a few things I didn't see that would have been extremely helpful.
A large-scale information campaign
This system-wide redesign pretty much pulled the rug out from what I knew about the MBTA, but I feel like I barely saw any information from the source - all of my data came from blogs, employer email, and other secondary sources. A change this massive should have been drummed into us ahead of time until we were sick of it and ready for it to just finally happen already. Posters inside the trains, flyers on the station walls, brochures on every surface, simple downloadable PDFs to put on your bulletin board at work - these would have helped to really drive the information home. We should have been able to recite changeover catchphrases just like we can quote "I doubt it!"
Warnings close to the date
Related to the lack of information: I used an MBTA vending machine on December 30 and paid the standard $1.25 for a ticket. There was nothing near the machine to alert me to the price increase in two days' time. Likewise, when I was queued up at another machine on January 2, there was nothing to alert me to the new price increase except a large chart on the opposite wall, out of my sight. I remember reading about the price increase beforehand, but it hadn't entirely sunken in because I'm normally a monthly pass user. However (see below), I hadn't received my pass for the new system yet due to being away for the holidays, so this morning I opted for a one-time ticket instead. It took the guy distributing the Metro to remind me about the new ticket cost!
Choosing a different month for the switchover
The beginning of January is an awkward time to implement these kinds of changes. The system is filled with tourists and visitors, many residents are away and not present to get either information or the new reusable fare cards, students are returning or just arriving, and it's a cold and cranky time to have to wait in line at the vending machine or bus stop. I don't know what would make a better month - I don't have access to MBTA usage rates - but there must be a better time than January.
Clearer distinction between the types of fare methods
Previously, the fare system involved subway tokens for casual users and visitors and plastic cards (a new one each month) for subway passes. The new system involves tickets for casual and visitor use and a plastic rechargeable card for more regular use. However, the names used are "Charlie Ticket" and "Charlie Card", which has boggled not just my head but others' as well. These serve very different purposes and it might have helped if they weren't so similar in name and appearance. Why does the ordinary ticket need a special name at all? And if it does, couldn't it have had a different color scheme or mascot to distinguish it from the reusable pass? Even just putting the Charlie mascot in a New England-style tricorner hat would have helped.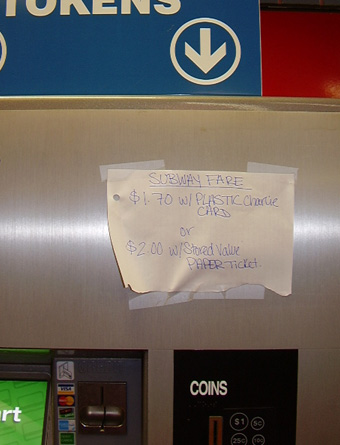 An example of informational material available to users to alert them to the price increase. Keep on rocking, guys.
Thursday, March 9, 2006
Zinefair! The Boston Zinefair is coming to town! Not this weekend but next, March 18-19, come to Massachusetts College of Art's Pozen Center (621 Huntington Avenue, Longwood stop on the Green E line) between 10am and 6pm for tons of zines, minicomics, artwork, crafts, and crazy, crazy people. Stop by and hi to me - I'll be at a table hawking my minicomics!
Kittywatch! This weekend, I will be in Austin, Texas, for South by Southwest Interactive. See you all in a bit, and look forward to more Invitation to Madness next week!
Wednesday, December 21, 2005
An announcement for anyone in the greater Boston area, anyone who loves Harvard Square, and any fans of indy cinema:
The Brattle Theatre is in rough financial situation. The Brattle Film Foundation, the non-profit organization that operates the theatre, is currently running a fundraising campaign. If they don't reach their financial goals, they will be forced to close the Brattle Theatre, a Harvard Square landmark with 52 years of history under its belt.
Please, if you can, help these guys out and contribute toward their fundraising campaign. The Brattle is an important part of Cambridge culture and a unique spot in Harvard Square. This theatre puts on film festivals, shows indy movies that wouldn't have a home otherwise, and hosts book readings and other live events.
The Brattle sits in a dear spot in my heart - so many great memories involve that crazy place. The time I dragged my friends to see Audition and we all walked out traumatized! That trippy movie that Magical Scrabbleman B and I saw about teenagers getting the vote and running the nation into anarchy (Wild in the Streets)! Crouching Tiger, Hidden Dragon with my mom, Repo Man with my college friends, Vera Drake and countless others by myself.
At the Brattle, I saw Bruce Campbell demonstrate stunts from Evil Dead, Chuck Palahniuk tell creepy stories about his childhood, and Chris Ware drone deadpan narration while his comics were shown as slides on the movie screen. And speaking of comics, the Brattle makes an unnamed appearance in Geraniums and Bacon #3 - it's the arthouse theater in "Kitty Goes to the Movies".
Harvard Square is in a rough spot in general these days. Every week, it seems like another shop has moved out and left a sad window in its place, empty except for the "Space for Lease" sign. Please help keep the indy spirit of Harvard Square alive and prevent the Brattle Theatre from becoming another empty space for rent.
Friday, September 9, 2005
Found via Metafilter - what would Boston look like under the same flooding area as New Orleans?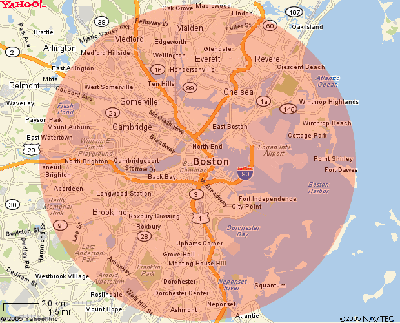 Godalmighty.
New Orleans Flood: Compare the Flood Area of New Orleans to your city
And a reminder: Food Not Bombs Hartford is still accepting donations toward their mobile kitchen and supplies distribution in Baton Rouge. Please visit this website to read more info and to donate. Please donate if you can - any amount is helpful and will go directly towards food and supplies.
Saturday, June 4, 2005
The first "woo hah" of the day was for making it to the Busch-Reisinger Museum's exhibit Crises of Representation in Fin-de-SiŤcle Vienna before it ended. The second "woo hah" was for finding out that a special talk on the exhibit was happening just after I got there. Sweet!
I highly recommend swinging by this exhibit if you get the chance before it ends next Sunday, June 12. The selection of artwork is great (including a painting and some drawings by my main man Gustav Klimt), and there's a fantastic wall full of patterns designed by Koloman Moser.

P.S. Now back from Iceland. Cool photos of Iceland shortly.
Monday, March 21, 2005
Boston Zine Fair = awesome!
Hooray for the Boston Zine Fair! A shout out to everyone involved, especially the organizers Rosie and Janaka. I had half a table and ended up distributing a lot of minicomics as well as doodling some neat sketches and writing a pretty good chunk of the graphic novel script that's on the front burner right now. I met plenty of cool people and traded for loads of interesting zines and comics. Look for zine and comic reviews in this space as I plough through this enormous pile of reading material. A lot of people really liked "I Survived GWAR" and told me their own stories of seeing GWAR in concert. Some of them were even more disgusting than the show I saw in January.
Cross-Gender Caravan = also awesome!
On Friday night I caught the Cross-Gender Caravan writers tour at its Boston stop. I finally got the chance to hear pal Charlie read in person, and it was frigging hysterical. She read excerpts from her latest novel and a short story called "All the Lonely People: Why Don't They All Fuck Off?" Now I'm sad not to have been able to make it to the Writers with Drinks live reading events back when she was living in this area. Check out her new book Choir Boy, everyone!.
Other odds and ends
The latest Weekly Dig had a great write-up of local art group The Institute for Infinitely Small Things (join them on their search for corporate commands!) and a cover by James Jean. Godalmighty, that guy is everywhere these days.
Paul Harvey commented on the Terry Schiavo life support case this morning, referring to Terry as a "girl." She's 41! I'm not sure if this is due to sexism, to infantalizing Terry as a way of making her seem more like an innocent victim, or to the fact that Paul Harvey is about 153 and everyone seems childlike to the guy.
The American version of The Office airs this Thursday. I watched the clips available on the website and it feels like karaoke. They're reciting the same linesóactually, some of the exact same linesóbut without the heart and the believability of the original. They come off as actors rather than people who could be my coworkers. I'll probably tune in on Thursday to see how this cover version of the show goes, but I'm banking on it crashing and burning just like its cover forebears Coupling, Men Behaving Badly, and Royal Paine.
Saturday, March 19, 2005
This weekend is Boston Zinefair! Come and check out zines, minicomics, and all sorts of self-publishing creations!
I'll be there with table space. Stop on by and check out the minicomics, including a brand new ministory, "I Survived GWAR"!
Table Hours: Saturday 11-6pm, Sunday 12-6pm (check website for workshops and other hours)
Location: The Pozen Center, Massachusetts College of Art - North Building (621 Huntington Avenue; Longwood Stop on the MBTA Green E line)
Hope to see you there! I managed to make it to the last Beantown Zinetown and I can tell you this: Boston has some seriously quality self-publishing.
Monday, March 14, 2005
Zines and minicomics in Boston - NICE! This coming weekend, March 19-20, Mass. College of Art will host Boston Zinefair 2005, two days of zine and mini trading plus workshops and spoken word performances. I'll be there hawking copies of Geraniums and Bacon and other minicomics. Come on by!