Wednesday, December 5, 2007
Convenience stores turned out to be some of my best friends in Tokyo.
The sidewalks of the city do not tend to offer any garbage cans, and most times the quickie-marts were the only places where they could be found. Hooray for having a place to jettison tissues and other junk (but you had to be mindful to sort it - the trash receptacles are separated into sections for plastic bottles, combustibles, and noncombustibles).
The food at these shops is also surprisingly fresh and tasty. I'm used to American corner shops where the same corn dogs trundle on their little warming wheels for months on end. It was a treat to find that you can pretty much buy dinner from Tokyo's konbini and not be disappointed: steamed buns with filling, curries, all sorts of beverages, and my favorite kind of snackage, onigiri. "OM NOM NOM" was big in my vocabulary this trip.
Things you can purchase in Tokyo convenience stores:
Dried sea monsters!
Sake!
Ear picks!
Fresh shirts, ties, and underwear!
These are especially helpful if you've been boozing all night with your fellow salarymen.
Monday, December 3, 2007
I went away for a bit. This time it was to Tokyo for a week and a half, exploring the city with that one robot guy and crossing the place off my list of "cities to visit before they fall down."
The place was like a big New York City, especially if Times Square sucked down a Red Bull or two and then ran around whizzing neon all over itself. I loved the hell out of it like the city kitty I am. It went on and on, as far as you could see from the tallest point and then further, all night and straight through into the day again (except for when the subway closed at inopportune times). Everything felt stacked, small, and streamlined.
It was a grayscale city. Sky patched with clouds, concrete, everyone on the street in shades of black and gray and navy. I've never felt like I stood out so much for wearing just a tan jacket. And it only served to burst your eyeballs even worse when you hit a riot patch of color like Kanda Myojin or madcap electric district Akihabara.
To get around the place, the only language you really need to know is the language of cities. Follow a subway map, walk very fast, don't get in people's way, step to the side on the escalators and sidewalks. That said, it's incredibly helpful and courteous to take in some of the local lingo before heading over there, especially if you're like me and you feel compelled to constantly mutter the incantation "Pleasethankyousosorryexcuseme" like some kind of protective charm.
We spent the entire week and a half in the city itself, and we still didn't get to see everything we'd planned. The place is dense and rich and full of bizarre extremes, like some kind of above-the-water urban coral reef where you can lose yourself for ages.
Saturday, June 2, 2007
I moved apartments recently. Among all the things I'd expect to find left over from the previous tenants, I have to say ...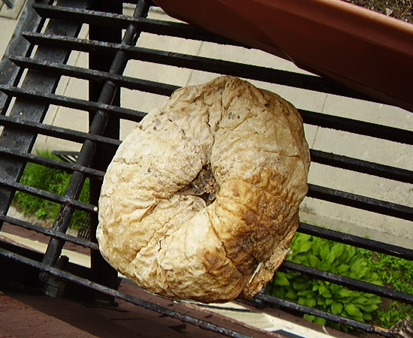 ... not on that list was a Halloween pumpkin so far past its time that it's coming full circle to its time again.
I'm tempted to keep it out there and dress it up in little costumes like those front porch geese that some of my neighbors have.
Thursday, April 6, 2006
Just like Tom O'Bedlam said, sometimes the city tells you things through its signs and words.
Not sure about those last two, though. Hey city, you keep your hands to yourself, missy.
Sunday, February 12, 2006
I'd love to see a Butcher Pride parade.
This outdoor theater was news to me, but apparently my family has known about it for years. Go figure.
Southwark, the part of London where the Design Museum is located.
A section of the Berlin Wall, outside the doors of the Imperial War Museum. Fitting.
The war museum is also a great source of crazy old-school propaganda. Drinkerthinker, man, I tried so hard to find a postcard of this!
Monday, January 23, 2006
I am an efficient kitty and smack two birds with one Photoshop.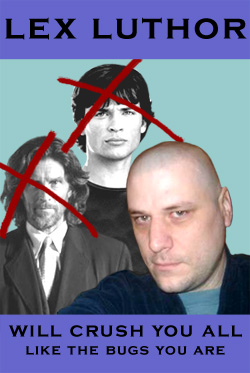 Thursday, November 3, 2005
Back in May, I visited Reykjavik, Iceland. I walked all over that crazy place and found a lot of great street art.
Friday, September 16, 2005
Minicomic reviews
Minicomic reviews of I Survived Gwar and Geraniums and Bacon over at Shawn Hoke's minicomic review blog Size Matters. Thanks, Shawn!
I've also added I Survived Gwar to Metrokitty.com's minicomics list - go on, get yourself a copy!
Sideblog updates
Say hi to the new entries on the sideblog:
Question for you all: Feed preference?
The Metrokitty RSS feed currently shows a summary of blog contents rather than the full text. Is anyone out there following the site via syndication, and if you are, do you have a preference for the feed contents - summary or full text?
Have some photos!
This man loves you all. Except you.
This was spraypainted on the floor of the Red Line. Okay!
This thing should not exist. It was put out on the sidewalk with a bunch of other junk under a "Free" sign. Wonder if it was ever used?
Saturday, August 13, 2005
Zombie pirarucu fish!
If the Harvard Museum of Natural History ever had its own version of the Hitman story "Zombie Night at the Gotham Aquarium", we'd be so screwed.
Monday, July 25, 2005
I now have a Flickr account. Fear it!
Friday, January 14, 2005
I just realized that there was a bit of a theme to the Christmas gifts I received this year. First was the totally unexpected copy of (let's keep this laughably work-safe) See You Next Tuesday from my brother, of all people. Completely out of the blue.
Then I got this from Magical Knitter Drinkerthinker: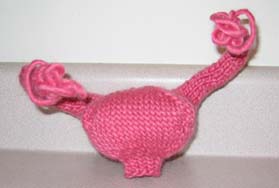 I have a toy knitted uterus! With Fallopian tubes! I've gotta do a happy dance. This is the best thing ever.
And I've gotta give it a name. Any suggestions? Send 'em my way!
Monday, January 10, 2005
Back from the holidays, with photos of beautiful Norfolk.
Saturday, July 31, 2004
Everybody loves found type! Here are some photos of examples I found on my recent holiday in Germany. Warning: contains umlauts.
Thursday, July 8, 2004
Friends of yours popping out sproggen? Baby quilts are easy to make and have a more personal touch than the usual gift certificate to Sears.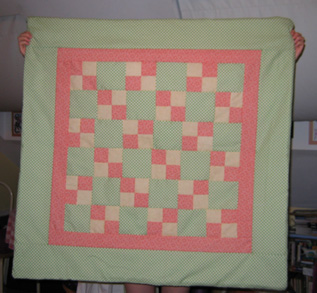 They also don't take very long to assemble, once you sit down and actually get to work. Much quicker to make than the damn afghan I've been crocheting for the past three years now. I'm telling you, once that thing's done, I'll issue commemorative stamps or something.
For more info on making baby quilts, try Quilts for Baby: Easy as ABC (ignore the cutesy title). A very beginner-friendly book.
other junk
Everyone loves animated Lego Spider-Man!
Yes, Virginia, they are planning a Dungeons and Dragons sequel
Monday, May 17, 2004
Gay marriage becomes legal in Massachusetts. World does not end. Giant fiesta instead on the steps of Cambridge City Hall. [PICS]