Friday, January 14, 2011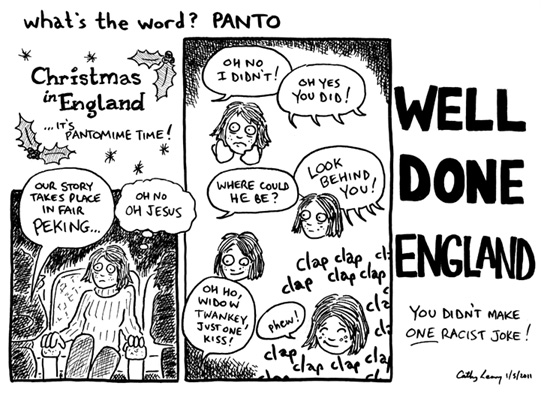 And a Happy New Year to you too! Resolutions written, to-do list jotted, cup of tea at the ready. 2011 - I GOT THIS ONE.
What else is going on?
I did a guest strip for The Loneliest Astronauts, a webcomic by pals Kevin Church and Ming Doyle! Scroll down that page to find a bonus arts-and-crafts project to let you join in the fun at home!
C. Ché Salazar, a buddy and colleague of mine from the Boston Comics Roundtable, has kicked off a series of interviews on his blog, Production 3C. I was very honored to be his first interviewee! Check out this two-part interview: Part One, where we talk about minicomics and autobio, and Part Two, where we hash out thoughts about gender and superheroines in mainstream comics (with a focus on the Women of Marvel anthology). Ché is a great guy with a lot of thought in him - I'm looking forward to reading more of his interviews.
Comixology ran a great review of my menstrual 411 minicomic Greenblooded, and pal Isaac "Satisfactory Comics" Cates posted a lovely writeup of my kid-friendly comic Reggie & Brian and the Lousy Nickname. Thanks, guys!
Thursday, July 1, 2010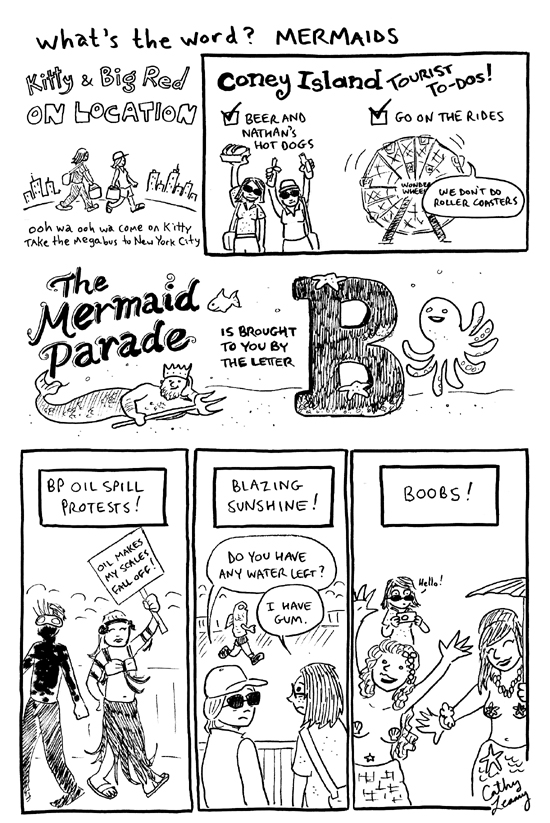 So this is the year I finally got to hit the Coney Island Mermaid Parade. HELLA BONKERS YOU GUYS. The creativity (and exhibitionism!) behind the costumes bowls you over. That and the two hours of standing in the hot New York summer sun. We cooled down afterwards by going to the dark theater of the carny-style sideshow.
Wednesday, December 5, 2007
Convenience stores turned out to be some of my best friends in Tokyo.
The sidewalks of the city do not tend to offer any garbage cans, and most times the quickie-marts were the only places where they could be found. Hooray for having a place to jettison tissues and other junk (but you had to be mindful to sort it - the trash receptacles are separated into sections for plastic bottles, combustibles, and noncombustibles).
The food at these shops is also surprisingly fresh and tasty. I'm used to American corner shops where the same corn dogs trundle on their little warming wheels for months on end. It was a treat to find that you can pretty much buy dinner from Tokyo's konbini and not be disappointed: steamed buns with filling, curries, all sorts of beverages, and my favorite kind of snackage, onigiri. "OM NOM NOM" was big in my vocabulary this trip.
Things you can purchase in Tokyo convenience stores:
Dried sea monsters!
Sake!
Ear picks!
Fresh shirts, ties, and underwear!
These are especially helpful if you've been boozing all night with your fellow salarymen.
Monday, December 3, 2007
I went away for a bit. This time it was to Tokyo for a week and a half, exploring the city with that one robot guy and crossing the place off my list of "cities to visit before they fall down."
The place was like a big New York City, especially if Times Square sucked down a Red Bull or two and then ran around whizzing neon all over itself. I loved the hell out of it like the city kitty I am. It went on and on, as far as you could see from the tallest point and then further, all night and straight through into the day again (except for when the subway closed at inopportune times). Everything felt stacked, small, and streamlined.
It was a grayscale city. Sky patched with clouds, concrete, everyone on the street in shades of black and gray and navy. I've never felt like I stood out so much for wearing just a tan jacket. And it only served to burst your eyeballs even worse when you hit a riot patch of color like Kanda Myojin or madcap electric district Akihabara.
To get around the place, the only language you really need to know is the language of cities. Follow a subway map, walk very fast, don't get in people's way, step to the side on the escalators and sidewalks. That said, it's incredibly helpful and courteous to take in some of the local lingo before heading over there, especially if you're like me and you feel compelled to constantly mutter the incantation "Pleasethankyousosorryexcuseme" like some kind of protective charm.
We spent the entire week and a half in the city itself, and we still didn't get to see everything we'd planned. The place is dense and rich and full of bizarre extremes, like some kind of above-the-water urban coral reef where you can lose yourself for ages.
Monday, March 26, 2007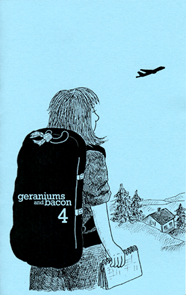 It's here, everyone! The newest issue of my minicomic, Geraniums and Bacon! This one's the travel issue: Boggle at what Kitty and pals do when luggage goes missing! Explore Dublin on a solo trip! Crush on public TV travel writer Rick Steves! Plus travel snaps, Milo Mercury and Ginger, and more! 20 pages of good times!
Check out a sample short from this issue: We're Gonna Have a Rick Steves Party Tonight!
Thursday, March 8, 2007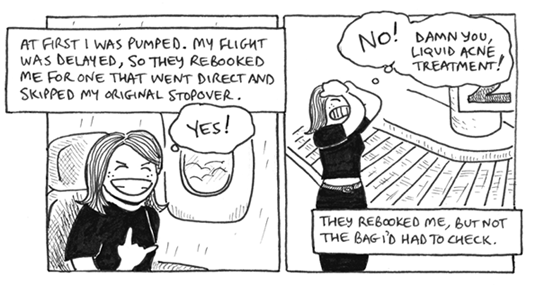 Currently hacking away at the latest issue of my minicomic Geraniums and Bacon. Coming soon, issue 4: the travel issue! Wish you were here!
Keep an eye on this blog or join the comics mailing list for further news!
Monday, September 4, 2006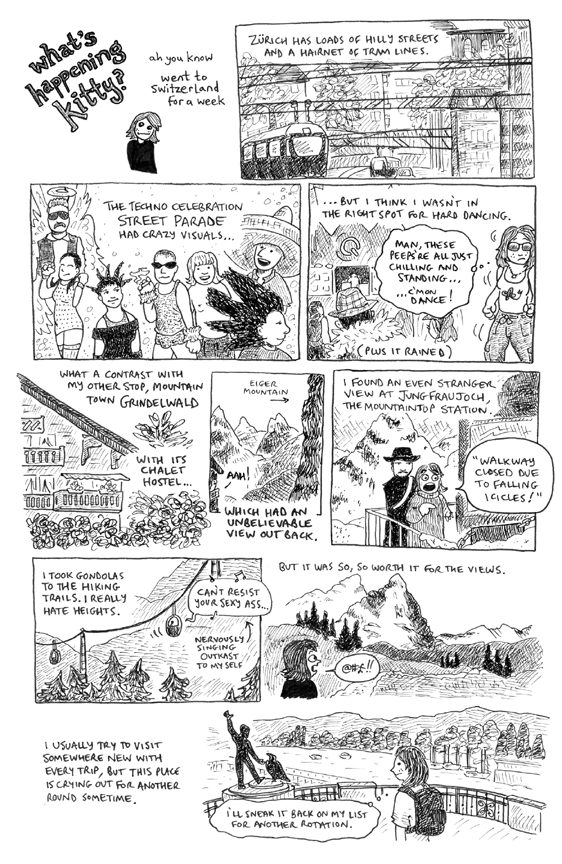 Sunday, July 2, 2006
I've never been to Tokyo. Maybe because Rick Steves hasn't covered it. I have such travel-lust for that place, though. All those lights and non-stop activity and huge swells of people - I must be there! It's been edging up my travel to-do list, and it's right up there on my "Places I have to visit before Nature wipes them out" list (created after never making the time to visit pre-Katrina New Orleans).
But meanwhile, until I cough up the cash and time, I travel vicariously through other people's Japan experiences.
A whole slew of wacky Engrish examples courtesy of Magical Rockstar D, Magical Cartographer C, and assorted friends.
Dirk Schwieger's weekly Tokyo-based bio comic Moresukine (and speaking of travel, you can check out a preview of his comic documentary on elf folklore in Iceland over at electrocomics).
Sunday, February 12, 2006
I'd love to see a Butcher Pride parade.
This outdoor theater was news to me, but apparently my family has known about it for years. Go figure.
Southwark, the part of London where the Design Museum is located.
A section of the Berlin Wall, outside the doors of the Imperial War Museum. Fitting.
The war museum is also a great source of crazy old-school propaganda. Drinkerthinker, man, I tried so hard to find a postcard of this!
Thursday, December 29, 2005
No!
Sleep!
Till North Norfolk! dah-dahhhhh!
It is so freaking cold over here in England. There's actual snow on the ground for more than a day - a first for me! - and my toes are about to fall off and I'm going to float away for all this tea.
Here's one for you - if you go to London, you should visit the Design Museum, because it's great. Website's kind of lame, though. They make a big show out of it having won awards. I demand to see the award criteria! Flash-based sites that spawn titchy browser windows and hide the navigation win no awards in Kittyland.
Thursday, November 3, 2005
Back in May, I visited Reykjavik, Iceland. I walked all over that crazy place and found a lot of great street art.
Friday, May 27, 2005
Over in Reykjavik for a week, and I find out that the willie museum has moved.
I am the saddest kitty imaginable about this.
Other than that - fantastic trip so far, though willie-free. Bonus point: Spot the quotation where the title of this blog post comes from.
Monday, January 10, 2005
Back from the holidays, with photos of beautiful Norfolk.
Saturday, July 31, 2004
Everybody loves found type! Here are some photos of examples I found on my recent holiday in Germany. Warning: contains umlauts.
Monday, May 31, 2004
I'm back home now, but last week I was VacationKitty. I went to Germany for a week of backpacking around and looking at interesting things. Honestly, I lived in the country for three years when I was younger - you'd think I'd want to try somewhere else. But I still can't get enough of the place, especially now that I'm old enough to actually appreciate it.
I spent three days in Cologne/Köln, mostly staring at the cathedral. That cathedral! You can say it's sacred and beautiful and holy or what have you, and I'd agree with you if we're describing the interior. The exterior is a jagged piece of shrapnel sticking out of the landscape and deserves a caption like "Hellbaby Factory #4 by H.R. Giger". And that's why I like it.
After that I spent four days exploring little towns on the Rhine river, based out of one called Bacharach. Lush green hillsides, timbered houses, lots of sunshine, and tasty wine. It's a beautiful part of the world. I kept meeting Americans everywhere - even a guy from Billerica, of all places (big hi to all you rock stars from the Bacharach hostel - "ich bin Kartoffel!"). I was lucky not to run into any hassle about being American, given the state of current events, but then again, I mostly hit areas of tourism and very small towns.
recs
Station Hostel, Cologne - great couple of hostels in Cologne. I stayed at the Marzellenstrasse hostel, which was close to the train station and the cathedral. The Rheingasse hostel is further away but has a pretty hip bar and lounge in it.

Jugendherberge Burg Stahleck, Bacharach - the hostel in Bacharach. This is the Best Hostel Ever. Comfy beds, cafeteria-turned-bar after 10pm, astounding view, and it's in a castle. The only drawback is a fifteen minute hike uphill to get to the place, but trust me when I say that it's damn well worth it. It appears to be a big school trip destination, so be sure to book ahead.

Burg Rheinfels, St. Goar - a fortress ruin on the bank of the Rhine. Not far from Bacharach and worth exploring.

Siegfried's Mechanical Music Museum, Rüdesheim - crazy museum of mechanical music-makers, like player pianos and music boxes. I have the invention know-how of a box of Corn Flakes, so this whole museum was mindboggling to me.
Thursday, May 20, 2004
Köln
That cathedral is one of the most breathtaking things I have ever seen. I mean, goddamn! That is one fine cathedral.
More when I get back.
Saturday, December 27, 2003
I'm back now after a week in England. We spent lots of time with family, ate an absurd amount of food, were nearly choked to death by incense at midnight services on Christmas Eve, and got a good look at the remains of a monastery that was given the Anglican smackdown by Henry VIII.
And this is what I come home to! Wizard magazine getting gay comics creators to do their own Queer Eye take on superhero fashion and anime based on t.a.T.u. Wahey, happy holidays all around!
Tuesday, December 23, 2003
Norfolk in the wintertime is like a scene of dying beauty. The fields and meadows hold nothing but furrowed, empty dirt, and naked trees sit silhouetted against a sky thick with washed-out clouds like a child's blanket that's been through the laundry too many times.
In other news, the Norfolk & Norwich Millennial Library is the coolest frigging library I've seen in ages. Talk about knowing the modern audience - it looks like a massive bookstore. And the online catalog is nicely done as well.
Tuesday, August 12, 2003
I'm going to Dublin (and thereabouts) for a week.
Anyone who wants a postcard sent or who has any other requests, please send me a message.