Monday, May 17, 2004
« Previous: smellblazer Next: wo ist die metrokitty? »
Hooray for Cambridge!
Today is the day that gay marriage becomes legal in Massachusetts, so Cambridge decided to get a jump on things by opening at 12:00am this morning.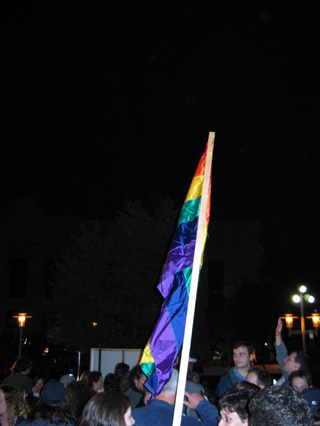 The place was absolutely teeming with people. It was a giant brightly-lit festival gathered on City Hall's front lawn. People gathered out in the street, up on the grassy area, and even in up on the windowsills of the first floor. I couldn't see a damn thing of the actual events going on on the front steps, but that didn't matter. I was having a fun enough time handing out heart stickers to the crowds around me (such a hippy-dippy thing to do, but hey).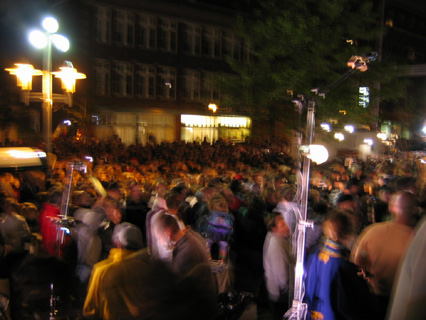 The atmosphere was like a big block party. People milled around and chatted with friends, cheered when they heard the folks up front cheering, and hugged each other like family. There were older people, younger people, little kids having picnics with their parents, teens and young adults, and people with their pets.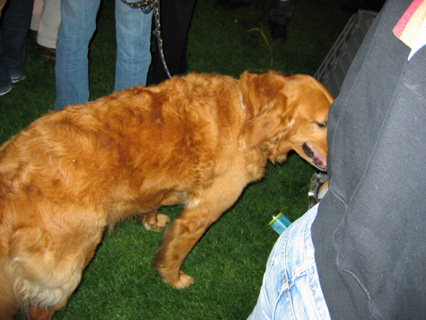 Most of the crowd wore street clothes, Though I spotted a few wearing rainbow flags as capes and three folks dressed as angels (wearing sashes that read "Freedom", "Love", and "Honor").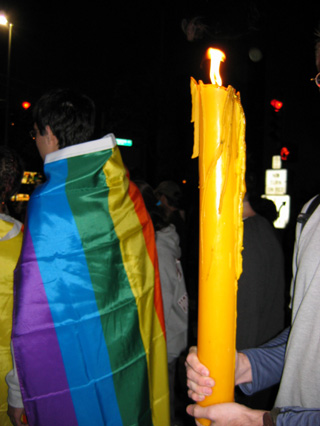 Only a handful of protestors showed up, and they left after a short period of time. Everyone in the crowd had a good time laughing and pointing at their signs, including such classics as "God Brought Down the Space Shuttle". The happy crowd had much better signs, like "Masel Tov!", "Our Husbands Were Getting Boring Anyway", "See Chicken Little, the sky is not falling", and my personal favorite, "Yay!"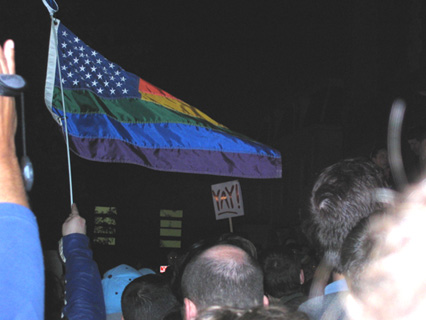 And then there was the group of Morris dancers who struck up a routine right in the middle of Massachusetts Avenue. I think that about caps it right there. Hooray for Cambridge!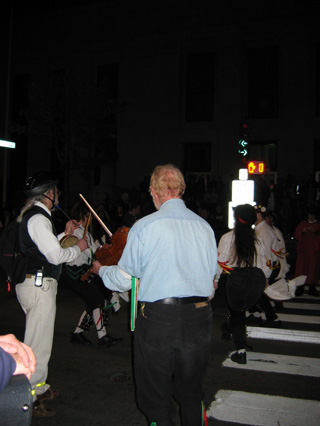 For official news, check out the Boston Globe's coverage:
Cambridge plays host to a giant celebration