Monday, August 9, 2004
« Previous: ooooooooooomlauts! Next: just my type »
It's minicomics a go-go with the latest issue of Geraniums and Bacon, now in print! 20 black and white pages of unadulterated good times!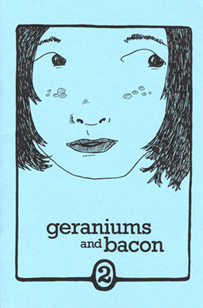 Highlights include:
The newest writer's aid on the market!
The latest helpful home cleaning product!
The nerdiest dream sequence ever!
If you're interested in buying a copy ($1.50 per issue) or swapping for a copy (bring on the zines and minis!), please drop me a line via the minicomics contact form. Copies are also available in the minicomic section of Million Year Picnic. Thanks!