Blog Categories
Summer Reading List
Look for me here!
Comics and Medicine
Webcomics
Comics news
Comics creators
Assorted awesomeness
Monday, August 16, 2004
« Previous: just my type Next: underlining »
I have volumes 1, 2, and 3 of Japanese horror comic Uzumaki. I'm all set with them and I'd like to make them go away now. Anyone want to trade other comics for them? If so please contact me.
Update - they've been claimed. Thank god. I'm a big wussy with an overactive imagination and I want them far away from me.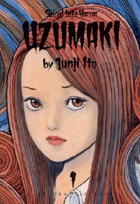 click for artbomb.net's rundown
in other news
Let's take a look at some of the searches that bring people here.
john kerry edwards hoyay

... ... ... no. Just no.

photoshop tutorial sauron eye

Oh yeah, you want the Photoshop "Evil" palette, just under the one with the color swatches.

kitty the slashtastic

cha-CHING!

his cold stethoscope on my breast... erotic exam stories

... I think you should move along now