Friday, January 14, 2005
« Previous: north norfolk is love Next: comic: school »
I just realized that there was a bit of a theme to the Christmas gifts I received this year. First was the totally unexpected copy of (let's keep this laughably work-safe) See You Next Tuesday from my brother, of all people. Completely out of the blue.
Then I got this from Magical Knitter Drinkerthinker: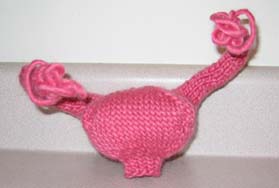 I have a toy knitted uterus! With Fallopian tubes! I've gotta do a happy dance. This is the best thing ever.
And I've gotta give it a name. Any suggestions? Send 'em my way!