Wednesday, March 9, 2005
« Previous: rage against the genre Next: come to Boston Zinefair 2005! »
The latest additions to the blogroll on the right: Drawn!, a sweet-looking illustration blog; Suspension of Disbelief, a fact-checking blog for comics; and Comics Should Be Good and The Great Curve, a couple of great comics discussion blogs.
New crafty stuff on my head - this hat courtesy of Magical Knitter Drinkerthinker: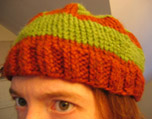 New crafty stuff on my couch - this throw cushion, a bit of a collaboration with Magical Standardsguy Sidesh0w: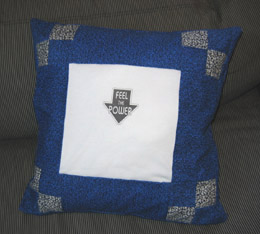 Let's hear it for makin' stuff. Woo!