Monday, May 2, 2005
« Previous: images ahoy! Next: oh dude the sweet yes! »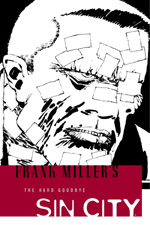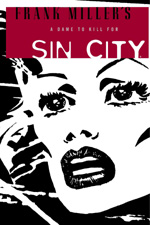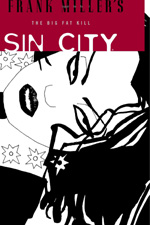 Count me as one of the people who is underwhelmed by the new covers for Frank Miller's Sin City books.
I do like the idea of a uniform trade dress. Now the books look like part of the same series or family. The type and layouts aren't too bad either; it's a change, and they give the books a little bit of refinement, an amusing contrast with the subject matter.
But viewed as a group, they blur together. Especially the first three, above - with the same type treatment, artwork treatment, and shade of red, they could do with more prominent individual titles to set them apart a bit.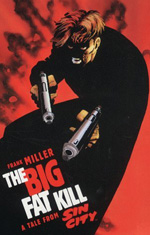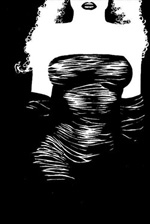 This could be just my personal taste talking, but I feel that one of the strongest elements of Frank Miller's artwork is the stylized shapes he creates, almost like sculptures. They are dynamic and they in turn form stunning shapes in the negative space around them. Sometimes they seem to me like snapshots, almost freeze-frames of choreography. And they stick in your head (or at least my head) like retinal afterimages. I've never been a huge fan of Sin City, but there are times when I've been seriously tempted to buy the poster of Goldie's first panel (right). I mean, wow. That's memorable!
So to me, the treatment of the artwork on these new covers removes that dynamic element, flattening the art. The negative space is cropped away, eliminating the movement. The pictures are pretty, but they lack the iconic quality of the previous covers.
Compare the original and the new covers of Booze, Broads, and Bullets, for example: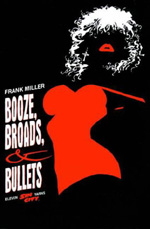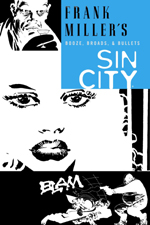 Also, I feel officially stupid. Can anyone tell me what that is on the cover of the new version of Family Values? I've never read the comic and I can't make out what that image is. Is it a box? Is it someone's clothing?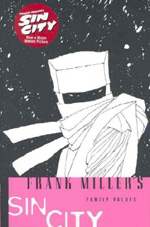 Edit: One cover image removed and one cover image replaced after it was pointed out that they weren't the official covers. Thanks for the heads-up, Dorian!