Wednesday, August 10, 2005
« Previous: comic reviews: another library haul Next: rahr! zombiefish! »
So I was reading the local alternative paper, and I stumbled across an advertisement featuring an illustration that seemed strangely composed and vaguely familiar.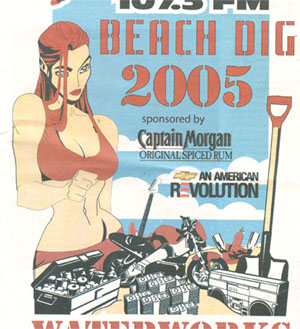 And I stared at it for a moment, thinking, That looks like a drawing I've seen before. Like that girl's fist is oddly posed, like she should be holding something in it. Like that's actually Natalia Kassle holding a big knife in Danger Girl.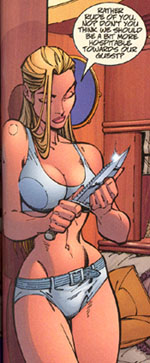 Yup. And there's a tinge of further irony given that Natalia looks like she's wearing a swipe/homage copy of Honey Ryder's swimsuit-and-knife ensemble from Dr. No. But it's not like Danger Girl was ever passing itself off as much more than fun genre-based homage and pastiche, and at least all of its art was original (as far as I can tell, anyway).
I can't believe I spotted a Danger Girl swipe cold like that. I haven't looked at the series in months at least. Man. Sometimes I really wish I could harness my memory powers for good or for profit rather than for just comics and movie quotes.