What's going on here?
I'm Cathy Leamy, a Boston cartoonist and medical writer. Check out my comics! They're mainly about health care and autobio stories.

Twitter
Tumblr
RSS
Blog archives
Blog Categories
Summer Reading List
Look for me here!
Comics and Medicine
Webcomics
Comics news
Comics creators
Assorted awesomeness
Monday, December 12, 2005
« Previous: velvety goodness Next: help save the Brattle Theater! »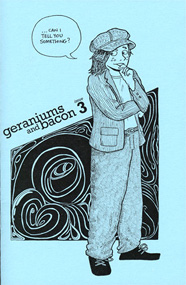 It's here! The latest issue of my minicomic Geraniums and Bacon is now available! Pick up a copy and gawk at Kitty's true confessions: adult ed addiction, inappropriate thoughts, ethical grooving, and more! Plus fun stories, quirky cartoons, and new adventures with Milo Mercury and Ginger - 20 pages of rock-out fun!
Here's a sample short from this issue - Miss Manners' Guide to Ethical Grooving!
Get your copy today with the power of Paypal!