What's going on here?
I'm Cathy Leamy, a Boston cartoonist and medical writer. Check out my comics! They're mainly about health care and autobio stories.

Twitter
Tumblr
RSS
Blog archives
Blog Categories
Summer Reading List
Look for me here!
Comics and Medicine
Webcomics
Comics news
Comics creators
Assorted awesomeness
Sunday, January 22, 2006
« Previous: like a pro Next: lex luthor is love »
Out-of-context panels from Archie 3000: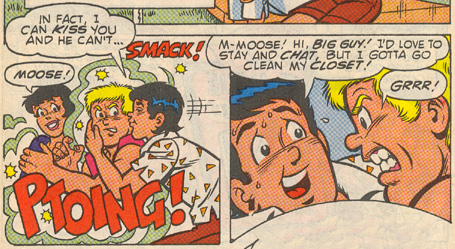 Oh, Reggie! You don't have to wait until 3000 to be true to your heart. You come up to Massachusetts, fella, they've got your back.