Monday, April 17, 2006
« Previous: o'brien torturethon 2006 Next: supersonic ladies on a leash »
snarkage
I can't seem to walk past posters for Take the Lead without wanting to snark back.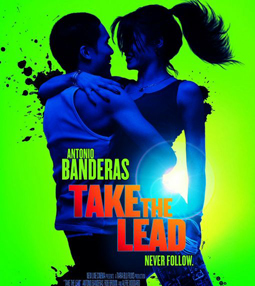 Yeah, "Never Follow" ... except for the 50% of you dancers who do need to follow if you want to, you know, actually ballroom dance. If you need a tagline for a movie like this, why not "Follow your bliss" or "Follow your own path", something that's not the exact opposite of what you're actually doing? Honestly.
linkage
TBS has some very silly Lord of the Rings promo ads.
Hey ladies, Glad Rags is offering 15% off if you sign up for their newsletter!
I was namechecked on Sequential Tart! Thanks, Jim!
BBC History offers a fun Flash game Kings and Queens Through Time, where you can try to put Britain's kings and queens in order. I completely aced this game but I can't even name the first five American presidents. My citizenship priorities are completely out of whack.
For the Cambridge locals, sci-fi bookshop Pandemonium has new digs (thanks to Drinkerthinker for the tip), and next month is the city's annual DanceMonth.