Tuesday, April 25, 2006
« Previous: snark 'n' links Next: comic: kitty's wishlist »
Looks like Aeon Flux is out on DVD, and I'm sure sister action cheesefest movie Ultraviolet won't be too far behind. Every time I saw the commercials for these flicks, I thought of Jhonen Vasquez' parody superheroine character Lady Sexhole.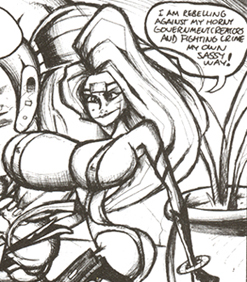 Media at my house is always interactive. Insert image of me yelling that line at the TV every time Ultrajovovich showed up to bare her midriff and shoot things and that's about the state of it.
To me, this kind of character always smacks of a media cliché I encounter in sci-fi and action stories - the Engineered Woman. She's a human machine, trained and/or superhumanly altered by and for the service of an organization (usually one with strong hierarchical or patriarchal overtones - a government agency, or a secret society run by old men in dark suits). More often than not, she's some kind of killing tool.
River Tan from Firefly, augmented by the government
Nikita from La Femme Nikita, taken and trained by Section One
The Bride from Kill Bill, working for Bill's killer stable and trained by, among others, an old kung fu master
Max from Dark Angel, a genetically-enhanced girl on the run from her former military handlers
Boy's origin story from The Invisibles, volume 2, with the alien in her head
A related character type is the superwoman who doesn't need engineering but who still acts as a tool for an agency. Buffy Summers is a great example - in spite of her powers, she is still trained and managed by the Watchers, and even the Slayer power itself turns out to be the result of a group of male magicians thrusting it unwanted on the first Slayer girl. But what I find interesting about the list above is the weird voyeur-sadist angle - we're invited to watch these woman being broken, being altered. The transformation scenes are usually explicit.
Are there male examples of this kind of character process? Movies, TV, and comics are filled with "assassin superbaddie" men, but I feel like I don't usually see them in the explicit process of creation: being abducted from their former lives, being stripped of identities and emotions, being trained and forcibly reshaped. (I bet they're out there, but the only example I can come up with is Wolverine.)
It's also interesting to think on what the transformation strips away: all traces of traditional femininity, except the sexy bits. Swap out nurturing and caring for rock-hard stoicism and casual attitude toward killing, but leave the sex drive. It's like Lady Macbeth in leather.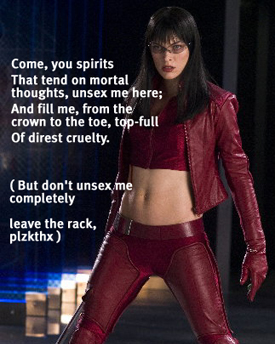 So as a final result, we end up with this power fantasy character - who wouldn't want to be a catsuited überpowerful babe with one-liners and assault rifles, seriously. But is it really a power fantasy? After the amp-up, these characters become immense sources of power, but they don't usually control it. Again, they're the tools and catspaws. Operations sets the agenda for Nikita, Buffy is ordered around by the Watchers when they come to town, and Bill is the boss. The women have the power but they don't call the shots.
It's frustrating. These are the characters held up as great female action heroes, but half the time they're just Barbie dolls built by their masters. Hot as all hell and great with guns, but uncomplicated by emotions or physical weakness. She'll do what you want to an inhuman degree, and she'll still look eminently sexable. That's a nice feature list for the owner, not a character description to aspire to. Again, are there male characters like this? Wolverine was a hard badass engineered and controlled by others, but he isn't usually presented as being deliberately sexed up on top of that. Well, maybe. He does walk around with no shirt on pretty often.
The gratifying moments come when the women fight back. Smash the masters! It's like Frankenstein, where the creation comes back around to boot the ass of those who try to control too much. Yay and all, but often it still feels to me a bit like women are portrayed as a force of nature, fertility and entropy rising up against the sterile clinical men who try to bottle them. Come on now, these are people, not dinosaurs from Jurassic Park.