Monday, January 8, 2007
« Previous: found advice Next: comic: Medical Terminology »
The MBTA has been in the process of overhauling its fare collection machinery over the past several months, and with the new year turnover, it finally made the switch to the new Charlie system of ticketing. The system-wide changed involved a pretty confusing array of price changes, ticket styles, and terminology. Bostonist has a good writeup of some of the more important updates.
Writing as a daily MBTA user, I feel that the overhaul was successful from a technical standpoint but not from a human interaction standpoint. The subway doesn't sit out there in a vacuum - it's used by a massive number of consumers, and as one of them, I can tell you, there are a few things I didn't see that would have been extremely helpful.
A large-scale information campaign
This system-wide redesign pretty much pulled the rug out from what I knew about the MBTA, but I feel like I barely saw any information from the source - all of my data came from blogs, employer email, and other secondary sources. A change this massive should have been drummed into us ahead of time until we were sick of it and ready for it to just finally happen already. Posters inside the trains, flyers on the station walls, brochures on every surface, simple downloadable PDFs to put on your bulletin board at work - these would have helped to really drive the information home. We should have been able to recite changeover catchphrases just like we can quote "I doubt it!"
Warnings close to the date
Related to the lack of information: I used an MBTA vending machine on December 30 and paid the standard $1.25 for a ticket. There was nothing near the machine to alert me to the price increase in two days' time. Likewise, when I was queued up at another machine on January 2, there was nothing to alert me to the new price increase except a large chart on the opposite wall, out of my sight. I remember reading about the price increase beforehand, but it hadn't entirely sunken in because I'm normally a monthly pass user. However (see below), I hadn't received my pass for the new system yet due to being away for the holidays, so this morning I opted for a one-time ticket instead. It took the guy distributing the Metro to remind me about the new ticket cost!
Choosing a different month for the switchover
The beginning of January is an awkward time to implement these kinds of changes. The system is filled with tourists and visitors, many residents are away and not present to get either information or the new reusable fare cards, students are returning or just arriving, and it's a cold and cranky time to have to wait in line at the vending machine or bus stop. I don't know what would make a better month - I don't have access to MBTA usage rates - but there must be a better time than January.
Clearer distinction between the types of fare methods
Previously, the fare system involved subway tokens for casual users and visitors and plastic cards (a new one each month) for subway passes. The new system involves tickets for casual and visitor use and a plastic rechargeable card for more regular use. However, the names used are "Charlie Ticket" and "Charlie Card", which has boggled not just my head but others' as well. These serve very different purposes and it might have helped if they weren't so similar in name and appearance. Why does the ordinary ticket need a special name at all? And if it does, couldn't it have had a different color scheme or mascot to distinguish it from the reusable pass? Even just putting the Charlie mascot in a New England-style tricorner hat would have helped.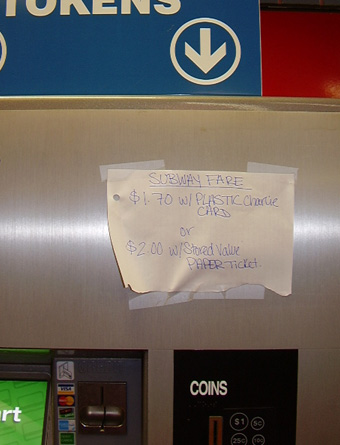 An example of informational material available to users to alert them to the price increase. Keep on rocking, guys.