Thursday, February 15, 2007
« Previous: Alternate Universe TiVo: The Meme Next: upcoming: Geraniums and Bacon #4 »
Are you looking for slice-of-life comics? Good news!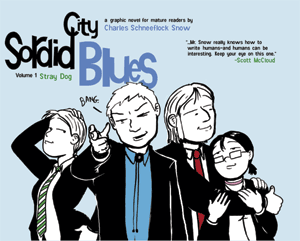 The first volume of my pal Charles' webcomic Sordid City Blues will be available in print format in early March. It's currently up for pre-order, so go and get your name in for a copy!
SCB is great fun to read - it goes from relationships to religion to rock'n'roll, and then there are pretty girls and a chapter about skeeball. Something for everyone!
Comments are closed due to technical issues. They'll be back at some point! In the meantime, you can reply to me via Twitter (@metrokitty) or email me directly via my contact form.