Monday, March 26, 2007
« Previous: Friday Night Fight Club! Next: Boston Globe blurb on comic stats »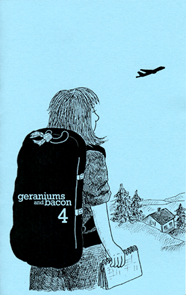 It's here, everyone! The newest issue of my minicomic, Geraniums and Bacon! This one's the travel issue: Boggle at what Kitty and pals do when luggage goes missing! Explore Dublin on a solo trip! Crush on public TV travel writer Rick Steves! Plus travel snaps, Milo Mercury and Ginger, and more! 20 pages of good times!
Check out a sample short from this issue: We're Gonna Have a Rick Steves Party Tonight!
Comments are closed due to technical issues. They'll be back at some point! In the meantime, you can reply to me via Twitter (@metrokitty) or email me directly via my contact form.