What's going on here?
I'm Cathy Leamy, a Boston cartoonist and medical writer. Check out my comics! They're mainly about health care and autobio stories.

Twitter
Tumblr
RSS
Blog archives
Blog Categories
Summer Reading List
Look for me here!
Comics and Medicine
Webcomics
Comics news
Comics creators
Assorted awesomeness
Wednesday, June 6, 2007
« Previous: What Kitty Found Next: promo: MoCCA Art Fest this weekend, June 23-24 »
I finished the second term of my medical terminology course.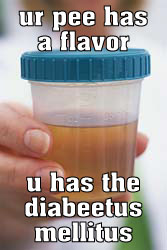 I swear I will stop talking enthusiastically about pee sometime in the next few weeks.