Blog Categories
Summer Reading List
Look for me here!
Comics and Medicine
Webcomics
Comics news
Comics creators
Assorted awesomeness
Wednesday, June 6, 2007
« Previous: What Kitty Found Next: promo: MoCCA Art Fest this weekend, June 23-24 »
I finished the second term of my medical terminology course.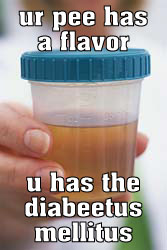 I swear I will stop talking enthusiastically about pee sometime in the next few weeks.