What's going on here?
I'm Cathy Leamy, a Boston cartoonist and medical writer. Check out my comics! They're mainly about health care and autobio stories.

Twitter
Tumblr
RSS
Blog archives
Blog Categories
Summer Reading List
Look for me here!
Comics and Medicine
Webcomics
Comics news
Comics creators
Assorted awesomeness
Friday, June 22, 2007
« Previous: I am heartbroken Next: you're doing it wrong »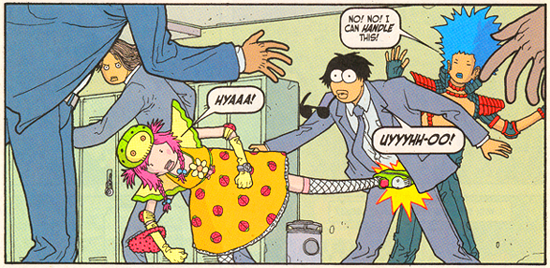 What day is it? Friday!
What time is it? FIGHTIN' TIME!
Today's nads destruction is brought to you courtesy of the lovely and underrated Vertigo Pop: Tokyo!
Edit: I am on the crustiest internet cafe browser in the world right now and I can't tell if that image is loading. If it's not, my apologies! I'll fix it when I get back to civilization.
Edit: Image repaired. Wow, that was embarrassing.
Edit: DELAYED FIGHTING ACTION!
Comments are closed due to technical issues. They'll be back at some point! In the meantime, you can reply to me via Twitter (@metrokitty) or email me directly via my contact form.