Tuesday, July 24, 2007
« Previous: MoCCA 2007 was a delight Next: That's me right there »
So much is going on!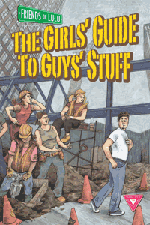 Friends of Lulu has an anthology (with a cartoon by me)!

Friends of Lulu has released their new comics anthology, The Girls' Guide to Guys' Stuff. This book is bursting with great talent and female cartoonists of all kinds ... including me! Pick up a copy and check out my four-page short comic on neckties (and get a sneak preview on the anthology's MySpace updates page). If you're going to the San Diego Comic Con, look for the Friends of Lulu booth, where the book will be on sale; otherwise, you can order a copy from their website.
Marek has a blog!
Cartoonist and comics activist Marek Bennett has a blog: http://marekbennett.blogspot.com. Check out this guy's adventures in comics in New Hampshire and his own comic strip Mimi's Doughnuts, which is a delightful read!
Satisfactory Comics has a blog!
Check out this new blog by Mike and Isaac, the jam-masters behind Satisfactory Comics and a number of other collaborative and experimental comics: http://satisfactorycomics.blogspot.com. And take a look at the comics themselves - they're fun stories with surprising amounts of layers to peel and explore.
Trees & Hills has an anthology!
Trees & Hills, the comic group for creators in New Hampshire, Vermont, and Western Massachusetts, has released a new anthology, the Field Guide. This thing is 52 pages bursting with mad cartooning skills - order a copy on their site!
Sordid City Blues is on sale in Cambridge!
The first print volume of Charles Schneeflock Snow's webcomic Sordid City Blues is available for sale at my favorite comic shop, Cambridge's Million Year Picnic. If you're in Harvard Square, stop in and pick it up!
Comments are closed due to technical issues. They'll be back at some point! In the meantime, you can reply to me via Twitter (@metrokitty) or email me directly via my contact form.