Thursday, September 27, 2007
« Previous: Reading starts with the letter Arrrrrrh Next: Friday Night Fights: Division X Reporting for Duty »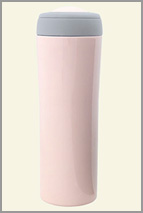 I am enjoying the girly hell out of my latest purchase: this pink insulated thermos, just the right size to hold a small coffee from Dunkin' Donuts and to fit in my pocketbook. The top unscrews easily for sipping, includes an optional mesh filter for loose tea, and screws back on tighter than the Enterprise airlock. The size is really what does it for me, though - I love having a reusable portable mug and not wasting a cup, sleeve, and plastic top with every Dunkin's run, but most of the travel mugs I've seen hold just too much coffee for my system.
You can find this travel bottle and others at ReusableBags.com. And the pink bottle has a discount, if you're don't mind looking like you're on a coffee run for Hello Kitty.
Comments are closed due to technical issues. They'll be back at some point! In the meantime, you can reply to me via Twitter (@metrokitty) or email me directly via my contact form.