What's going on here?
I'm Cathy Leamy, a Boston cartoonist and medical writer. Check out my comics! They're mainly about health care and autobio stories.

Twitter
Tumblr
RSS
Blog archives
Blog Categories
Summer Reading List
Look for me here!
Comics and Medicine
Webcomics
Comics news
Comics creators
Assorted awesomeness
Wednesday, May 28, 2008
« Previous: Iron Man: Random links and random thoughts ... built in a cave Next: MoCCA 2008: The awesomeness goes to 11 »
It's coming! Are you ready for this?!
Geraniums and Bacon issue #5!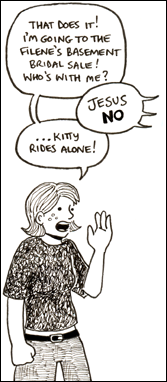 This one's got something for everyone!
BRAS!
BRIDAL GOWNS!
BUDDHISM!

The next issue of Geraniums and Bacon will be debuting at the upcoming MoCCA Art Fest in New York City on June 7. Come by my table on the upper floor and get yourself a copy!
And in the meantime, catch up on the awesomeness by ordering issues 1-4!