Wednesday, June 11, 2008
« Previous: MoCCA 2008: The awesomeness goes to 11 Next: Inbound - a new comics anthology from Boston, now on sale! »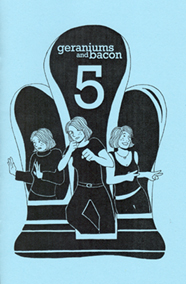 It's here, everyone!
The fifth issue of my minicomic Geraniums and Bacon debuted at last weekend's MoCCA Art Festival, and now it's available for sale online!
This one's 20 pages of black and white comic awesome: decrepit expired Halloween pumpkins, medieval English mecha, bra shopping, and Kitty's completely unneeded trip to Filene's Basement's Bridal Sale!
$2 dollars gets you all this and more, so pick up your copy today!