Friday, June 13, 2008
« Previous: Geraniums and Bacon #5! Now on sale! Next: Boston Zine Fair 2008 seeks vendors! »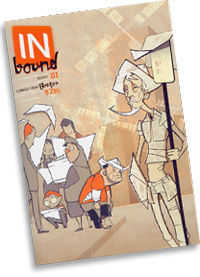 Fresh hot comics straight from Boston!
Inbound has arrived! This is the first issue of a new comics anthology by the Boston Comics Roundtable, and it is a gem. It's packed full of a variety of cool stories (Astronomers! Plague! Can openers!) and features a stunning cover by the crazyskilled Shelli Paroline. This is the first issue of many - look for a story by me in issue #2!
$7.95 an issue for some rock-solid New England quality! You can buy Inbound on the Boston Comics Roundtable website or in Boston-area comics shops including Million Year Picnic and Hub Comics.
Comments are closed due to technical issues. They'll be back at some point! In the meantime, you can reply to me via Twitter (@metrokitty) or email me directly via my contact form.