Tuesday, September 16, 2008
« Previous: Comic: Sounds of Doctor Who Next: Hooray for the Boston Zine Fair 2008! »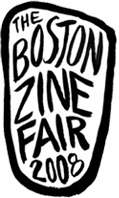 The Boston Zine Fair is this weekend!
Come and check out the crazy array of zines, comics, crafts, and more! Dozens of tablers and a great lineup of workshops are waiting for you this weekend just around the corner from Kenmore Square in Boston. And look for the second issue of the Boston Comics Roundtable anthology Inbound, making its debut at this event (with a nine-page story by me)!
Where: 601 Newbury Street, Boston, MA
When: 10am-6pm, Saturday and Sunday, September 20-21 2008
Admission: Free!
Check out the Boston Zine Fair website for full details including directions and the workshop schedule. Hope to see you there!
Comments are closed due to technical issues. They'll be back at some point! In the meantime, you can reply to me via Twitter (@metrokitty) or email me directly via my contact form.