Wednesday, February 4, 2009
« Previous: Arisia 2009 - now with added Boston Comics Roundtable content! Next: Vintage Beano Party: The Potato Marriers »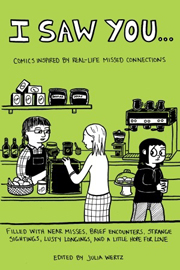 Check this! The Craigslist-inspired comics anthology I Saw You... is finally out and in bookstores near you! Itís packed like a sardine can full of excellent indy comics creators, including a one-page comic by me. Youíll know it. Youíll love it. Itís about colonoscopies.
Kudos to Julia Wertz for bringing the book together. Look for it in bookstores or order a copy online!
Comments are closed due to technical issues. They'll be back at some point! In the meantime, you can reply to me via Twitter (@metrokitty) or email me directly via my contact form.