Sunday, March 15, 2009
« Previous: Promo: Planet Wifey - Kangaroo Smackdown Next: Comics events for April 4-5 - Party! Convention! »
And it was after three o'clock in the morning

and I found this story about Scrooge McDuck going walkabout with a shaman in the Australian outback

whaaaaaaaaaat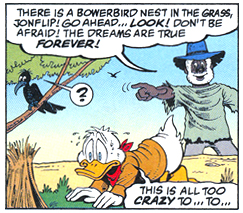 The Life and Times of Scrooge McDuck is blowin' my mind, guys.
In other news, bop on over to Planet Wifey for everything you need to know about Clarence buying sneakers!
And a HAPPY BIRTHDAY to Mike Sterling!
Comments are closed due to technical issues. They'll be back at some point! In the meantime, you can reply to me via Twitter (@metrokitty) or email me directly via my contact form.