Wednesday, June 10, 2009
« Previous: Reminder: MoCCA Art Fest 2009 in NYC this weekend! Next: Event! August 20 - WILD INK, a Boston Comics Roundtable fundraiser »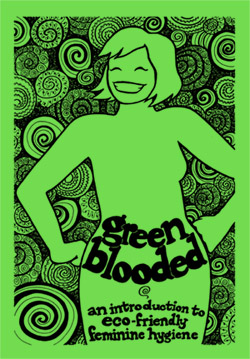 Itís here! My newest minicomic is available for purchase online!
A good read for ladies and fellas alike, this nonfiction mini gives you the rundown on more eco-friendly approaches to handling your period. It covers the basics of several alternative products, the facts of the menstrual cycle, greener disposables, and discussion about why this is an important issue. 12 pages, $2, good for teens and up!
This has been a bit of a departure from my usual autobio-based storytelling, and Iíve enjoyed the heck out of it. Iíd like this project to start conversation, so if you have feedback, corrections, advice, or funny stories of your own, please share them with me!
And if youíre looking for more fun stuff to read, skip on over to my comics page for a list of my other print minicomics and some web-only stories!
Comments are closed due to technical issues. They'll be back at some point! In the meantime, you can reply to me via Twitter (@metrokitty) or email me directly via my contact form.