Monday, August 10, 2009
« Previous: NOW ON SALE: Greenblooded, an introduction to eco-friendly feminine hygiene Next: An extended trip to Planet Wifey! »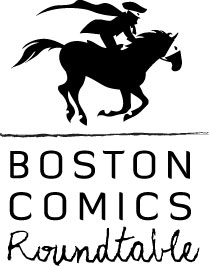 Come and hang out with Boston's cartoonists!
Our local crew of comics creators, Boston Comics Roundtable are hosting a fundraiser night to benefit the fourth issue of our comics anthology, Inbound!
Come on over to P.A.'s Lounge in Somerville, MA, on Thursday, August 20 for a night of caricatures, sketch battles, raffle prizes, and live music from the band Rotary. The fun starts at 9pm (doors open at 8), tickets are $12 at the door, and the event is 18+. [ press release with details ]
Inbound #4 will be devoted to stories of Boston history - strange tales, naughty memories, and inspiring characters galore. It's going to be a rock solid collection of fun reading, so join us at P.A.'s Lounge and help make this issue happen!
Comments are closed due to technical issues. They'll be back at some point! In the meantime, you can reply to me via Twitter (@metrokitty) or email me directly via my contact form.