Wednesday, September 30, 2009
« Previous: An extended trip to Planet Wifey! Next: One last trip to *Planet Wifey*, and one guest stint on *Sordid City Blues*! »
Whoa, brace yourselves for lots of news!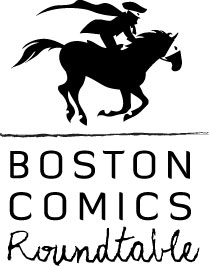 Boston Comics Roundtable has a brand spankin' new website! Head over to www.bostoncomicsroundtable.com and check out the handiwork of designer and illustrator Shelli Paroline - nice job, Shelli! Look for tutorials, discussion, and art from Roundtable members as the site continues to grow.
And keep an eye on that space for news of the upcoming fourth issue of Inbound, the Boston Comics Roundtable anthology. Kudos to everyone who attended our fundraiser in August! Thanks to the "Fastest Artist" improv-style competition, I can finally say I've seen a drawing of Danny Devito wrapping Christmas presents at the Crucifixion. At last. This fast-approaching next issue of Inbound will be packed with tales from Boston history, including a story by me about a very special and, sadly, vanished site in Boston entertainment. Spoiler alert! It features ladies without many clothes on.
And who else is up to something new around here?
Comments are closed due to technical issues. They'll be back at some point! In the meantime, you can reply to me via Twitter (@metrokitty) or email me directly via my contact form.