Monday, October 19, 2009
« Previous: One last trip to *Planet Wifey*, and one guest stint on *Sordid City Blues*! Next: Radio Boston interviews Boston Comics Roundtable! »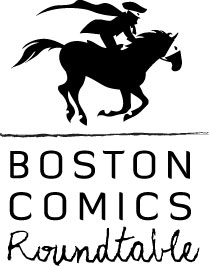 Are you in the Boston area? Are you into comics?
If youíre shouting "Yeah!", then come on by this weekend for Boston Comic Con - bargain reads, guest artists, and more! Iíll be there with local comics posse Boston Comics Roundtable, selling our anthology Inbound and minicomics by our members.
Come by, say hi, and buy a few comics!
Where: Back Bay Events Center, 180 Berkeley Street, Boston, MA
When: Saturday & Sunday October 24-25, 10am-5pm
Admission: $10 each day
Comments are closed due to technical issues. They'll be back at some point! In the meantime, you can reply to me via Twitter (@metrokitty) or email me directly via my contact form.