Wednesday, December 2, 2009
« Previous: Comics! Space Cabby and Boston history comics Next: This Saturday: Comicazi Con! Also, comics parties are awesome »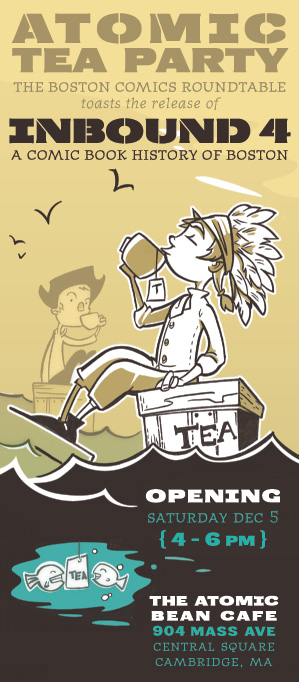 They're here! The Boston history comics are here!
Boston Comics Roundtable is thrilled to announce that Inbound #4 is now on sale! This special book-length issue of our comics anthology is packed with dozens of stories from Boston history, brought to you by the minds and pens of local creators.
Including me! This is the one with my comic about Boston's burlesque theater, the Old Howard, as featured on Radio Boston. If you've only heard the radio drama version, you're missing half the story! The full comic has much more - MORE strippers! MORE hot dogs! MORE Sammy Davis Jr.! Pick up a copy of Inbound #4 to get the whole scoop.
And if you're in the Boston area yourself, come and hang out with us! We're celebrating the book's release this Saturday, December 5, from 4-6pm in Central Square's Atomic Bean Cafe. Meet comics creators from around New England and see original art from Inbound #4!
Inbound #4 is now available for purchase on the Boston Comics Roundtable website, in Boston-area comic shops, and at a bunch of upcoming Boston-area holiday and craft fairs. BUY IT. LOVE IT. BOSTON IS AWESOME.
Comments are closed due to technical issues. They'll be back at some point! In the meantime, you can reply to me via Twitter (@metrokitty) or email me directly via my contact form.