Monday, April 19, 2010
« Previous: MoCCA Art Fest 2010 and a new all-ages minicomic! Next: Good finds from MoCCA Art Fest 2010 »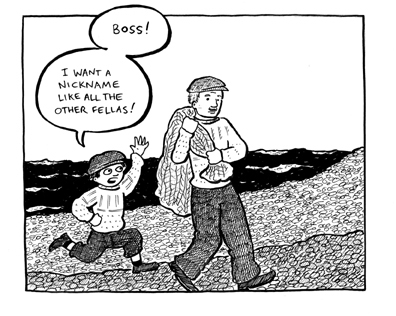 Who's ready for some fishing fun!
My new all-ages minicomic Reggie & Brian and the Lousy Nickname is now available for sale online! Seashores, boats, waves, more English fishermen than you can shake a stick at, and one stinky nickname that gets stuck to poor Reggie. Can merman buddy Brian help him to shake it? Find out inside! $3.50 gets you 20 pages of seaside storytime:
And check out my comics page for other fun cartoons and minicomics - autobio wacky scrapes, metal concerts, women's health, and plenty more.
Comments are closed due to technical issues. They'll be back at some point! In the meantime, you can reply to me via Twitter (@metrokitty) or email me directly via my contact form.