Friday, November 5, 2010
« Previous: This Saturday: MICE, a indie comics show in Boston! Next: Comic: VACAY. »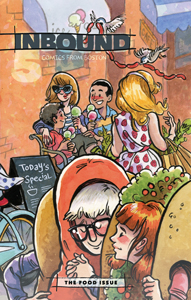 Do you like cheese? Do you like comics? Do you like them together?
Then pick up a copy of Inbound 5, the brand new lip-smackingly awesome fifth issue of Boston Comics Roundtableís comics anthology! This issueís theme is food, and the stories cover every tasty angle possible: sardines and autobio, corn and mythology, onion rings and magic, and plenty more. And Iíve got a story in it about CHEESE! This issue includes my 2-page comic about Englandís annual Cooperís Hill Cheese-Rolling and Wake, a fine example of how my countrymen come up with some crazy-ass traditions.
Buy a copy of Inbound 5 online or in Boston-area comic shops today!
Comments are closed due to technical issues. They'll be back at some point! In the meantime, you can reply to me via Twitter (@metrokitty) or email me directly via my contact form.