Tuesday, December 7, 2010
« Previous: Comic: VACAY. Next: Comic: PANTO »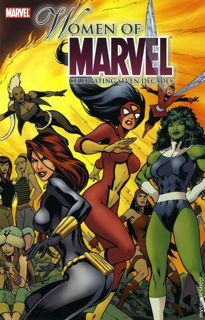 Check this out! I helped contribute to a Marvel Comics anthology!
This summer, my pal Jeph York and I researched and wrote introductions for Women of Marvel: Celebrating Seven Decades. This paperback collects comics from each decade of Marvelís existence that showcase female characters: Golden Age Black Widow, Ms. Marvel, Lorna the Jungle Queen, Elektra, She-Hulk, and more. Gorgeous artwork, funky vintage storytelling, and more asskicking women than you can shake a plasma bolt at.
The process was a fun collaboration - Jeph has the comics/publishing background and I have the pop culture/feminism background, so our co-written introductions for each decade are a neat mashup of comics facts and real-world framework. If youíve ever wondered where Storm, romance comics, and the bad girl trend fit in history with Margaret Thatcher and Rosie the Riveter, man, is this the book for you! Also, you and I should get coffee sometime.
Itís the gifting season - pick up a copy for your favorite comics fan today!
Comments are closed due to technical issues. They'll be back at some point! In the meantime, you can reply to me via Twitter (@metrokitty) or email me directly via my contact form.