Friday, January 14, 2011
« Previous: Women of Marvel: Celebrating Seven Decades ... with writing by me! Next: Roundtable comic in the Boston Phoenix! »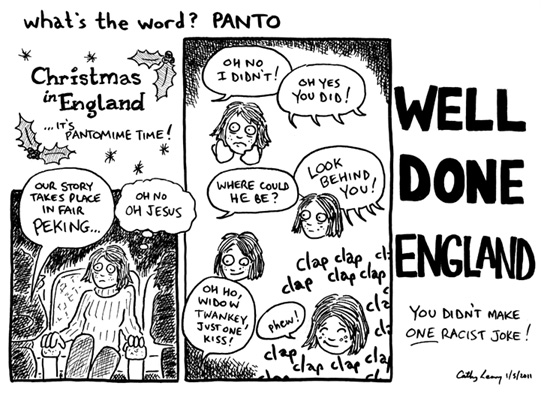 And a Happy New Year to you too! Resolutions written, to-do list jotted, cup of tea at the ready. 2011 - I GOT THIS ONE.
What else is going on?
I did a guest strip for The Loneliest Astronauts, a webcomic by pals Kevin Church and Ming Doyle! Scroll down that page to find a bonus arts-and-crafts project to let you join in the fun at home!
C. Ché Salazar, a buddy and colleague of mine from the Boston Comics Roundtable, has kicked off a series of interviews on his blog, Production 3C. I was very honored to be his first interviewee! Check out this two-part interview: Part One, where we talk about minicomics and autobio, and Part Two, where we hash out thoughts about gender and superheroines in mainstream comics (with a focus on the Women of Marvel anthology). Ché is a great guy with a lot of thought in him - I'm looking forward to reading more of his interviews.
Comixology ran a great review of my menstrual 411 minicomic Greenblooded, and pal Isaac "Satisfactory Comics" Cates posted a lovely writeup of my kid-friendly comic Reggie & Brian and the Lousy Nickname. Thanks, guys!
Comments are closed due to technical issues. They'll be back at some point! In the meantime, you can reply to me via Twitter (@metrokitty) or email me directly via my contact form.